Album Review
One Man, One Finger-Picked Acoustic & 8 Powerful, Distinctive Songs – His American Way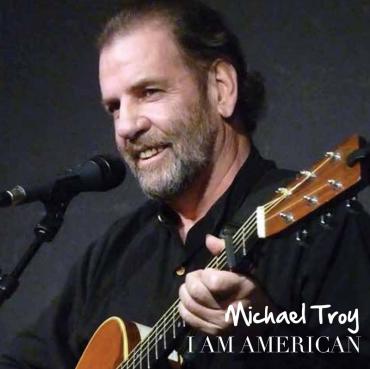 At first, I thought this short collection would be somewhat patriotic and novelty-oriented. But, on the opening track "Jesus On the Radio,"  Michael Troy starts to sing in a full-throat Robert Hazard style (the latter day Americana singer-songwriter Robert Hazard from Philadelphia (("Girls Just Wanna Have Fun")) who sang many roots-oriented songs and was originally the new wave Robert Hazard of "Escalator of Life."). This Michael Troy song itself is written in the tradition of Ramblin' Jack Elliott and it's not emulating or imitating that style – it's shaped by the wonderful, enthusiastic creativity and originality of Michael Troy. A native of Fall River, MA, Michael worked at many labor-intensive jobs through his life including fisherman, carpenter and mill worker before shaping his songwriting career. "Jesus is on the radio, Superman's fighting crime, Santa Claus stole the show, I got God and these friends of mine." 
Michael's voice is perfectly suited to simple acoustic accompaniment and does not need the framing of a full band and "Ole Joe,"  is loaded with emotion and sincerity. Michael would have found some welcome companionship singing along side the likes of Pete Seeger, Buddy Miller, Richard Thompson and he would also easily slip into a satisfying gear if his partner was Willie Nelson, Merle Haggard or Guy Clark. The voice is compatible with folk, Americana, roots and traditional country. Michael has a special talent with words and when he sings his inflections are compelling: Mr. Troy is an excellent storyteller. The fact that he's an excellent finger-pickin' acoustic guitar player only embellishes his fine music. 
"Waiting For the Train," is more energetic, reflective and the way Michael stretches his breath over the last lyric invigorates the tale. It's not studio shined, it's buffed in a old world's tradition...not glossy, but matte. This song is the most commercially accessible track and the crisp acoustic guitar performance moves the song along effortlessly. Few singers can just accompany themselves on acoustic guitar and keep people interested for more than four songs...but, Michael's performance is sharp. 
A little political energy is conjured in "I Want My Country Back,"  a song Michael co-wrote with Chuck Williams and it seems Michael's turning the liberal folk singing tradition of the 1960's back on them...politely and diplomatically. Sounds like a conservative (and I don't know if Michael was a conservative -- it's an assumption) can thread together an equally compelling lyric and melody to sing a meaningful and powerful song. I wonder if Peter, Paul and Mary would have covered this song? Tom Paxton, Dave Van Ronk, Richie Havens or any one of those folk singers? The door swings both ways. The problem with many of those folk singers is that they sang about important issues and injustices but they seldom suggested a solution in any of their tunes.
The live "I Am American,"  begins as an intense and marvelously thought out acoustic instrumental. Then, the intro to the vocal version of "I Am American,"  segues into the vocal. The guitar playing is exceptional, dramatic and every note is crystal clear. It has that same attraction as Mason Williams' hit "Classical Gas," all those years ago. Michael Troy's vocals are rough-hewn and powerful in his "Grapes of Wrath," mode. Michael, with his acoustic guitar has ripped a page from Bruce Springsteen's "Nebraska," and has infused it with Woody Guthrie heart -- such penetrating music and lyrics that he actually upends Springsteen in this genre. What a great album Michael could do with this subject. Modern day depression-labor lost on hard times that can come at any time and wear a different face. The lyrics to this long bravura performance are propulsive and emotional. Bravo.
"My name is Mr. Jones, I've been driven from my home, by the bankers with the sheriff in the shadows, the investment that I made, and the thousands that I paid...was just a gamble."  Bob Dylan would be proud.
Michael slows things down slightly for "Lullaby," – originally on an album called "Whispers In the Wind," and begins with a beautifully rendered acoustic guitar intro. The lyrics are resonant, and the vocal delivery is somewhat John Mellancamp at his finest. This is my favorite song because it is reminiscent of Billy Falcon's classic "Heaven's Highest Hill," – it strikes a chord in the ear that is connected directly to the heart.
This would be done by artists as diversified as Steve Earle, Billy Falcon himself, Buddy Miller, Townes Van Zandt and Phil Ochs. It's a song that will get into you – if you allow it to. It's that good. It will wallow in seamlessly in your emotional side and despite any tears that may be shed, you will emerge....happy.
This is a gift in a singer-songwriter. Michael Troy has this and he proves it by elevating his purified sound and tradition in his final masterwork on this album – "Love Song."  The song originally appeared on Michael's album "Romancing the Moon," and it appropriately deserves to be heard here again. Deliciously beautiful.
Michael effortlessly tugs at your heart, stirs the embers of your memories and your passion for a beauty many other people often miss or take for granted. He brings it to your attention like few songwriters can. Everything he sings about is familiar but a listener still needs to be reminded. Michael Troy does this with his eight magical tunes on "I Am American,"  and he does it in such a pleasing and satisfying manner.
The CD has a wonderful photo of Michael Troy on the cover and on the inside booklet. The eight songs were produced by Michael, the singing and acoustic guitar was solely performed by Michael. The project was recorded in Boston, MA.
Sadly, Michael Troy passed away earlier this month after completing this collection. Which is even more reason to listen to what this man had to say. It's a strong performance and Michael Troy, as a singer-songwriter matters. Knowing Michael was not well makes the effort of this CD a gift to all listeners. It is quite magical. How do I know this? I have gone back to several tracks to listen over and over and I always come away feeling somewhat renewed. It isn't spiritual, or religious – it's just that the songs are all distinctly powerful, well-written, personal, sung and played. 
Webpage:   http://www.folkmichaeltroy.com/
FaceBook:  http://www.facebook.com/michaeltroy1024
Reverbnation:  https://www.reverbnation.com/michaeltroy
CD Baby: http://www.cdbaby.com/cd/michaeltroy 
Photography: Michael Troy Image – Cover Photo by Dan Tappan from the Emerson Umbrella 2006 // Michael Troy in white shirt/guitar – Photo by Neale Eckstein – Kerrville Folk Festival 2010 // Sepia Photograph – Angelo Marinosci, Jr. & Poster Design Mark Zajac – Flipbook Studios
Disclaimer: The opinions expressed in this review / commentary are those of the author and do not necessarily reflect the official position of No Depression. All photography is owned by the respective photographers and is their copyrighted image; credited where photographer's name was known & being used here solely as reference and will be removed on request.
John Apice / No Depression / December 2015