Album Review
Pacific Northwest Folk Singer Taps Into Spain's Magical Galician Folk Richness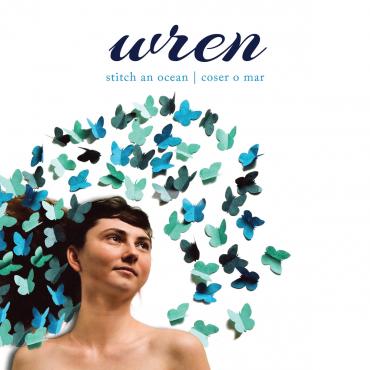 Sometimes a singer-songwriter can be quite excellent just in the manner in which they convey their messages, write their words and stitch them to melodies. Sometimes that alone becomes a performers signature. Quite often, some have one good tune. Some may have quite a few, but they are basically all of the same fabric. Then, there is that rare occurrence when a singer-songwriter has developed quite an interesting persona along with the tunes they convey. They do this because they have allowed their culture, heritage and new life to absorb them -- creatively. Out of this comes music that can be riveting and its beauty is not in the shapes of wondrous white puffs of clouds, but in the vast intense, endless blue of the sky.
Buffy Sainte-Marie is one of those artists. So, who is Wren?
Wren is the woman who could continue where Ms. Sainte-Marie had gone. Wren is not a Native American, but that's not what I am comparing. Wren does possess a unique history and she mines a different folk music. She is a woman with the cognac-like voice with a little whipped cream and other delights -- similar to the great under-rated folk singer Mimi Farina (Joan Baez's sister). Wren is also similar in her musical approach to the silky savoring vocals of Tish Hinojosa – and like Tish, Wren successfully showcases both her expressive vocals/lyrics in English, as well as, Spanish. She does this so well that when her album plays you hardly even notice she is singing in another language. For those who find it hard to listen to songs in foreign languages – they are exposed to an appreciative almost universal dialogue. Well, isn't that what music is all about? It doesn't matter if you don't understand the words, if the song is sung properly, you will still get the "message."
"Stitch an Ocean / Coser o Mar" is Wren's second album.
Coming out of Seattle, Washington – this young lady is described as alternative-folk and what's highlighted here is Wren's finger-picking / classical guitar that sews fine threads of lovely music, storytelling lyrics and distinctly original vocalizing. However, this alternative-folk thing…what makes it so special is how Wren has mixed in such rich flavors of what inspired her: a homage to Galicia, Spain – where Wren once lived in the North West of Spain.
From this geographical landscape she has derived a style that is wholly original in our Northwestern United States where Wren now lives. She developed a stylistic approach from an old-world culture and has provided music lovers with an evocative strong set of arousing songs.
There are at least 12 Northwestern United States roots musicians who perform and back Wren on this collection and while I won't be able to single out each musician I can assure that their performances as a unit is stirring. The opener is "It's Raining," – supported by the melodic violin of Bill Panks. The upbeat tune has shades of early Joni Mitchell in its tradition, but -- it's all Wren once the song picks up its acceleration. "It's raining, it's pouring, oh let the rain fall down upon me…on dirty skin, a tarnished heart, a past that weighs so heavily…." Brilliant. The fact that she says "upon me…" instead of "on me," just gives the lyric lift. As Wren sings she slips in these little expressive vocal intonations: she does it so effectively on the word "floor," at the end of the line: "Oh, I left my dirty tracks upon the floor…" That little accentuation colorizes the melody in that single word. She does it twice in the tune and I wait for it.
"Sea Calls," starts with subtle guitar work. Wren sounds quite young…like a fourteen-year-old girl, but that's not to suggest she sounds immature. The entire "sound" of the music as it grows and leaves room for Wren's silky vocal is just infused with youth. This lyric is like a little short story as it unravels and Devin Mooers' hammered dulcimer tone is magical. Wren's vocals are nothing short of mystical as the song progresses. There is a grain of European folk music that runs through these songs and it never sounds like it would deter an American listener from enjoying the vitality in a song that is not performed with lots of energy. The energy in "Sea Calls," is alone in its powerful presentation and not so much in the performance. This is professionalism. This is the work of accomplished musicians.
This lyric could be easily adapted and appreciated by Native Americans. Its beauty is in its naturally symbolic poetic Mother Nature inclinations. "Strong Ones," would be a wonderful song for the 60's folk singer Melanie Safka ("Lay Down - Candles In the Rain") to cover. She has that more nasal vocal that would add a little smoky sincerity to its lyric. But here Wren is – of course – superb. The violin tone is heavenly, Dan Walker's piano is assured and Wren delivers this song with expertise. Now, I mentioned Native American and the next song starts with a Gary Stroutsos cedar flute – American Indian instrument. This is the kind of song that confirms how many cultures and its people can pick up effectively on the heritages of other nations. "Amongst the Pine," with its rich cello bellowing – you can almost see an Eagle soar over head as it plays. This song reminds me of the work the Paul Winter Consort in the mid-70's. Example of this would be the wonderful Susan Osborne (not Ozzy's wife) song on the Paul Winter album "Common Ground," where she sings "Lay Down Your Burden." Winter often included the sound of animals in his music. (Examples are other songs from the "Common Ground" LP available on You Tube). 
"Hand Sewn Ocean," recalls the more commercial efforts of Joan Baez. On this song Wren sings in a more fuller voice. Nice percussion and the lyric and vocal style is also mindful of the late singer-songwriter Dory Previn ("Lemon-Haired Ladies"). Especially when Wren sings "Fabric scraps and a pile of jewels, peacock feathers floating in a pool, a piece of this and a piece of that, if you could just sit with the world in your lap…" This is typically the excellent lyrical style of Dory -- who wrote her songs for decades in this manner. Very Previn in its descriptive style but, Wren has a far better voice than Dory and this is where she excels. Dory always had a lot of angst in her vocal approach while there is a "smile" to the vocals of Wren.
I respect and enjoy the mannered ways Wren begins her tunes. None sound the same as the others. It takes a great effort on behalf of a singer-songwriter to keep each tune a unique child. The only similarities a song should have to a collection is that it has the signature style of the artist – the mother. These songs are so distinct that I can almost tell that they are Wren songs….at least I am beginning to have a feel for her stylistic approach and how she brings her special brand of endearment to each.
"The Road You Thought You Knew," – while having good lyrics and wonderful playing – its the depths of expression in Wren's voice that is impressive here. She manages to twist notes on an otherwise difficult word to hold notes on – "grew." I was surprised she chose to work-out this word in the manner she did, but she succeeded. Words like "grew" are not often the ones you would colorize with your vocals. This is the reason words with hard r's -- like "yesterday," are often sung as "yesta-day," in order to get that softer vowel sound and ability to hold a note more clearly. Paul McCartney did it with expertise in The Beatles song. Frankie Valli of The Four Seasons, great singer that he is, on "Grease" did not. His "yesterday" in this lyric was grating. 
One of the most melodic of all Wren's songs is the Gallego inspired "A Rianxeira," (an Angel Viro song) with its lilting almost Celtic upbeat drive. Sung in the distinct language of Galicia, Spain I thoroughly enjoyed its poetical lyric with its gentle expressive guitars and Wren's dynamic vocals with Chloe Grace. As I mentioned before, you don't have to understand the lyrics to appreciate the message. This song is magical.
With the more commercially acceptable balladry of "Same Hat," – Wren follows more closely along the American folk traditions with her "song of regret." Miranda Zickler's backing vocals are excellent with the tight deep cellos. And what did Wren just say? "….in the same place, in the same bed, on the same sand, same hat on your head, same deadly scorpions hidden in suits, legs tangled up at night like roots…"  These are great lyrics…wonderful imagery (deadly scorpions...that was a surprise) and allusions. Absolutely wonderful allusions.
Again, as simple as this tune is, it has a charm to its storytelling. Wren's phrasing is impeccable and her vocal tone is sincere.
"Dandelion," is also closer to the traditional American folk style. I hear Linda Ronstadt's voice cover this beautifully had she still be recording. Again, Wren continues to write dazzlingly original lyrics and her vocals on this tune supported by a crisp clear mandolin over acoustic guitars is sophisticated and smooth. Wren has a talent for knowing exactly what words in her lyrics benefit from her inflections and phrasing. This is a song that someone learning how to sing should tackle. It's not difficult to sing, but it has stops and starts and wonderful little notes held on important words. 
"Catro Vellos Marineiros," is a Galician folk melody sung in Galicia's Gallego language. I hear Tish Hinojosa tone in this approach vocally and would hope somewhere along the way Wren would able to sing a duet with Tish. The language is not hard on the ears, Spanish, like Italian and French, is virtually musical as Wren sings the lyric. Mexican songs are a little more vigorous musically, but this is maintained at a level that is more "classical" in a folk way.
Easily a commercially rendered tune "When the Happiness Comes," is jaunty, happy, upbeat and optimistic. Anyone who is just a little depressed or blue needs to listen to more of Wren when she pops the clutch on a tune like this.
Dynamic mandolin, bright acoustic guitars, then a little gypsy-oriented violin to add spice. But the star here is Wren – her vocals are like a unifying coolness. The song is hot, but her vocals comes like a sudden breeze, brisk -- from out of nowhere. I especially like the way the violin and mandolin swing. Yes, I said swing. This was a frolic of a tune and it concludes the eleven track album. What a way to end it all. It makes one hunger for the next album. If Wren puts on a live show as lively as she records her songs she is definitely going to be special. While I accumulate technical information for this review I'm going back "When the Happiness Comes," because, well, it makes me happy. And if it makes anyone reading this equally pleased – then Wren has succeeded. I think she has. She has at least made me aware of the richness of Galicia, Spain influenced music. And it has its righteous place among the best American, Irish, Scottish and English traditional folk music.
Produced by Devin Mooers (Mandolin, Hammered Dulcimer, 2nd Guitar, backing vocals, Zils & glockenspiel) & Wren herself. Recorded in Seattle, Washington.
The inside front cover of the four-paneled CD cover has a wonderful dialogue about everything that influenced the music on the CD. Poetic, beautifully written and easily understood. Wren is actually Laura Adrienne Brady and all songs were written by Wren except "A Rianxeira," – which was written by Angel Viro and "Catro Vellos Marineiros," – a Galician folk melody.
There is a "thanks" on the lyric sheet to one of Wren's supporters – Carla Hildebrand -- that states "for helping me step past my fear and sing from the heart." Well, Wren…your friend Carla did you a great service. I heard nothing, but singing from the heart on this collection. Don't ever doubt that part of your effort or Carla's wonderful support. 
Website:  http://www.wrenmusic.net/
Facebook: https://www.facebook.com/seattlewren
BandCamp:  http://listen.wrenmusic.net/
Here we have an independent artist who could use the money from the sales of her CD to recoup the recording expenses and musicians yet, she states on the album that 5% of the album sales are donated to Rite of Passage Journeys. What artist is more deserving of support? I ask you.
http://riteofpassagejourneys.org/
Disclaimer: The opinions expressed in this review / commentary are those of the author and do not necessarily reflect the official position of No Depression. All photography is owned by the respective photographers and is their copyrighted image; credited where photographer's name was known & being used here solely as reference and will be removed on request. YouTube images are standard YouTube license.
John Apice / No Depression / August 2016