Album Review
Pandafan Sound Ready for a Departure with Atlantic Flyways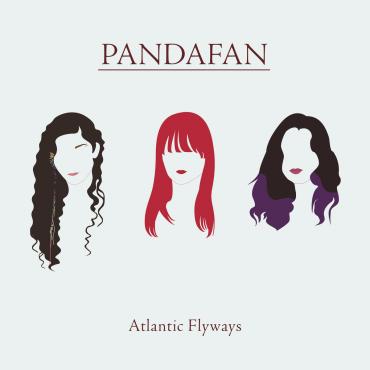 There's a bit of a perfect little oasis to be found in the likes of Long Island indie folk trio, Pandafan. The all girl group of Delaney Hafener (Guitar, Accordion, Keyboard, Bass, Vocals), Grace DeNatale (Violin, Percussion, Vocals), and Stella Emmett (Vocals) have never shied away from describing, to a tee, what they believe their combined sound best coincides with when placed in the midst of more widely known musicians similar veins of the folk genre.
However, where many bands who attempt to take this stance end up falling short and feeling like caricatures of those they admire, Pandafan adds an ethereal something extra that allows anyone listening to explore their archives, perhaps with less surprise on arrival, but never leave with less inspiration than whence they came.
Adding to their growing list of single and EP releases, Pandafan now have Atlantic Flyways in their completed collection, out today, April 30, independently.
Totaling just barely past the 30 minute, six track, mark in length, Atlantic Flyways gives all the structural impressions of a classic extended play. Yet, unlike the decision to opt for sonic comfort in their previous projects, Pandafan have doled out enough adjustment on this new release to prompt a definite head turn or two in that half hour period and show listeners the band hasn't fallen asleep at the smoothly rolling folk wheel. Not looking to severely shock from out of the gate, opening track "Run to Fight" stands firm on the established echo and third interval harmonizing voices that can instantly reel in fans of First Aid Kit without even trying. Not long past that initial minute though, the first inklings of musical deviation come to the surface – bolder guitar riffs weaving around organ and an overall rockier vibe in the percussion rhythms (provided by Christopher Olsen on the whole record) – all of which dances gracefully with Pandafan's classic fiddle parts and the band's tendency toward long tonal releases.

 
Moving from there, the ways in which the trio gently but confidently displays its songwriting choices and steadily unveils an increasing ratio of different to that of the known, only become more enjoyable to discover from track to track. Contrasting melodic versus lyrical implications are the centerpieces of surprise in "Dead on the Forest Floor." Individually speaking, the song itself bears the most signs of room for improvement, as it can be hard to find one's footing with the beat between the kick and the vocals playing an impromptu tug-of-war. Despite this minor bump in execution, with a guitar tone that feels reminiscent of old school 50s rock and roll or blues, excited intrigue becomes nearly inevitable.
Atlantic Flyways continues its ascent via artistic departures and, almost like a mountain climbing to new heights, there are moments decisions seem so extreme or risky ("The Shrine, The Shore" packs a mix-heavy punch and combines with Pandafan's aesthetic to very nearly plunge them next to the symphonic/melodic metal lane.), one wonders if the whole thing will fall off the cliffside. But this never happens, which makes the daring choices all the more applaudable when completed. The journey on the latter half of the record provides plenty more pushes and pulls in terms of sonic intensity or the compositionally unexpected. "Cry" revisits the shadows of rock with a modified – but no less bolder than before – guitar tone and matching dynamic level in the choruses.
This very apex-appropriate song then makes the actual closer – the calmer and almost meditative, nine minute track, "Falling" – induce mild shock on the listener from its track placement alone. Yet on its own, in utilizing atypical methods like audio reversal and even ending the record on such a non-vocal note, the song more than deservingly earns its distinction as final track. It's clear by the record's finish that the depth and complexity applied by Pandafan in this effort is, unlike their influence list, not simply put forth in plain black and white. Bits and pieces of evolution and experimentation peer through a bar here and a verse there, in wordplay and timbre and arrangement but never all in one straightforward way. In choosing instead to reveal fragments of choices and changes over the course of every track on Atlantic Flyways, this release might just be the defining sign of Pandafan's interest in re-shaping their sound into something that can be henceforth identified as absolutely, unquestionably, uniquely, simply, Pandafan.