Album Review
Paper Bird Wings Their Way to a New Dimension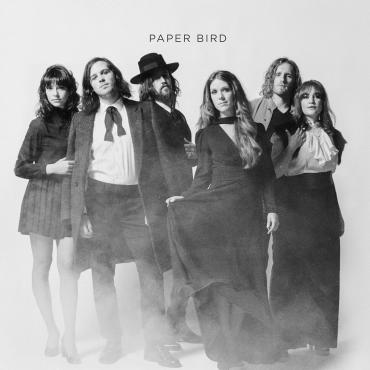 Denver Colorado's Paper Bird originally emerged from the same environs that birthed such similarly populist outfits as Nathaniel Rateliff and the Night Sweats and the Lumineers. Not surprisingly then, the band has shared bills with both those bands, as well as with Hall & Oates, Edward Sharpe and the Magnetic Zeros and Shakey Graves. It's also not surprising to find that John Oates co-produced this eponymous new album. What is somewhat surprising is the shift in the band ranks that comes courtesy of vocalist Carleigh Aikins, whose previous credits include extended stints with the critically acclaimed bands Bahamas and Fox Jaws. Her addition to the roster adds an extra edge to the proceedings, creating a clear sonic evolution that finds them completely revamping their musical MO. That shift in the band's line-up has also opened up new sonic possibilities, one that swaps electric guitars and amped up instrumentation for the laid back, folk-flavored sound they favored in the past.
Aikins' influence can also be found in the noticeably edgier sound found in the new album's lead track "I Don't Mind." Likewise, the sultry sounding "Sunday" blends the engaging vocal harmonies of the Dixie Chicks and the Be Good Tanyas with the classic '70s stylings of bands like Heart and Fleetwood Mac, adding an air of familiarity that doesn't detract from the band's overall MO.
Still, it would be inaccurate to give Aikins all the credit here. The group boasts three lead vocalists -- singer Sarah Anderson, singer and keyboard player Genevieve Patterson and Aikins herself -- all of whom blend their voices in seamless three part harmonies. The instrumental duties are divvied up among Summeril, drummer Mark Anderson and guitarist Paul Dehaven and are of equal importance in the proceedings. It's that combination that allows Paper Bird to take flight.