Album Review
Paul Kelly's Mortality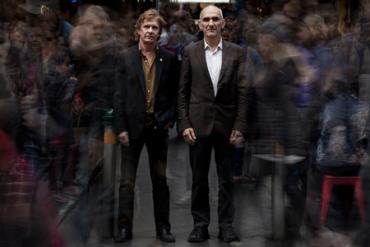 Paul Kelly is a busy man. Just this past year, he released his Shakespeare tribute Seven Sonnets and a Song, and a double live album. He's a bit of an artistic oddball, but it's what makes him compelling. His latest project finds him pairing with Australian guitarist Charlie Owen on a collection of covers and re-recordings of Kelly's own songs about death. Death's Dateless Night is made up of, essentially, funeral songs. Popular choices like the Beatles' "Let it Be", Hank Williams' "Angel of Death", and Leonard Cohen's "Bird on a Wire" (particularly poignant) show up alongside more traditional fare, like Mississippi John Hurt's "Make Me a Pallet On You Floor". While all of this may sound a bit dark and ominous, there is a soothing, peaceful quality – in other words, exactly how you'd want to feel at your final time of rest.
Inspired by the death of a friend, Kelly brings a personal touch to the chosen songs on Death's Dateless Night, and Owen brings his warm, acoustic guitar playing. As always, Kelly's voice is soft and gentle, with inflections of wisdom and just the right amount of weariness. Kelly draws from a classic canon, as well as a more obscure one, pulling classic rock and country tunes and putting them alongside indigenous songs and old folk songs. Though he isn't making groundbreaking changes to some of the more well-known tracks (aforementioned Beatles tune as an example), his take is still pretty and thoughtful, and clearly means something to him.
Kelly also revisits some of his own old tunes, like "Nukkanya", an upbeat tune with a strange sad whimsy. Perhaps he found new meaning in his own past work, or perhaps he needed to fill the space. Either way, he seems to be feeling the impending mortality with Death's Dateless Night. Together, Kelly and Owen find the beauty in the end of life by thoughtfully choosing music for celebrating a life well lived.