Album Review
Paul Reddick's Primal Roar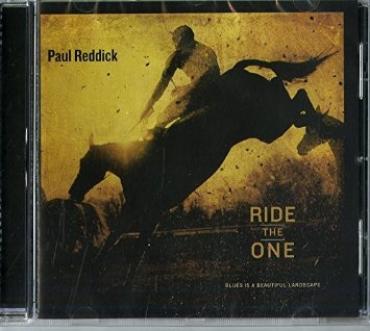 Canadian Paul Reddick's latest release, Ride the One, hits like a punch in the throat from the first note. It is blues rock as a primal roar, as spooky as a condemned house, as visceral and chilling as a Stephen King novel. Reddick's voice howls on the lead track "Shadows," decidedly sinister, and more frightening than Lon Chaney staring at a full moon. Coupled with a desperate aural assault on blues harp, the song is as close to a major cardiac event as you can get.
Reddick has a thing for repetition. I'm not talking Van Morrison meditation-style mantras. He isn't waxing mystical, Reddick is jonesing bad. The thing is, I'm never really sure what he's going on about, but damn if he doesn't make you sit up and take notice. On "Shadows" Reddick growls and bellows like a rabid dog. The whole rhythm section churns and thunders along with him, and I am sure somewhere nearby are the four horseman, taking up the reins for their doomsday ride.
Reddick's skills are impressive, and between his voice and his blues harp it is hard to tell which is more insistent on getting your attention. The pace continues on "Celebrate" as the drumming of Derek Downham drives the tune into a tribal frenzy, and if you told me that the band had walked on hot coals after cutting the track I would have no trouble believing you.
The third track, "Mourning Dove" is one of my favorites. In an album drenched in moody, foreboding atmospherics, this one came across as cinematic in scope. I could feel the dew dripping from the Spanish moss, haunting echoes coming from the bayou. It has the taut suspense of a classic film noir. 
"Gotta Find A" slows the pace a little, giving the listener a chance to come up for air. "It Goes With You" is fueled by a combination of Reddick's harp and his manic wails, and the razor sharp guitars of Greg Cockerill and Steve Mariner. When Reddick sings, "All the love, it goes with you," it is in an obsessive lover's voice, the kind that earns a restraining order from the one who broke off the relationship.
"Diamonds" is another high point on an album that excels at painting pictures. Reddick doesn't so much write clever lyrics as he writes simple verses that he injects with emotional excess. Repetition works to great effect on this number, a swampy rhythm set against an unyielding drumbeat. Over the backbeat Reddick keeps asking, "Wasn't that a time? All those diamonds in the sky."
As the song progresses, he throws out phrases that feel like clues to arcane prophecy:
Wasn't that a time
all those diamonds in the sky
you held them
like an ancient book
you held them
 like an ancient book
all that said
in just a look
Reddick's lyrical poetry gains its strength not through direct story telling but rather through what it leaves out, interacting with the listener by dredging up emotional connections to the moments in life for which we have no answers. Reddick has assembled a band that knows what he wants and delivers it in spades. The tightly focused ensemble playing is superb and builds the internal pressure in each song, simmering with implied threat and all too happy to boil over.  www.theflamestillburns.com