Album Review
Paulo Franco Releases Phenomenal Sophomore Record, The Last Card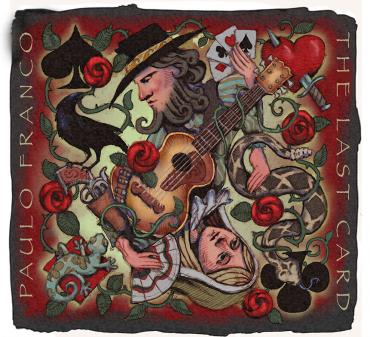 Paulo Franco enlightens with his upcoming record, The Last Card. This is not your average Rock n' Roll Americana record. The music that Franco creates spans genres throughout the record, as we even see the buzz-worthy artist sing in Spanish on the record.
 
Proudly Franco boasts his musical journey as he wears his heart on his sleeve. The Last Card is the sophomore release from the artist, who has been garnering critical acclaim recently with his new single, "Leaving the River City." Franco's sense of storytelling is an element that stands on its own. The track itself offers a heavy and eye-opening dose of what to expect on the record. As Franco pens some of his most ambitious pieces to date, he eagerly backs them up, with a performance that is extraordinary and well-rounded.
One of the most standout and unique pieces for me on the record is "Catrina Y Su Calavera," which Franco was inspired to write by a local craft beer of all things. Taking the inspiration and crafting it into a mysterious song of love, it proves that Franco is not your average singer/songwriter by far.
One the record Franco also enlists the help of heavy players Bob Rupe (Cracker, Silos), Johnny Hott (House of Freaks) and Dusty Simmons (DJ Williams Projekt) on drums, Daniel Clarke (Ryan Adams and the Shining, kd Lang) on keyboards, Stephen McCarthy (Long Ryders, Jayhawks, Gutterball) on guitar on leaving the River City, Charles Arthur (Slaid Cleaves records) and Dan Sessler of Paulo's backing band.
Big things are in store for Paulo Franco in the coming year, and The Last Card is only the beginning. Be sure to pick a copy of the record on release day, October 15th via Amazon and iTunes. You can also pre-order the record via his website, here: www.peflmusic.com
LINKS