Album Review
A Perfect, Diverse Half-Hour on Haley Heynderickx's Debut LP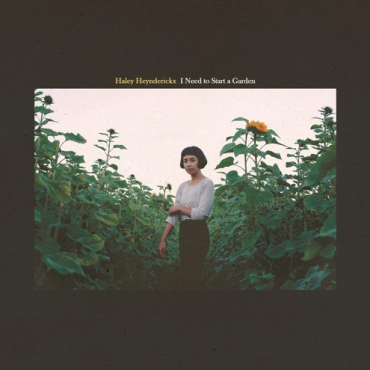 You've suspected it, and it's true: Sometimes music reviewers only listen to the first 30 seconds or so of a record.
We've heard it all before, we tell ourselves, and we can tell where a musician's going (and whether we'll be into it) by what the opening chords or first few lines imply. If we're not feeling it, we follow our gut and pass on the album, congratulating ourselves all along on our foresight, our grizzled veteran status, our heightened musical sense — whatever.
Of course there's a fallacy here: We assume patterns. Yet when a musician like Haley Heynderickx comes along, we're presented with an album that refuses to be predictable. Indeed, Heynderickx goes many, many interesting places in the perfect half-hour of her debut LP I Need to Start a Garden. She's nimble, emotive, and stylistically restless without crowding out the intimacy required in a singer-songwriter.
Consider: I Need to Start a Garden opens with nylon string guitar and Heyderickx's vaguely Joni Mitchell vocals, but this restless songwriter moves quickly into the dementedly funny "The Bug Collector." This is a more modern folk number, with tasteful brass accents behind the absurd situation Heynderickx presents. In each verse, she clears a bug of some sort from an insectophobe's room. Fascinatingly — and thanks to her gift for language — the insects end up with more personality than the person who fears them. "And there's a praying mantis prancing on your bathtub / and you swear it's a priest from a past life out to get you," she sings. "And I digress / because I must make you the perfect evening / I try my best / to put the priest inside a jam jar."
It only gets more interesting from there. Heynderickx goes long on the nearly eight-minute "Worth It," a cut that would have been right at home on Modest Mouse's This is a Long Drive for Someone With Nothing to Think About. Indeed, Heynderickx is a remarkable guitarist, and there's as much intrepid fretwork as there is impressive lyricism on I Need to Start a Garden. The verse to "Worth It," for instance, rides the kind of sinuous electric guitar line that was a trademark of early Modest Mouse. As the song picks up speed, it moves into a stripped-down West Coast surf vibe before slowing again as Heynderickx howls "Maybe I've / Maybe I've been worth it" with heart-wrenching sincerity and a bleak tinge of desperation.
Throughout this record, there's a fascinating diversity of timbres, approach, and overall vibe. And throughout, Heynderickx maintains masterful control of the instruments at her command — her voice included. Appropriate to its name, "Oom Sha La La" nods to Brill Building pop. The verses are tight and peppy; the chorus is simply the song's meaningless name, rendered into a perfect earworm. Yet the third chorus disintegrates into heavy reverb, and shortly Heynderickx rebels against the strictures of her own pop song. "I'm throwing out the milk / the olives got old / I'm tired of my mind getting heavy with mold," she sings, nervy and bothered, before repeating the line "I need to start a garden" in an increasingly agitated tone. Eventually she cracks up completely. And then, as quickly as she lost it, Heynderickx regains her composure. "I'm gonna start a garden in my backyard / because making this song up is just as hard."
There's no way the first 30 seconds could have implied the rest of this diverse, compact, off-and-on funny, and emotionally honest album — there is simply no way.