Album Review
Plainsong - Reinventing Richard: The Songs of Richard Farina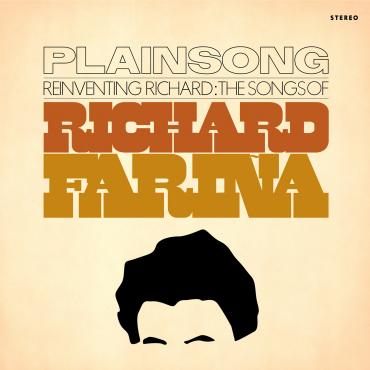 We are celebrating many 50th anniversaries this year, and rightly so as 1965 was a momentous year in popular and folk music. But I would be remiss if I did not write some kind words for one of the significant figures of that decade and one of my idols in my personal musical journey. I did not have many records in high school years, but those three dozen or so were choice and left indelible imprints on my musical consciousness. One of them was Richard and Mimi Farina's Reflections In a Crystal Wind, complete with its surrealistic cover. It was released in December of that year, some four months after Highway 61 Revisited, which influenced it to the extent that it included some electric instruments, but more subdued than Dylan.
It is largely forgotten that Farina was not just Dylan's contemporary, but was one of the very few individuals that the was envious of. While early on, Farina may have a novice in folk music, but was a writer of considerable talent in the world of literature. Yes, Dylan was the next big thing, but Farina had the writing chops and well-respected if not widely known. Dylan was envious to the extent of even being jealous and a bit fearful. For all his popularity and stature in songwriting, Dylan did not consider it on the same level as  Steinbeck or Fitzgerald. Farina had a Hemingwayesque larger than life personality. Plus Farina, the son of an Irish mother and Cuban father, was sexy; Dylan not so much at the time. But the envy was mutual as Farina did not posses the same level of popularity.
There was an uneasy, friendly rivalry between them. But they were close enough to make a fateful trip to England with Eric von Schmidt where Farina could develop a folk music style in relative obscurity. They even recorded and album together under von Schmidt and Farina's names, with Dylan billed as Blind Boy Grunt due to his contract with Columbia. I use the word fateful because Farina was married to Carolyn Hester who was at the time Joan Baez's only real competition as folk goddess. On a lark the three of them traveled to Paris for a long weekend where Farina met and fell hard for Baez's sister, Mimi. It caused quite a stir especially as Mimi was just barely seventeen.  Her parents finally relented and consented to a marriage provided they wait until Mimi turned eighteen, on April 30, 1963. It became on of the great love stories of thier time. 
Richard and Mimi quickly became a fixture on both the folk and literature scene, and hung out a lot with Baez and Dylan as the sisters were quite close. Richard continued perfecting his folk chops with the assistance of Mimi and began touring, appearring at the Newport Folk Festival. Richard was playing the string dulcimer, Mimi the guitar and they released their first album Celebrations For a Grey Day in April 1965. It was a creative time for them as Reflections was released just eight months later and demonstrated that Farina had progressed considerably as a songwriter. His book, Been Down So Long, It Looks Like Up To Me, was published less than five months later. On April 30, 1966, Mimi's twenty-first birthday and their third weeding anniversary, they and many friends attended a party celebrating the book's publication. Afterwards, instead of driving home with Mimi, Farina decided to ride his motorcycle home. He died when he crashed not far from the party. 
A third album, Memories, was released in 1968. All three have remained in print for these fifty years. Vanguard has also released four compilation albums over the years, most notably the one on 2001 that contains the three original albums as well as nine tracks recorded at Newport. Befitting his stature as a novelist of note, Viking re-published Been Down in 1983 with a forward by Thomas Pynchon, who was a close friend. That edition has never gone out of print and is now considered a classic of 20th Century American literature.
All this background serves a long introduction to a Plainsong's extraodinary new album of Farina's songs, Reinventing Richard: The Songs of Richard Farina, to be released on September 11.  While Farina may have faded from the public his songs have remained part of our rich musical tapestry. They have been recorded by Baez, Judy Collins, Tom Paxton  Pete Seeger, Fairport Convention, Trapezoid, Sandy Denny and, earlier this year, by the irrepressible Nellie McKay. However, the most consistent and enduring of them have been Plainsong's members Iain Matthews and Andy Roberts who have been performing his songs for over forty years. 
"I don't exactly remember the first time I encountered Richard and Mimi Fariña's music on record," says Roberts. "Maybe it was through John Peel, but it was certainly in the mid-'60s, during my time in Liverpool, and in my mind I can still drift back to my one room in 64 Canning Street, with Celebration for a Grey Day on the turntable. I loved Richard's dulcimer playing, particularly on "Dandelion River Run"; on the Liverpool Scene's first album from 1968 you can find a guitar instrumental called 'Burdock River Run' in tribute. Dandelion and Burdock, see? He played the dulcimer with attitude — not folk-style, or pseudo-classical, but a full-throated folk-rock strum that drove his and Mimi's music like a banshee." 
This easily could have been a tribute album by many different artists, but Matthews and Roberts seem to have always viewed it a Plainsong project as the Farinas' music and persona having been such a large influence in their own lives and music. The album contains sixteen of Farina's songs, including the previously unrecorded "Sombre Winds."  (Full track listing below.) As Matthews writes in the liner notes, "We've attempted to conceptualize how his songs might have sounded, if written and first recorded in a 21st century electro/acoustic setting."
As von Schmidt, quoted in the David Hajdu book Positively 4th Street: The Lives and Times of Joan Baez, Bob Dylan, Mimi Baez Fariña, and Richard Fariña, noted: "Neither of us (von Schmidt and Bob Dylan) had ever seen Farina perform before. Dick had this lusty presence. He didn't sound like any of the rest of us. Dick was coming from more of a European idea and an Irish-English thing. This kind of impressed us. We couldn't keep our eyes off him. He had a kind of presence that you either have or you don't."
As evidenced by the Reflections In a Crystal Wind album cover, Farina was the most surrealistic songwriter of his generation, including combustible mixes of psychedelia and social commentary in songs like "Mainline Prosperity Blues" and "Sell-Out Agitation Waltz." But, his more introspective songs like "The Quiet Joys of Brotherhood" and "Pack Up Your Sorrows" seem to have been his most popular. These four are included is this collection. Oddly absent is what I have called the original acid protest song, "Bold Marauder." But that is a very minor omission, especially as Nellie McKay covered it quite nicely in her My Weekly Reader eclectic album of 1960s covers.
For more information on the Farinas, I cannot recommend highly enough Hajdu's engrossing book. There is also an informative web site devoted to Richard and Mimi: http://www.richardandmimi.com. It appears to be a site by one or more devoted fans and at times conflicts with Hajdu's book. 
Finally, on a personal note. Mimi passed away in July of 2001, not long after I moved back to New York. As there were several other fans of the Farinas still living there, we organized a get together in a Soho loft, swapping songs and stories of two memorable folks and a special time. As I had only been able to know them from a distance, I sat in silent, if rapt, attention.
Track Listing:
1. The Quiet Joys Of Brotherhood (Prelude)
2. Pack Up Your Sorrows
3. Sell-Out Agitation Waltz
4. One Way Ticket
5. Another Country
6. Lemonade Lady
7. Mainline Prosperity Blues
8. The Falcon
9. Almond Joy
10. Hard Loving Loser
11. Michael, Andrew And James
12. Children Of Darkness
13. Reflections In A Crystal Wind
14. Sombre Winds
15. The Quiet Joys Of Brotherhood (Conclusion)