Album Review
Plunging into the Philosophical Wilds with Henry Jamison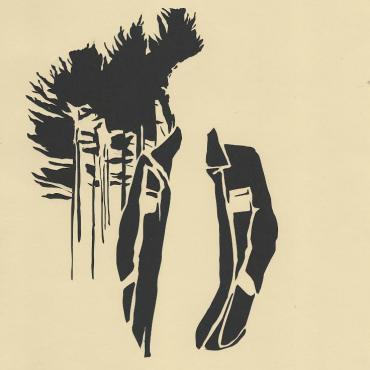 Sparse, yet lush, instrumentation creates a wild forest-like sonic landscape in Henry Jamison's debut album, The Wilds. The album opens with a haunting, ethereal, chant that moves slowly into the title track, an airy reflection on loss and love floating on the airiness of tape loops, guitar, and voice. "The Jacket" imagines the ways that an inanimate object becomes infused with the animate energy of the person wearing it. In its own way it's a love song that reimagines the relationship between lovers.
Jamison weaves a dialectical thread through the wildly patterned quilt of his music, pondering philosophically in his songs the unities of time and space that underlie human existence. In "Black Mountain" he contemplates the relationship between self and world and wonders just how a seamless unity between self and world can be achieved, if it can, and what differences it would make to individuals or to the cosmos. "Varsity" meditates on reality and illusion: "I'm not what I appear to be/I'm a little more confused, but also less so." In many ways, The Wilds is a dense album, sometimes labored and difficult to listen to for more than one sitting at a time. At the same time, though, the repetition, the sparseness, the idea-saturated lyrics not only give the music a weight but also provide a complexity that can be repaid only by listening several times to the music. Listening to Jamison's The Wilds is like stepping into the forest and losing yourself in the dense underbrush before emerging into the bright light of an open meadow.
I chatted with Henry Jamison recently about his reading and the ways it informs his music and his songwriting.
If you had the chance to invite three authors, living or dead, to lunch, whom would you invite?
Rainer Marie Rilke, even though I think he's difficult. I've been trying to plod through his poetry; he was very sober, and he had a philosophical bent. James Hillman: I got into Hillman by reading his Re-visioning Psychology. His book The Dream and the Underworld is just wild. He was into alchemy, and alchemy is very interesting to me. Robert Musil, who wrote The Man without Qualities. It would be a strange lunch.
Have you ever faked reading a book?
I'm always faking reading Walt Whitman and maybe William Blake. I'll almost always pick up a collection of Blake's poems in a sort of guilt-ridden way.
What's the one book that has shaped you?
There are several. Rilke's Sonnets of Orpheus. I have this awesome edition of Henri Bergson's writing on time. One time I wanted there to be a thorough Hegelian dialectic, but Bergson is more an intuitive leap and more empirical. Aaron Copeland's Music and Imagination; Nikos Kazantzakis' The Fratricides: I have a little bit of a fetish for that sacred aesthetic in Kazantzakis' work, but this novel presents another side of that struggle. There is also a book called The World as Metaphor. The title is very close to the way I see the world. I'd say that if I have any kind of agenda with my writing and music it's basically de-literalizing. My main point with metaphor is not to establish separate realms, and I think maybe that's getting at something about the world and ideas.
What's the one book you won't leave home without?
At any given time there's one book that's my food and energy in certain ways. Maybe I'll treat that Bergson book that way right now.
How does reading contribute to your songwriting?
The songs may come out of my personal life stuff, but with a philosophical perspective. Reading is a vital part of the whole operation. My songs are very philosophical; there are a bunch of ideas with a pop hook. "Real Peach" on this new album is a great example. I use metaphors from Hillman's Re-visioning Psychology in some of my songs.
Are there any music books you'd recommend?
I come to books to get away from music. In certain ways I think I have compartmentalized myself. Music has this non-descriptive quality that delivers a lot of emotions without words. I have every intention of getting and reading about musical composers. The most interesting thing to say is that I don't have anything to recommend.

https://www.youtube.com/watch?v=AINSzoRNq3Q