Album Review
Poignancy, Emotion, and Spirit in a Singular Absorbing Voice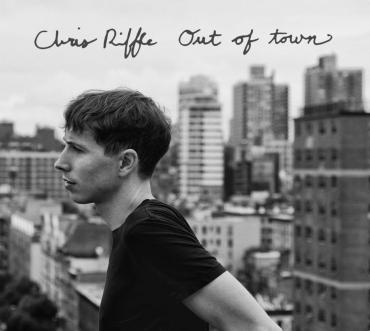 It's not every day I come across a young singer-songwriter who has equal amounts of poignancy, emotion and spirit in his singular voice. It's not the kind of voice that is deep and resonating like Nick Drake, but it has substance the way Drake had, as well as, Joe Henry, Sufjan Stevens, Joseph Arthur, and singers of that genre. A little breathy, yet they purr like the intense Scottish band of Paul Buchanan & Robert Bell (The Blue Nile) or even the Swiss group Double – pronounced "doob-bel-aye" -- (who had a hit with "Captain of Her Heart") by vocalist Kurt Maloo.
The opening track of bi-coastal artist Chris Riffle's CD "Out of Town," is "Shake Me Up." A meticulous lyric and steady melody winds around and snakes along with its guitars creating an ambience and mood that is quite effectively, and satisfyingly highbrow. Followed by "Breathe It In," – this track is filled with absorbing vocalese.
Some people don't like falsetto voices, but this is not really falsetto. Chris has a mellow, lo-fi voice. It has highs, but they are warm and traverse the borderline of a deeper voice as it approaches its higher register. Chris remains steady in the margins and it's there he weaves the tight emotional notes that his music requires and inspires.
It's as if he tries to sing his song to who he loves in a whisper so it doesn't disturb anyone else. If nothing else, the song is beautiful – he sings in a manner similar of Leonard Cohen with singing lessons, and octaves higher than Leonard in a more comfortable level. There is a unifying coolness to how Chris feathery voice floats above the intense precise music.
Acoustic guitars start the third track. An infectious melodic dazzle. "Count the Hours," unravels "as he sits and counts the hours until we're not so young."  Nice.
There's some well-placed subtle distorted lead guitar between the acoustic picking. Unobtrusive and stinging. A little Nick Drake in approach, a little Townes Van Zandt in execution and with the sweetness of Tim Buckley. A compelling array. The steady tap on the cymbal, light percussive adorning, and the song slowly builds its melody as it progresses. This is a sophisticated slice of songwriting. It has, in a way, a dramatic Procol Harum type propulsion. Their lyric might have been a little more surreal, but Chris' tune is layered with nice instrumentation that is pure ear candy…but not a confection, a Godiva chocolate at best.
Tony Leone's brushes on the drums are suave and producer Jimi Zhivago's guitars lay down a nice web of notes. There's  upright bass of Rob Jost that provides a heavy, thick atmosphere. Yet, it's Chris' controlled, savoring vocal that captivates in "Nothing But the Waves." Everything is steady, the words are economical and wisely chosen. It's apparent that Chris doesn't write his songs with hooks in mind – but, more importantly, a path of emotional absorption.
Background vocals on this track by Jenna Nichols is filled with delicate circuitry. It sizzles yet never electrifies. It's more important that the music travel through your mind at a low voltage and be more subliminal in its appreciation. The song itself is like waves – not tidal waves, not a splashing surf, but waves that just gently kiss the shore and at times -- waves like a mirage. This is how Chris sings the entire lyric and – it's effective. To my ears at least. 
"Inspired," has a deep nice upright bass that continues to be solid on Chris' songs. Acoustic guitars gently introductuce the melody. Somewhere in there it sounds like a nice French horn tempting the song to come out of its shell. This is sung in a manner that seems private, and is self-reflective. Not really "meant" for a listener to hear, but instead -- eavesdrop on. A synth trickles in with no fanfare and when the French horn bellows, the song takes on an even more personal feel. It's not depressing, but it has sad overtones. A mature effort.
"Closer Where I Wanna Be," comes closer to a more Nick Drake fashion. Descriptive lyrics, raw guitar tones, delicate arrangement and slowly the song sharpens its voice. The lead guitar is potent and is almost "the other voice" in the song. Again, Chris is more concerned with mood and atmosphere than just hook lines. For some listeners who are more accustom to foot stompin' good ole boy tunes this may border on valium induced listening. But it really isn't.
Chris is venturing down paths of reflection, nostalgia, confession, second-guessing, and words that are more often than not found in someone's diary. This is wine drinking music. It's not always clear if Chris is singing to someone or is singing inside his head about things he doesn't talk about out loud. Many people are like that and what I find here are songs that many can relate to…albeit privately. 
A Hammond organ sound and brushes on the snare with some sharp phrasing begin "Worry So," and this song is one of Chris' best vocals. This is a song that stabs the heart. Those people who are lonely, on rainy days, snowy days, alone in the world and locked in and contemplative type hours. This song proves you are not alone. "I couldn't see that you were right…"  The vocal is clear, concise, intense and punctuated. Many of us worry, all the time, about serious things and about really nothing. Powerful.
Clear acoustic guitar and "To the Wind," begins with a the fluent realization of letting someone go. Chris does not sing monotone. He remains throughout in that whispered soft voice, but he does hit varied notes for effect. This song as well, is Nick Drake inspired and that is not a bad thing. I hear lots of "Northern Sky," in this approach and that song is a classic. Drake's legendary song continues to this day to be so moving. Chris achieves the same level with an instinctively good vocal and bristling acoustic guitar. This song is easily a perfect segue into Drake's classic. The background vocals are emotionally charged – as dramatic and endearing as the background vocals on Elvis' "Suspicious Minds" toward the finale. This is a lovely piece of work.
Ah…finally, something a little more upbeat and in your face.
"Invincible," has a punchier beat and Chris' voice while still in whisper mode is mixed up closer to the mike. Guitars sting, and Chris has this song's pulse beating at optimum levels. There is an intimacy in this tune, yet there is an exuberance that is steady and maintains the sensitivity of the lyric. Nice little lead guitar anchors the song and the drums thud with husky beats. Just a tease, a pinch at the possibility of Chris being able to rock out if he really wanted to. There's a Pink Floyd flavor to this one, just enough surreal in the instrumentation to suggest it – yet, it's all Chris Riffle. 
Up next, the guitars start with a little David Gilmour tease, but the title track "Out of Town," unfolds with a riveting display of lyrics planted in Hammond-organ type notes. The songs show a sensitive artist. He isn't going to sing rockabilly, or unleash a fiery lead guitar for showboating purposes. The showboat is in this artist's ability to reach into your ears and touch your soul. Music for evenings when you just want to lie back and reminisce about past love's, mistakes, words you should or should not have said, apologies that still simmer in your heart, places you must still visit, people who deserve a note or call. It's all here – in small doses. It gives you courage after you've listened. Chris manages to succeed in reminding us that we are not perfect. But -- we can smooth out the wrinkles of what we've said and done. This sounds a little dour in its slow dirge like melody – but, in reality it is an optimistic song. "You can just rest today…"
"Less Traveled" is the closer – short and sweet with acoustic guitar and French horn painting a contemplative, and fluent melody with Chris' intimate vocal.
At first, I thought the song "Out of Town," should have been the closer. However, after listening closely to the brief "Less Traveled," it's the bridge to all the songs played on this collection and that includes the title track. Excellent sequencing.
Some female vocalists who approach the same intensity as Chris melodically and lyrically are Scotland's absolutely wonderful Horse McDonald ("You Could Be Forgiven," "God's Home Movie"), the marvelous Phranc and the classic Cris Williamson ("Last Sweet Hour"). These women have that deep evocative music that Chris Riffle explores.  
As I said, this may not be the album you want to play to get guests to dance -- unless you want a lot of slow dancing. Alone with someone you love – these songs will "say something" while you remain silent. They are "messages" if you include them in a mix that you give to someone special. A peek into your own psyche because Chris has done it all for you. It's personal, intimate, private at times, and always intense. Leonard Cohen built an entire career on these types of songs, but Chris hasn't smoked as many cigarettes yet. 
Chris is on the right path with this collection -- because he is consistently convincing. He may have to open his creative mind just a little more (and he may have – I haven't heard everything he has released and he does have a deep repertoire). He needs to push out -- be a little more imaginative going forward. After all, he will have to "tell stories" about others eventually if he wants to keep an audience interested. He does have the lyric talent, the melodies, and his voice does have an interesting quality. While not as eccentric and deep as Mr. Cohen, Chris does have a style.
As for more personal approaches, he should listen to some of Dory Previn's songs which were really soul searching confessional songs of the first order. Her gift of lyrics was as good as Leonard's. Then of course, there is Laura Nyro and Judee Sill – both, quite intense and personal when they wanted to be. But, instead of always being personal they did reach down deep for some endearing story songs. Chris has all the credentials – the ability is there. Next album should continue with the confessional approach, but allow it to be a little more accessible. Even blues singers had a sense of humor when they sang some of their blues.
But, I like this guy.
He does have something to say – and he performs songs that many artists do not have the emotive resonance to do so effectively themselves.
"Out of Town," was excellently recorded and produced by Jimi Zhivago with all songs by Chris Riffle. The CD art was produced by Chris with Cat Biell. An attractive six panel black and white package.
Criticism? Next time include lyrics – they were all good enough to read and follow. The songs are personal and many who listen could possibly relate to the songs. If no budget for a booklet, there was room for some songs in the panels -- people will just have to wear their glasses. 
Website: http://www.chrisriffle.com/video.html
FaceBook: https://www.facebook.com/rifflemusic
SoundCloud: https://soundcloud.com/chris-riffle
Bandcamp: https://chrisriffle.bandcamp.com/
Disclaimer: The opinions expressed in this review / commentary are those of the author and do not necessarily reflect the official position of No Depression. All photography is owned by the respective photographers and is their copyrighted image; credited where photographer's name was known & being used here solely as reference and will be removed on request. YouTube images are standard YouTube license.
John Apice / No Depression / November 2016