Album Review
Pop Music in a Grand '70s Vein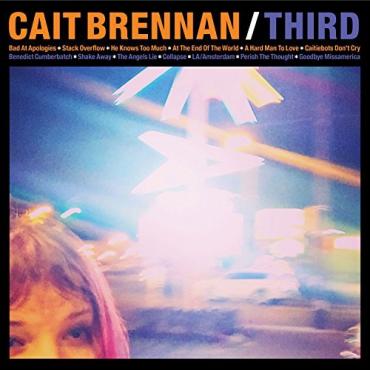 Brennan's full-length 2016 debut, Debutante, set a high bar for this follow-up. Though she began making music as a child, she retreated from public performance for nearly two decades before edging back into the spotlight. Such a period of woodshedding is often emblematic of the industry aphorism, "you have a lifetime to write your first album, but only a year to write your second." Thankfully, Brennan didn't empty her artistic bank account on her debut, or even the shelved second album Introducing the Breakdown, and - bonus - since this is technically her third album, it's ineligible for a sophomore slump.
And slump this is not. 'Ascent' is more apt. Together with creative partner Fernando Perdomo, Brennan combines the best of '70s pop - Nilsson, Bowie, Todd Rundgren, Emitt Rhodes, Sparks, Raspberries, ELO - with the snap of Prince's '80s funk. Perdomo plays most of the instruments and Brennan provides all of the vocals, but it sounds like an ensemble rather than a construct. With tracking laid down in only three days, the productions are full of early-take life that's magnified by canny overdubs of guitar, mellotron and other atmospheric touches. This has the energy of a live set and the finesse of a crafted studio product.
Recording at Ardent's fabled studio A, the duo not only channeled Big Star's influence, but employed some of their original equipment. Perdomo played Chris Bell's Gibson 330 on the opening "Bad at Apologies," and Brennan picked it up for "Collapse." The duo's production is as inviting as the songs and performances, with a gorgeous choral finish to "Perish the Thought" and a superb vocal treatment on the closing "Goodbye Missamerica." E-Bow, Mellotron, Moog and a wah-wah pedal add period vibes, but the overall sound is modern, with some tech terminology thrown into a few songs for good measure.
Brennan's stories of crisis and revival may spring from her transgender identity, but she doesn't pigeonhole herself. As she noted in an interview with Curve, "The beauty of words on a page…is that it's beyond gender and sexuality and race and age—it's the ideas that count." Her songs transcend personal history, and her bountiful sense of humor is evident in tagging "He Knows Too Much" with a disclaimer, referencing Dr. Seuss in "A Hard Man to Love," and giving a song title shout-out to Benedict Cumberbatch. Those new to Brennan should prepare to be dazzled; fans should prepare to be dazzled anew. [©2017 Hyperbolium]