Album Review
Porter - This Red Mountain (Plus "Natural Disaster" Exclusive Song Premiere)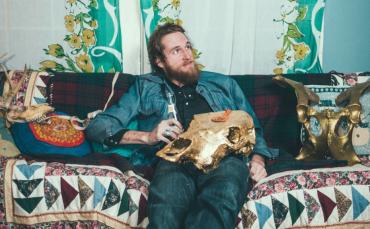 Chris Porter's debut solo album, This Red Mountain, is the record some musicians hope to make even once during their career -- not just because of the unique family ties the musicians share on the album, but the quality of songcraft festooned with emotional rawness and bleak realism. This record gladly brings the pain and heals it up, only to open it up again just a little bit deeper. Slated for a March 10th release, and recorded and produced by Will Johnson (Centro-matic, South San Gabriel) at Ramble Creek Studios in Austin, TX, This Red Mountain is the story of a man's travails, for better or for worse. Porter's journey has been all for the better.
Exiting Birmingham, AL, for the gilded musical history of Austin, TX, and nestling in with songstress and bass player extraordinaire Bonnie Whitmore, Porter found plenty fuel for his creative fire. He penned his solo effort outside of his band Some Dark Holler and surrounded himself with an exquisite list of musicians to bring the concept to fruition. Whitmore, of course, lent her services on the bass guitar and sultry vocals. Her sister Eleanor, who is also one half of the Mastersons, played a slew of instruments, most notably her impeccable fiddle work. Add in Eleanor's other half, both romantically and musically, Chris Masterson on guitar, pedal steel, mandolin, and some organ; the great Falcon Valdez on drums; and the one and only Jon Dee Graham on some haunting lap steel. Together, they provide an evocative roots landscape for Porter's lyrics to travel. Graham also lent his artistic skills to the album cover, and accordingly Porter's record will make you a true believer. The sonic cacophony of sounds interspersed on this disc leaves that custom Will Johnson touch to the mix. This Red Mountain is a home run.
Porter's Mike Cooley-esque vocal styling evokes a wise-beyond-the-years feel yet demands its own respect as it comes across both wise and Earth-traveled. "Angel," an ode to our fallen heroes, features Eleanor's fiddle, which seems like it's lifting their souls to heaven on its own. The title track's subtle nuances and teases create a pattern of sound that could be a Pollock painting if caught on canvas.
Here's to the myth of a man's redemption
for every other time that he stood there wishing
that she would do the leaving
so he could put it in a song.
Porter wrote a whole record of songs with lyrics like that — deep, honest, real. The record is a gem from head to toe, easily one of the best I've heard this year. We're privileged to premiere the second song on the album, "Natural Disaster," below. It's a beautiful country rock and souler complete with a reverbed-out, programmed drum that fits so well it's scary.
She's an act of God and I'm a window pane
watch me break
she's a hurricane
the worst ones always have the softest names
so I'm told.
Save your fast food money and buy this record. 
+Words: Scott Zuppardo+
So nice, you have to listen twice. . . 
SSKTDA on Facebook | SSKTDA on Twitter
***Check us out at Sad Songs Keep The Devil Away for more musings and such. Dig Deeper, you deserve it***
music submittals: sadsongskeepthedevilaway@gmail.com