Album Review
Potenza Digs Deep on Monster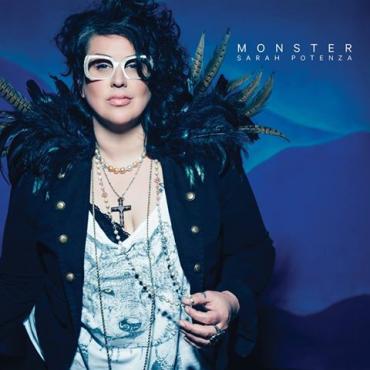 There's a time to listen to your elders and then there's a time to listen to "Granddad." Sarah Potenza's "Granddad" to be specific. In these often trying times, his advice might just take you far in life.
"He said 'Don't you trust the government, always carry a gun, stand up for what you believe in, whether you are right or wrong.'
Above all that he said 'you got to get through thick and thin, don't you ever buy a car you can't sleep in.'
"Granddad" is one of several well-crafted songs on a new release from Nashville singer-songwriter Sarah Potenza. Her long awaited album Monster, produced by Joe McMahan, is her first major release and her first album since appearing on "NBC's The Voice" in 2015. The album, which also features Potenza's husband, guitarist and fellow Rhode Island native Ian Crossman, is a promising major label debut.
Sarah Potenza
Potenza paid her dues on the bar band circuit for years with her band Sarah and the Tall Boys, honing her sound in small clubs and roots festivals like the Rhythm and Roots in Charlestown, RI and the Strawberry Music Festival. She got her big break in 2015, when she received a "four chair turn" and made the Top 20 on "The Voice," while gaining a national following in the process. Her trademark white framed glasses and colorful wardrobe made her a fan favorite and many of those new fans now flock to see her on tour.
Monster was a personal journey for Potenza. She notes: "This album is about my journey from imitation to creation. I set out to make this album because I wanted to let off some steam, I wanted to commiserate with people about the struggle and frustration that comes with being human, that comes from trying your hardest and coming up short.  I wanted to tell myself to keep going. In fact, some of the songs are just a pep talk to nobody but me, and they took on a whole new life when I shared them with people."
Monster Highlights
The album opens with "Mountain," a soulful rocker that sets the tone for the new release. It has a familiar theme - a song about facing adversity, "climbing this mountain, just one step at a time." From the get go, Potenza is up front about her struggle with feminine body image issues, and she's not afraid to sing about it.
Another highlight is "Bird," a guitar soaked narrative that reveals the gentler side of Potenza's voice. The song has a 70's rock ballad aesthetic and definitely mellows the mood. There's an extended Neil Young style guitar solo from Crossman who really tears it up along with a forceful statement from the songwriter:
"I want emancipation, from myself,
I wanna be someone, someone else,
I wanna fly back, back in time."
Potenza's storytelling on "Up on the Third Floor" is equally compelling - the song is a flawless ballad reflecting the classic theme of how love defeats poverty … the "even though we ain't got money, I'm so in love with you honey" vibe. Crossman has mastered the subtleties of the baritone guitar, producing a mellow throaty sound that seems perfectly suited for Potenza's vocals. The song gives her a chance to really stretch out on vocals:
"We got a car, she ain't a looker, but I bet that she was, in her prime…
Up on the third floor, the rents a little bit cheaper, the laughs are better, but the debts a little bit deeper"
The title song "Monster" is a hard driving country rocker along with a bold statement. Potenza ridicules American commercial culture and female beauty standards noting it "ain't no country for a big girl."
"So I put my big thighs in my ripped jeans, use my big feet, to chase my big dreams.
People line up to hear me scream, this is my real life it ain't no daydream… I am a Monster I am big and I am strong"
Covers and Originals
The release includes three popular covers - all great songs, all well done, although maybe one too many. It's nice to have familiar songs on a new album, but they shouldn't compete with the "original" tunes – especially when the album contains a number of exceptional songs penned by Potenza. Don't get me wrong, they are all good performances, but the songs seem a little forced at times and perhaps a bit over-produced.
That said, the Hozier gem "Take Me to Church" sounds like it might have been written for Potenza. She makes a solid run at the intensity felt in the original which isn't easy. The Creedence classic "Run Through the Jungle" comes through loud and clear – it's a fuzz filled funky blues ride right out of the swamps of Viet Nam … or Nashville, TN. Her third cover is the album closer, a soulful "Valley of Tears," a song originally recorded by Gillian Welch and David Rawlings. Amen!
You won't find any gimmicks on Monster, just pure unadulterated rock and roll. As such, it should find an audience among Americana/Roots enthusiasts and traditional rock fans. Rolling Stone called her a "rock 'n soul powerhouse" and Potenza has been rightly compared to commanding divas like Janis Joplin, Etta James even Aretha Franklin. We concur.
Potenza and her band are currently on tour and will appear at the Rhythm and Roots Festival in Charlestown, Rhode Island along with Lucinda Williams and Bruce Hornsby on Labor Day Weekend. She'll also be at the prestigious Americana Music Festival in Nashville on September 22. Don't miss her! 
Ken Abrams is a Music Critic at GoLocalProv, Rhode Island's largest online only news and entertainment site. Follow his coverage of the Rhythm and Roots Festival Labor Day Weekend.