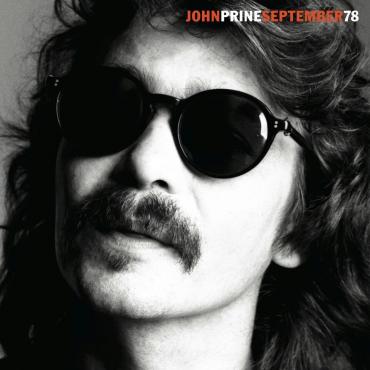 On Sept. 23, 1978, John Prine rolled into Chicago's Park West for an evening of rollicking rock and roll. Although the night's performance was captured on tape, the recordings languished, lost in Prine's basement, for the next 40 years. On Record Store Day in April 2015, Oh Boy Records pressed and released 2000 copies of September 78 on orange vinyl. Anyone who missed out on the opportunity to grab this rare Prine recording now has the chance to add to their collection.
While John Prine remains the living poet laureate of folk and Americana (an honor he'd quickly bestow on his good friend, the late great Steve Goodman), he's also a hell of a performer, cracking jokes on stage, telling hilarious stories, and enjoying himself as he entertains his audience. September 78 illustrates his showmanship and provides electrifying performances from Prine's rock and roll band: Prine's longtime friend Johnny Burns scorches the stage with his guitar licks; Howard Levy holds forth on harmonica, piano, organ, penny whistle, sax, and mandolin; Tommy "Pickles" Piekarski keeps the bottom strong on bass; and Angelo Varias holds down the rhythm section on drum.
The album energetically kicks off with the driving "Often is a Word I Seldom Use," propelled by Levy's explosive harmonica and Burns' screaming lead riffs. With Levy's organ chords providing the foundation, "Angel from Montgomery" takes on a slow, gospel groove, a vibe underscored by Burns' mournful guitar licks and Prine's a cappella vocal to close the song. The band delivers its version of The Righteous Brothers' "Try to Find Another Man"; here it's a cross between the Stones' "Far Away Eyes" (which would have been released just a few months before this performance) and a Muscle Shoals song. Burns gets to show off his blazing guitar solos while Levy propels the song with his barroom piano. Prine introduces the band – "they're all from Chicago" – at the start of the reggae-inflected take on his "Pretty Good." More than pretty good, the band delivers a tight set, closing out with Burns' lead arpeggios. The two-song encore of the night includes Prine taking on Elvis' (and Burns taking on James Burton) "Treat Me Nice," as well as Prine's own "Sweet Revenge."
September 78 falls between Bruised Orange and Pink Cadillac and acts as something of a transition as Prine moved from folk to a more rocking sound. September 78 captures a moment in time in Prine's career, and it captures the energy of his stage show and the love he brings to his audience.