Album Review
Qristina & Quinn Bachand – Little Hinges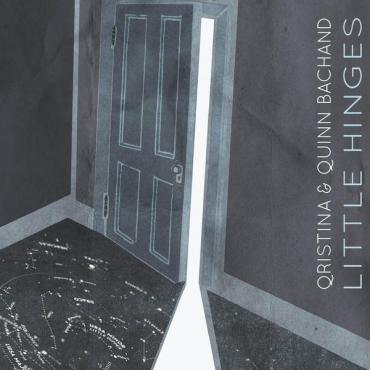 Irish, Celtic and Scottish music has always provided some of the most rousing, energetic and melodic tunes ever recorded. As an admirer of artists such as Spirit of the West, The Oysterband, Black 47, The Pogues, The Skels, The Rankins and The Drop-Kick Murphys I always marveled at their inventiveness, well-recorded songs, aggressiveness, inventive lyrics and word play, not to mention -- a never ending well of originality even when sounding quite traditional.
Well, here is another smoking duo with personality performing music with a decorative touch with some stinging approaches to a vintage tradition: Qristina & Quinn Bachand. They are a brother-sister team who have already accumulated multiple awards for having opened the door a little further on their Celtic interpretations – both traditional and progressive. Quinn has accompanied fiddling artists such as Natalie McMaster and Ashley MacIssac on tours. 
At times, I thought what I was listening to was the Celtic equivalent of Dead Can Dance. Dead Can Dance being well-known for their blending its well-crafted mix of Gothic, Middle-Eastern and rock recipes. Well, the Bachands push back with their familiar Irish-Celtic-Scottish styles but they pepper it with heavy-duty fiddle, low booming bass, delicate female vocals over pounding production values and a surprising array of beguiling instruments. The music easily gets into your skin, down through your pores and triggers your curiosity. Could this possibly work?
Several years ago an equally young band with a fiery female violinist ignited my speakers with "While You're Laughing," by Private Lightning. (Available on YouTube) and Patty Van Ness' wall of sound violin assault was exciting and driving. It simply upstaged every one else. While perhaps not as intricate as what Qristina is capable of -- Van Ness is the female violinist that got me interested in what that instrument was capable of and this is what interests me with the art of Qristina and Quinn. Of course, there have been other bands that featured violins -- The Flock is an excellent example. 
The music here with The Bachands remains true to its original form by being melodic and at times haunting. Moments are wrung out with bright flourishes in reels and instrumentals – but you won't imagine a roomful of busty women lifting their skirts and banging the hard wooden floor with their shoes as they dance across the sawdust with half-drunk happy men who are celebrating life in a pub at the end of the world. Instead, I envisioned smiling skeletons dancing, whirling dervishes of skirts on otherworldly women with gothic inclinations, spider tattoos, and black candles with curvy flames tossing big spooky shadows on the walls and the whiskey flowing like water. It was like out of the movie "Plunkett and Macleane," but without the real dark Bertolt Brecht-Kurt Weill by way of The Tiger Lillies music. The Bachands experiment is far more accessible in an intense, sauteed over a low flame sort of way.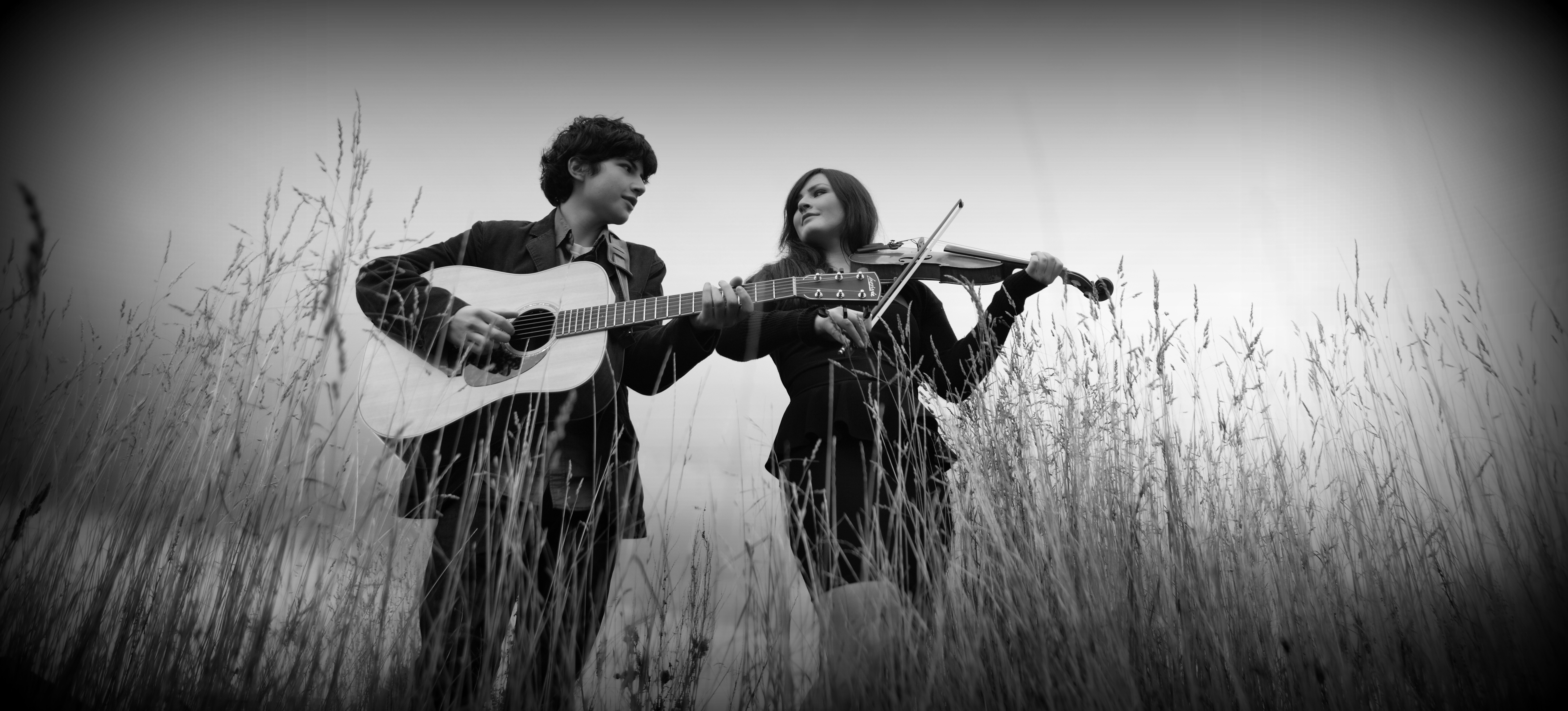 The band sets the stage with a strange, short introductory instrumental out of early "Ummagumma" Pink Floyd and then suddenly "The Reunion" begins – with a surprisingly catchy fiddle and some of the strangeness slips away into a jaunty instrumental. From out of the dark you're at once with a friendlier environment. As it moves along additional instruments join as if more wondrous faces join the party. The melody gets louder, the intensity slowly sucks you into the magic that will unveil the "big things (that) swing on little hinges." Creepy or prophetic?
"What You Do With What You've Got," introduces the delightful vocals of Qristina. No, she's not another Sandy Denny or June Tabor…she has that charm that Alison Marr of Lick the Tins possessed. Clear as spring water Qristina's energy is infectious and the acoustic guitar with the fiddles is sweet. On this track the fiddles are played by both Qristina and Quinn, with percussion by Joby Baker. Quinn also plays acoustic guitar and this is all not bad for just three people. This is a great song and video. 
Breaking from vocals the next tune "The Bachand Jigs" is a fascinating diversion especially when without warning a strange devilishly sounding tenor banjo supplants the other instruments with its up from the earth notes. It's like sweet chocolate eaten with salty potato chips – it shouldn't taste so good but it does. All this from a felicitously young duo. You would think they are two seasoned veterans with long hair, a beard, a jug of whiskey between their knees and whatever else you can conjure of back woods, rolling hills, rustic porch Appalachian style musicians. But, when you do see Qristina and Quinn – you will certainly have a jaw dropping moment. I did. Young people are not supposed to be this good. Right?
One of the best tracks featured in this collection is vocal painting of "Crooked Jack," as rendered by Qristina – her vocals and her fiddling are perfection. The tale is mesmerizing and woven like a spider's web into a tight showcase. Not an original tune, Qristina admits she learned the song by listening to a legendary folk singer Dick Gaughan – a compelling song with lyrics included in a booklet with their CD.
Once again, to pace the album, another instrumental "The Welcome Farewell Set," -- an impassioned melody driven by Qristina's relentless fiddle work. Her approach is never boring, it's filled with equal pinches of salt and sugar. Along with its accompanying percussion the instrumentals play in a tight structure that is well-crafted.
The title track "Little Hinges," is reminiscent of the English band The Strawbs who explored the depths of traditional music, some bluegrass and progressive music. That was daring back then. This song works as a bridge between two halves of the album. "Hang Me," is sung by Quinn – and this time with its varied web of instruments sounding like they were recorded in a long hall way I hear hints of Tom Rapp and his eclectic band Pearls Before Swine – which is a compliment. That band was so original no one ever attempted to sound like them – but this is very close to achieving magical moments that Rapp always invented with his creativity. This, in many ways, shows the sharp diversity this duo is capable of.
With "Jimmy's Fiddle," – Qristina sings with just a lilt of echo and the band performs with mystical gypsy reverence. Still, this is in the tradition of Pearls Before Swine and with the variety of instruments used it all came together with precision. It's a feast for the ears – and quite original in its execution. 
Back in the hall way for "Saint Nothing," the banjo is herky-jerky with perculating percussive effects. This time, Quinn sings – but with an entirely different and possessed-like voice. This tune is closer to the Dead Can Dance approach had they decided to use these instruments in their ensemble. The Bachands provide fascinating layers of sounds, with deep dark deviant foggy atmospheric tones. I'm not big on special effects but the finale with the torrential rain was cool.
A sincere Qristina vocal makes "Listen" the polar opposite of "Saint Nothing." This is the most accessible tune on the album. It has a savoring vocal but it injects little dark instrumentations. It doesn't interfere with the message the vocalist is singing about. It's a sad song with a determined vocal – sung by a voice that simply has had enough of a failed relationship and it's intriguing. The music projects that sadness in its undertones but the singer sounds both sad and optimistic or will be – once she has gone. That's certainly a different angle for a song.
Pacing the album cleverly Qristina and Quinn open with beautiful fiddle and acoustic guitars in "Never Goodbye." There is no singing, but the melody is uplifting and seems to suggest that better days are coming. A hint towards a traditional melody the distortion mixed in with the acoustic instruments can be jarring. However, the instruments are trying to tell a story – it's like when someone is angry and is yelling at you but it's for your own good. It's to wake you up. This is a song that sounds like it's trying to bridge feelings and I believe it succeeds.
"Three Little Babes," is from The Child Ballads – 305 traditional tunes collected in the 19th Century by Francis James Child. To understand that beautiful melodies and words such as this exist in some obscurity and are revived by artists such as Qristina and Quinn is a marvel. The words are included in the lyric book with the CD. This is a stirring lullaby-type tune that should endure. This is without a doubt Qristina's finest vocal. Dramatic in a melodious way the tune is worth listening to over and over again.
The final song on this 14 song collection is old school – "The Hangman's Reel," with twin fiddles by Qristina and Quinn that is just a wall of beautiful rousing notes. It is way too short – should have gone on for another two minutes. But, this a respectful way of signing off on an ambitious and brave album that certainly has a number of bright moments and intense ones.
"Little Hinges," is their third album. While not a conventional approach, they share that distinction with another band I recently reviewed with twin fiddles and performances that have excitement – Burning Bridgett Cleary.
The Victoria, British Columbia-based band is primarily made up of The Bachand's along with their percussionist Joby Baker and Josh Dixon (who drummed on paint cans and was looped into "Crooked Jack," for additional effect.) So, the entire production is quite lean – yet, the sound is full and magnetic. If you are curious about how traditional Irish-Celtic-Scottish-Appalachian music would sound like stitched into some Gothic-dark intensity this would be the place to start. Quite an interesting collection and a brave one.
Photography Credits: No specific photographer found for B&W duo picture -- original photo was found/courtesy of Pat Buckna Presents -- B&W of Quinn against door courtesy of Ryan MacDonald Photography
Website: http://www.qbachand.com/about
FaceBook:  https://www.facebook.com/qristinaandquinnbachand
YouTube Channel: https://www.youtube.com/user/TheBachands
Disclaimer: The opinions expressed in this review / commentary are those of the author and do not necessarily reflect the official position of No Depression. All photography is owned by the respective photographers and is their copyrighted image; credited where photographer's name was known & being used here solely as reference and will be removed on request. YouTube images are standard YouTube license.
John Apice / No Depression / April 2015