Album Review
Quaildogs - The Getting Old Factory (Plus Exclusive Track Premiere)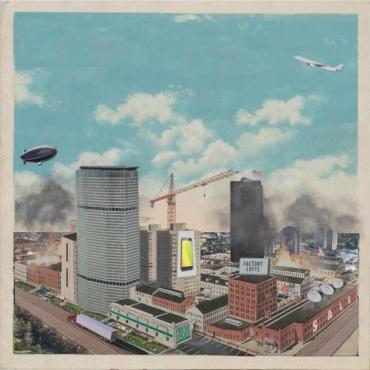 Bridging the gulf between the power pop for which Alex Chilton was forever searching and Whiskeytown-like jangly alt-country are Atlanta's Quaildogs. The sextet has managed to keep their original lineup for four years -- a proverbial lifetime in the music racket. Their debut long player The Getting Old Factory is well worth the fermentation the band has undergone in the time it takes to hash out a high school career. Sharp melodies with even sharper guitar solos leave the record unpredictable and a far cry from the lo-fi EPs they previously released. Expertly placed fiddle fills exacerbate the moods on this record -- it's some of the happiest music set to the saddest lyrics you'll come across. It all feels like gangrened future scars covered by cartoon bandaids that won't stick cause your skin's too wet, if you follow my drift.
The Getting Old Factory is gleaming with sugary sweet melodies the likes of "Funnel Cloud," with its impeccably catchy chorus set to impervious jangle pop-rock, despite its country-rock curveballs and guitar solos Leslie West would salivate over. It's a number that simply sticks with you, possibly in its message as well as its melodious undertones. It's a record that came through spotless but wasn't intended to be, like when it rains for a week straight and your garden is finally green. You couldn't have built it better if you tried. These are songs with a message and a purpose of informity.
The original idea was a fourth EP in the lo-fi confines but as the songs grew together and became more cohesive, the more bluegrassy numbers either morphed into the straight-ahead alt-country offerings or were scrapped. As much as I'm a fan of lo-fi, I'm of the opinion the Quaildogs are following the right scent. We need a record like this to cut the fluff.
This band is perhaps more poignantly pop then usual artists covered by 'ssktda' but one must beware of the genre term "pop." The hipsters will cringe (good!), the full-hearted roots purists will shutter, but my only ask is that neither does so without listening first. There's welcomed room for poppier sounds in the roots scene, especially when the music is created organically and isn't forced -- indeed, that's where the majors and their regime fall short. You can't fake forced, not now, not ever.
Poseurs are transparent; this record is unabashedly opaque.
We're amped to premiere the third track from the album, "Sweet B" -- a full frontal country rock assault on plenty of beautiful noise and bow-shredding fiddle action. This is a dusty minor-keyed toe tapper with a driving rhythm that thrives on solos and licks like a bagworm on a blue spruce … heavy tone. Singer/guitarist Rob Josephs' vocals hold a wisp of Woody Guthrie, in the vein of Deer Tick's John McCauley meets the Jayhawks' Gary Louris. But it's bassist Lee Berg's time to shine on the main mic, accentuated by fiddle fills that seem to carry the vocal yet add effectively to the vulnerability. 
The Getting Old Factory is slated for a September 15 release. Get a leg up on the Quaildogs, this dog can hunt.  (+words: scott zuppardo+)
SSKTDA on Facebook | SSKTDA on Twitter | SSKTDA on Instagram
Check out Sad Songs Keep The Devil Away for more musings
Dig deeper, you deserve it...