Album Review
Raise your hands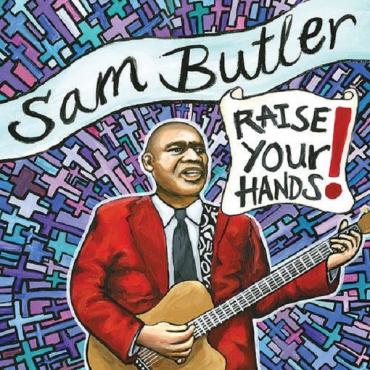 This is Sam Butler's debut solo release of any kind, though he is a performer that has been well marinated and seasoned through his work as the lead guitar player with the Blind Boys of Alabama.  He initially went out on the road with them first with his father, Sam Butler Sr. when he was 4, learned his lessons well.  He didn't just stay in the gospel genre, has done vocal work with both Keith Richards and Donald Fagan.   In order  to get the sound he wanted he enlisted some outstanding A list musicians such as pedal steel master Roosevelt Collier and bass by way of maestro Viktor Kraus and in demand drummer Marco Giovino, and they pull it all together under producer Brian Brinkerhoff.  There is at times a murky or muddy quality, yet in some ways that seems to enhance the effect.
There are 12 songs here penned by a variety of writers who for the most part are not generally associated with Gospel music such as Bruce Springsteen, Tom Waits, Eric Clapton, Johnny Cash, Van Morrison, and the way these songs are played and presented they are Gospel, or rather he makes them so.  It is a very interesting first effort.  Some of the songs were written with that intention, but for the most part they remain in the more obscure hidden areas of these songwriters' efforts.  That said, the songs as they are offered to us by Mr. Butler, are songs of faith and hope.  It is Gospel for all of us and not necessarily the more traditional going to the Lord for miracles or cures.  
This is the Soul/Blues Gospel that has evolved in Sam Butler's soul through all those years of playing guitar behind the Blind Boys and providing the base for them to dazzle us with their vocal acrobatics (and if you haven't heard them you should get up and give a listen to sone of the most exciting vocals groups around).  Sam Provides a psychedelically, soulful guitar to all the songs he touches.  A guitar that is steeped in that same driving fervor that powers gospel music to be the force that it is.
Maybe we should just call this Spiritual music for all the rest of us.
by bob gottlieb
Sam Butler - Raise Your Hands, Severn Records