Album Review
That Rare Thing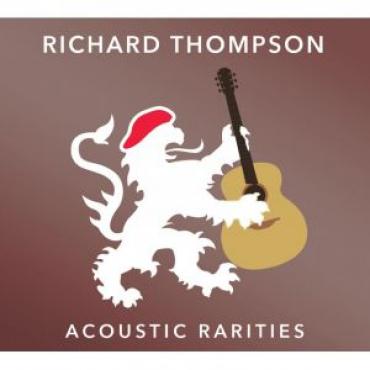 Over a career as long and illustrious as Richard Thompson's it is hard to believe anything of his lies undiscovered. Acoustic Rarities, just released, follows Acoustic Classics I and II but this time, as the name suggests, the emphasis is on unreleased and lesser known material. The previous two are a good way in for a new listener as well as offering the established fan a new interpretation of some old favourites. Acoustic Rarities is more for those who have followed Thompson for some time. Listening to this feels like raking through a dusty old attic and finding both things you never knew were there as well as some long-lost treasures. 
The record has four strands; unreleased songs, those from Thompson's records with first wife Linda, his solo career and lastly his huge contribution as a founder member of Fairport Convention.  
'What If' is the record's first unreleased song. Its chopping chords and dark lyrics that Thompson almost spits out are hallmarks of the man as he cackles, "what if I'm cool and you're deluded, what if I'm hip and you're excluded?" 'Alexander Graham Bell' and 'I Must Have a March' show Thompson's breadth of musical style sounding respectively like Django Reinhardt and cabaret. Thompson powers through 'Push and Shove', I'd love to hear him swap his Lowden to perform that on his Strat. The final track, 'She Played Right Into My Hands' feels more familiar Thompson territory as he draws on his rich English folk heritage to sing about the competitive side of love. There are two songs unreleased by Thompson but covered by others, 'Seven Brothers', is more associated with Blair Dunlop and 'Rainbow Over the Hill' with The Albion Band. However, both are unmistakably Richard Thompson in their storytelling, first about some fairly unsavoury characters and the second about struggle and hope.
Selecting the released material cannot have been easy. What constitutes a rarity? 'Never Again' comes from Richard and Linda Thompson's excellent second album, Hokey Pokey. It is clear evidence that for the songwriter happiness is the least interesting of the human state. 'Poor Ditching Boy' appeared on Thompson's first solo album, Henry the Human Fly. With its accompanying mandolin and accordion Thompson takes us back to his folk roots. 
And that brings us to the final strand; the songs that come from his time in Fairport Convention. There are two and I assume they qualify as rarities because these are acoustic versions of classic electric Fairport staples. Both are co-written with the band's sadly departed fiddle virtuoso, Dave Swarbrick. Thompson's rich baritone on 'Poor Will and the Jolly Hangman' is so well suited to singing of injustice as he rasps, "he'll hang you as best he can".' Sloth' sets the spine tingling, just as it did when first released in 1970. 
This feels a very complete collection but RT, if you think there are more of these hidden gems lying around, please could you have another rummage through your collection soon.