Album Review
Ravenna Woods and Moody Alleyways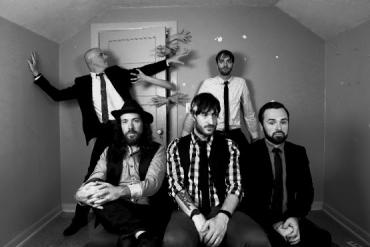 A menacing quality lurks on Alleyways and Animals, the new EP from Ravenna Woods, a five-piece band from Seattle. They tap into a glam rock sound reminiscent of Arcade Fire or The National with a touch of David Bowie, while still staying true to their folksy roots. Their instrumental arrangements are a whimsical hodge podge of sounds, and they use their vocal harmonies to play on that, adding even more dimension.
With just four tracks to take in, Ravenna Woods puts the pedal to the metal, going full blast on each one. "Alleyways" is a ghoulish, pulse-quickening race to the finish with a driving beat and plenty of vocal drama. "Animal" is a haunting ballad with ethereal beauty and heavy piano. "Good Friend" is somewhere between them, featuring Chris Cunningham's deep, breathy voice most prominently. And "Falling On Your Face" takes things up again, booming and powerful with Cunningham's low quiver.
There's a heavy pop rock lean to these songs, with soaring melodies that feel ready-made for a stadium-sized audience. Their otherworldly sound finds a kind of magic in little intricacies, like a piano note here or a whisper there. And when they break out into complete chaos, as with the finale of "Falling On Your Face", it's a strong force that pulls you in. The addition of synth gives Alleyways and Animals a raser-sharp edge.
An overall atmospheric and moody collection of songs, Alleyways and Animals will do enough to peak your curiosity for whatever else the band has up its sleeves. It's intense, frantic and brooding all at once, and seducing you to dance around in a blind fury.