Album Review
Reach Around Rodeo Clowns - Rockabilly Deluxe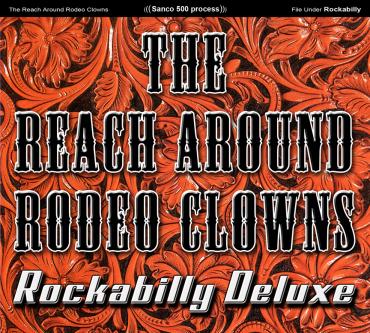 Unfortunately, terms like "inventive," "refreshing," and "clever" have too often been used to describe musicians not nearly as worthy of their imprint as is Quentin Jones.
Those already fans of the man's red hot-gunning guitar-play -- with, most recently, Charlie Gracie, Robert Gordon, and the Rockats, as well as his own RARC -- know him to be of a high grade.     
But Quentin-the-lyricist's knack for roads at once accessible yet less-traveled further distinguishes him. "King of the Slot Car Track" and "Bowling Alley Baby" sculpt novel rock'n'roll silhouettes from mundanity. They and other tracks here twist and writhe satisfyingly in communicable, nitro-dosed fever.  
Abetting Quentin with burly, throwdown zeal are singer Wendell Jones, drummer Dave Ferrera, and Gas House Gorillas bassist Crusher Carmean. Whereas others might merely bop in echo of giants who've gone before, these three know first hand what rocking's all about.
The Reach Around Rodeo Clowns reassure me that rockabilly in the 21st century is as engaging, explosive, and biologically autonomous as when a sideburned, teenaged electric company truck driver first cut loose at 209 Union.
Recommended "King of the Slot Car Track," "Bowling Alley Baby," "Wild, Crazy, and Out of Control," "Paranoid Boy," "I Got the Shakes," "I'm Obsessed
VIDEO "King of the Slot Car Track"  the King of the Slot Car Track (The Reach Around Rodeo Clowns) Lanark Records
http://lanarkrecords.net/lanark-artists/reach-around-rodeo-clowns/