Album Review
Red Dirt Skinners - Live in Aberdeen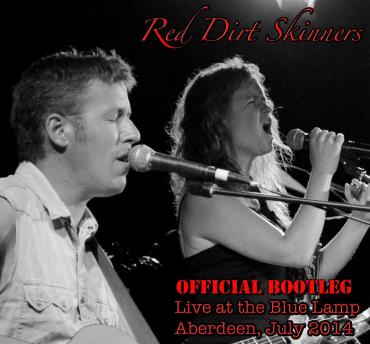 Sometimes, an album passes my desk and I fall in love with it; POW, right from the get go. Live in Aberdeen is one of those albums.
The Skinners make no secret to the fact that this is what they call a "warts and all" recording. Seemingly, they chose on the night to record the gig and haven't edited it. They jokingly say in their press that it's "full of mistakes" but if you can find one, then you've a better ear than me. This is exemplary musicianship.
Since last writing about the Skinners, Sarah has deservedly won "Instrumentalist of the Year 2014" at the British Blues Awards. They were also voted by UK Country Radio as one of the top ten acts of the year. Quite a year for this husband and wife team!
Put the album on, and shut your eyes. You could be right there. You can hear the enthusiasm, you can hear the audience increasingly warming to the duo until the very last song, Hot Tamales, where the applause at the end goes on for so long that it has to be faded out on the album!
The Skinners are becoming well known for breaking down genre boundaries and this album takes you from gentle blues standards such as "Cornbread, Peas and Black Molasses" through a rip-roaring take on Caro Emerald's "Stuck" (with a magnificent soprano sax solo), to a really gentle version of John Prine's "Other Side Of Town". The stand out track, to me is their own take on David Bowie's "Space Oddity". Words fail me.
This duo are on the cusp of something really special - Worldwide.
The live album consists of 15 tracks and I believe there's something for everyone on there.  I understand that they're working on their fifth album now, and I, for one, cannot wait.
http://www.reddirtskinners.com