Album Review
Refreshing, Country Approach With Vitality, Clever Play On Words & No Hokum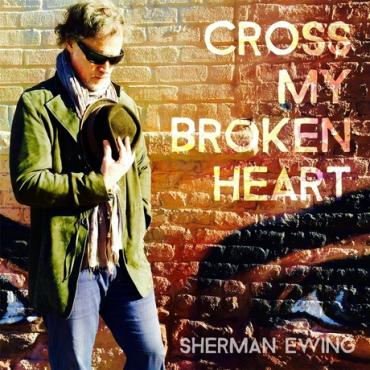 Minnesota born singer-songwriter Sherman Ewing sings country but, it's not cheesy, twangy or outlaw – it straddles the country genre in a clever fashion. It has vitality, is fresh and quite original and in spots – convincingly creative. What could it be called?
I don't know, maybe cosmopolitan country? Maybe having been recorded in Yankee territory – New Jersey -- it has a flavor that is not so much about pick-up trucks, beer, big hats, rodeos, corn whiskey and Confederate flags. Ewing has a pleasant, young Steve Earle style going for him, a cool collected Greg Trooper oriented vocal, a warm Marc Cohn approach and I will risk it: it all has Lucinda Williams tempos, but not her angst. 
"Cross My Broken Heart,"  is a striking play on words – and it has imagination both lyrically and musically. The tune has the standard country guitar courtesy of Anthony Krizan, drums by Chad Cromwell, which are mixed up front and the song has atmosphere: "It's a long road if you want to catch the sunrise…"  -- lyrics like that keep a song anchored in a more serious vein than your average commercial country fare. The back-up vocals are subdued and, in a way, that helps the song -- not hinder it. No candy-coating. The chorus is cool with a line like: "I'm coming home across my broken heart..." Nice.  
This is what I look for in country. Simple, catchy and with a degree of difference from the standard country fare. Oh, it's not Shakespeare and Ewing isn't the new Dylan or Springsteen. But that doesn't really matter. It has absorbing songs, and they're sharp. Yes…I know exactly what Sherman means with his lyrics. I lived it…and maybe many others who hear this will relate to it as well.
Ewing has a pleasant softer tone on "Lonesome Soldier," and the swishing of brushes on the snare fits comfortably. Surrounded by chugging guitars in the back ground, a generous tinkling on the ivories by Rob Clores and sincere vocals by Ewing -- it's another winner. The guitar (Krizan) is pristine in its little decorated solo that fits perfectly in the arrangement. These musicians at least know what is too much…and too little. They seem to have good instincts about what is just enough and what will work.
Ewing obviously subscribes to Tom Waits' suggestion: there's nothing more attractive than a lovely melody surrounded by tragic lyrics or story. That's what "Mack the Knife," was. That's what we have here. A great melody driven by a sad story. Quite effective and a strong, viable statement. Most country artists have no clue what that's about. Bobbie Gentry did it when she wrote her brilliant classic "Ode to Billie Joe." But that was decades ago. Tears in your beer is obvious in country music and typical – but, how about crushing a beer can in your fist with a sweet lullaby in the background?
"Wild River,"  has crisp drums by Anthony Krizan (must have been tracked because it's also Anthony who provides guitars and backing vocals). The guitar is evocative and recorded well. There seems to be an accordion in there somewhere and not credited to anyone – maybe it comes from the keyboards. The song is a jewel – in the Levon Helm tradition and it has the muscle of The Band, Little Feat and Hot Tuna throughout. A good plug track...it has plenty of musical vitamins in this approach.
Ewing gets aggressive on the last track – "Spiritual Awakening" -- with its riveting vocal and fiery Anthony Krizan guitars (that's plural). This is the closest Ewing gets to country-rock and it has that southern rock drive so typical of bands like the Allman Brothers, Marshall Tucker, Lynyrd Skynyrd and Molly Hatchet. Chances are many of Sherman Ewing's fans and admirer's won't know who those bands are – but, I could be wrong. The guitar solo is blistering, crunching at times and the band itself fires on all cylinders: in short -- the song has balls. It's probably a great live song and a great opener – it has that build up that is so dramatic and like The Grateful Dead – has a potential to go on and on and off into jam land effectively.
And that's it. Four tunes and a good introduction to a promising band and artist. New Jersey? I am impressed. I didn't know they had people like this in my home state. I thought everyone imitated Bruce Springsteen. Guess I was wrong.
OK – criticism? Yeah…I'm afraid so. But not for the performance.
It's the CD package I received. What's with the miss count on four songs. (1,2,3,2) – what happened to 4? The typesetter didn't proof read their work before it went to the printer? The printer's production people didn't catch it either? How about the mis-spacing between letters, and the different sized font on the titles of the songs? Intentional? I doubt it. I worked in graphics – this is all errors. Some titles are bold, some aren't. Who was in charge of the art and design? Or was this designed on the computer by someone who never took a graphics class? I'm being critical because this music and this artist deserves better. Fix it.
The "letting" between letters is off – correct it. I didn't go so deep as to see if anything was spelled incorrectly but that should be checked too. If you're going to invest in something – look at it closely. Some of the letters are "horsey" – that means they're too big.
My apologies if I hurt anyone's feelings – but, the package is just as important as the product.
If I were the production person on this artwork I would have rejected it. I am assuming, since the album art on YouTube is altered from my copy – that someone did indeed spot the problems and fixed it.
The collection was produced and engineered excellently by Anthony Krizan. I'm looking forward to more from Mr. Ewing. I think he will take it all to another level too. The next album should have some tracks that are more aggressive and dirtied up musically. Johnny Cash did it, Willie Nelson had done it, and even Kenny Loggins – Ha…think I'm crazy? Listen to Loggins' "Somebody Knows," or "I'm Alright,"  and you'll know what I mean.  
That's where Sherman Ewing will eventually go in a country vein. Then country music will have to…stand back.
Website:  http://shermanewing.com/
FaceBook:  https://www.facebook.com/ShermanEwingMusic/
No Depression Interview w/ Americana Lady – February 2015: http://nodepression.com/interview/minnesota-nyc-interview-guitaristsingersongwriter-sherman-ewing
Music Samples – Soundcloud: https://soundcloud.com/shermanewingmusic
Disclaimer: The opinions expressed in this review / commentary are those of the author and do not necessarily reflect the official position of No Depression. All photography is owned by the respective photographers and is their copyrighted image; credited where photographer's name was known & being used here solely as reference and will be removed on request.
John Apice / No Depression / Originally written February 2016