Album Review
REM Producer Mitch Easter Was This Band's Look To The Past For a Path Forward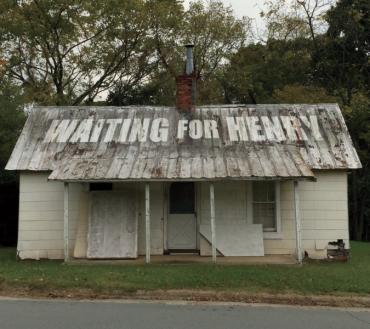 I was pleasantly surprised by the opening track of Waiting for Henry's new 12-track collection "Town Called Patience." Years ago when I lived closer to New York City in New Jersey, I heard Bruce Springsteen mention Lodi and Fairview in a song and I was thrilled. Who sings about these towns? They're not mystical like Clarksdale, Memphis, Muscle Shoals or Austin. These are places seldom mentioned in song. So now, all those years later, I have Waiting for Henry -- and they mention: Musconetcong, Hackettstown, Parsippany and the Lackawanna. All northern New Jersey landmarks – and some historical.
The vocals have a little Michael Stipe tone to them and it's no coincidence. REM's former producer Mitch Easter is involved with this wonderful endeavor. Now, I said it had a Stipe tone, I did not say it was a REM knock-off.
This band has a different approach, a cool nuance that comes with being in 2016 and not from Georgia. Lead vocalist Dave Slomin has a more rootsy voice than Stipe. In other words, I can hear Slomin get away with fronting a more countrified band and singing more traditional songs than a Michael Stipe. Stipe is a great vocalist, but he's stuck in the mire of that REM configuration and because he has done it so well for so long, I guess you could call it stereotyped.
The first track "Musconetcong," refers to a 45.7-mile tributary of the Delaware River that originates in Lake Hopatcong and runs through towns in Northern New Jersey, like Warren, Morris and Sussex Counties. It's where I am now. Beautiful river – with trout fishing. It's a part of New Jersey most eastern and southern New Jersyans wouldn't believe exists. It's rural, it's European-inspired in places, it's corn country. The best and sweetest corn in America – no need for salt or butter. Once you bite into Warren County corn -- Shop Rite / Pathmark and Acme corn is considered corn for animals. It's about as sweet and flavorful as if bees injected honey into it. And we have at our feasts Cajun corn – and that as well, is incredible.
In the song, Waiting for Henry refers to Hackettstown, the place where the New Jersey Transit Trains begin and terminate. It's the town where Centenary College is – and where rocker Blondie herself attended. It's where singer / Columbia Recording artist Lonette McKee was once a teacher, and may still be. It is said that even though comedian Jeneane Garofalo was born in Newton, NJ she resided in Hackettstown. (Not confirmed). The WFH singer says "take me back to Hackettstown," – and it's a sentimental line because despite its bustle, it's still a small town, with a small Main Street and it's home to M&M/Mars candy. The tune is filled with little references to landmarks in the area – including the Lackawana. This is quite a nice song about an area seldom sung about. Edison's Concrete Mile, built to convince his old friend Henry Ford that a concrete highway is the way to go with rubber tires -- is marked by a one-mile pale stretch of road and a historical sign on Route 57.  
"Gutterball," – in actuality, is what happens to a bowling ball when it goes into the gutter and hits no pins. This is a nice rocker – nothing heavy, but with REM-like energy. The entire band is energetic: David Ashdown – vocals and guitars; Mike Chun – bass; Rob Draghi – drums and percussion; Dave Slomin on lead vocals and guitars. The guest musicians include producer Mitch Easter – who provided an important "sound" with the use of his vintage Gibson B25-12, keyboards and vibes. John Pfiffner – guitar, steel guitar B3 and vocals and Chris Tuttle – Hammond B3.
"Hangnail," is like a slow drag – ragtime music term. It is not monotonous; it has a fine tuned moody, yet potent musical vein that runs through its arrangement. Written and sung by David Ashdown. The instruments are excellently recorded – and never intrude on the vocalist. The guitars chime like vintage Byrds, and Ashdown is in full command of his voice. Crystal clear acoustic guitars opens
"Flipclock," and we're back to a pleasant Michael Stipe-type vocal that is effective in its execution. It's not an imitation -- the song is not what Stipe would necessarily sing. It's a well-crafted song, with some descending scales that punctuate the song. If nothing else, the band has captured the magic that the original, younger REM had encompassed. They are not as mysterious and dark as the early REM – this band is singing about clear, concise subjects that can be interpreted easily. Are they a more commercial REM? No, I don't think so. They are just REM-lite so to speak. But, the balance in this band is set by the vocals of David Ashdown. Ashdown sings songs that are not Michael Stipe-oriented. The balance is what sets this band apart from REM-wannabes. This band has been planted in a different field and the crop is rich, the leaves are green and the harvest is twelve instinctively wonderful tunes. Not folk, not rock, not middle-of-the-road, not progressive. It's just…Alternative Country or Americana-rock. Well done to a turn. 
The vocals, when it's collective, as on "Matter of Time," is a stimulating presentation by the band. This too, sets off the regular vocals of both Ashdown and Slomin and "creates" a separate unified lead vocal. Well done.
"Palms," is a spirited track, nice thud-bashing drum beats, and a ragged powerful David Ashdown vocal. The subject-matter may be REM oriented, but the entire production is strictly Waiting for Henry. The lyrics -- a little dark, are quite good.
Another band that sounded a little like REM years ago were The Sidewinders – with lead vocalist David Slutes. Slutes was also a little Michael Stipe influenced with his vocals. However, even this band had it's originality in check. Their approach was from another angle. They had a song that was a masterpiece called "Can't Let Go," that should have been a monster hit.
On "Parisippany," – another New Jersey town off Route 80 – has that glorious Sidewinders posturing. I love it and the way they sing the town's name is very musical and poetic. So far, the entire album has a potency that is to be admired. Each song stands on its own. "Could It Be," is no REM reminder at all.
When this band isn't sounding like Michael Stipe/REM they do exude the vibrant and craggy, frayed at the edges type vocals that was so wonderfully part of the one-album band Sweet Thursday ("Molly," the FM classic "Gilbert Street," & the incredibly jaunty "Side of the Road" – on YouTube). Lead vocalist Jon Mark was once part of the rock-jazz band Mark-Almond, (Almond being the late reedsman Johnny Almond who played with many artists through the 70's). The rest of the band were members of Cat Stevens' backing band with studio musicians such as the late pianist Nicky Hopkins.  
The chime of the guitars and the crisp snare drum beats along with Ashdown's fine vocal is a real cool song that squeezes out angst and dazzles. What's also pleasant here is the lack of lyrical clichés, and when a cliché is used, it's used in a creative manner. I think I have heard the term "crash and burn," a little too much in my life – but, in this song it resonates.
The title track – "Town Called Patience" may be a hat-tip to The Jam's "Town Called Malice," and if it is – nice jab. If not, it doesn't matter – the song is a beautiful track on its own. Effective brush work on the snare, mature vocals and instrumentation. My only criticism – a poor ending. I would have liked a few more verses and choruses and then a slow fade….to simulate patience.
"Angel On the Run," has the Roger McGuinn chime of guitars to frame the grip of the melody. Vocals are exuberant and have inertia. The guitar solo is over the top and rings with some nice runs. Track 11 opens with a wall of guitars that were not heard earlier, but the Michael Stipe vocalizations are turned back on full force. 
"Wrong," is still a potent tune in the Stipe tradition, but this song does sound like a REM out-take.
A good out-take, and it was constructed with wondrous emotional phrasing. If you're going to sound a little like some other famous singer the best thing to hope for is to come out sounding even better than the original. Dave Slomin elevates it.
This is quite a masterwork with that Athens, Georgia lead guitar sound at full force gale. Absolutely smoking. Right up there with that aforementioned Sidewinders' song "Can't Let Go." (Available to sample on YouTube). I would play these two songs segued back to back.
The close out song, as it should be, is one of Waiting for Henry's best.
"In the End," has all the ingredients that made this band's sound and their songs compelling. This track is expressive, sophisticated, the playing is formal. It propels the listener and the vocals percolate. The tone's aroma fills the room as the guitar work ripples like wind on the surface of a calm stream. This was a pleasant musical journey. Back in the late 1960's-early 70's these men could've stood beside the best of Crosby, Stills, Nash & Young, the Jefferson Airplane, Moby Grape, Seatrain, Brewer and Shipley, Sweet Thursday and the like. They would have had their spot and they would have been respected.
Today – we can only hope….
Produced by Mitch Easter in North Carolina, New Jersey, and Illinois. Mastered by the genius of the ever reliable Greg Calbi in NYC. Tracks 9 & 12 were co-produced by Joe Dell'Aquila ("Town Called Patience," & "In the End").
Website: http://www.waitingforhenry.com/
FaceBook: https://www.facebook.com/waitingforhenry
ReverbNation: https://www.reverbnation.com/waitingforhenry
Disclaimer: The opinions expressed in this review / commentary are those of the author and do not necessarily reflect the official position of No Depression. All photography is owned by the respective photographers and is their copyrighted image; credited where photographer's name was known & being used here solely as reference and will be removed on request. YouTube images are standard YouTube license.
John Apice / No Depression / October 2016