Album Review
"Rescue Me" CD Will Benefit Animal Rescue and Awareness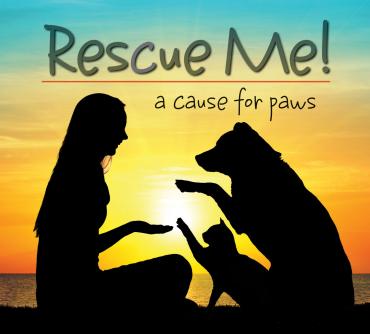 "Cute little doggie though." That's my usual comment after seeing an adorable dog.
   I'm a little surprised that I haven't been rear-ended yet as I look at cuddly canines I see as I drive my truck. I hope I didn't jinx myself.
   It's safe to say that I'm a dog person. Being a fan of both animals and great music, Blue Night Records' upcoming release, "Rescue Me: A Cause for Paws," was a project that immediately caught my attention.  The CD has 12 songs performed by talented musicians. The CD contains acoustic performances from Mary Ann Kennedy, Kathy Chiavola, Cindy Mangsen, Annie Lalley, Heidi Muller, Mark and Julie Weems, Ashley Jo Farmer, Friction Farm (Aidan Quinn and Christine Stay), Effron White, Jamie Anderson, Amy White, and Joel Mabus.
   The songs on "Rescue Me: A Cause for Paws," for the most part, weren't novelty songs that were written and put together for the sole purpose of making a CD to benefit animal rescue and awareness. Instead, most of these tracks were lovingly crafted by animal lovers and put on their respective CDs, and then donated to thid compilation project.
   The collection of songs is a light-hearted and sure enough to cater to animal lovers everywhere.
   There's one more thing about the project that will warm the hearts of animal lovers – it helps support animal rescue and awareness efforts. The release date is April 30th, #NationalAdoptAShelterPetDay.
   One song on the project that makes a great case for adopting a new four-legged friend is "Get A Dog."  In the song, Annie Lalley sings, "Why don't you get a dog/ They're easy to maintain/ You could send it to obedience school or even have it house trained."
   One of my favorite songs from the project is "The Best Dog" by Amy White. She sings the heartfelt lyrics, "I'll never forget that fine day/When I found you there all alone/ In that sterile silver cage."  White's song continues to tell the listener how that dog changed her life.
   Jamie Anderson's song, "I Miss The Dog" made me laugh. She reflects on a relationship that had ended only to realize that she missed the dog more than she missed her partner.
   While I naturally gravitated to the songs about dogs, there plenty for cat lovers to enjoy as well. Cindy Mangsen's song "Our Cats" shows the happiness and fulfillment that come from having a pet because of the joy and companionship that pet brings to their lives.
   I must mention Effron White's "Cattitude" because it's a song that brought a smile to my face and I'm pretty sure it will make you smile as well.
   This CD is probably going to catch the interest of animal lovers, just as it caught my attention. I really don't think it's possible for anyone – animal lover or not – to listen to this CD and not smile, laugh and be in a good mood.
​   Elderly Instruments is supporting the effort by hosting pre-orders on that company's website: https://www.elderly.com/rescue-me-a-cause-for-paws.htm.
​   More information is available from www.bluenightrecords.com.