Album Review
Return To Nashville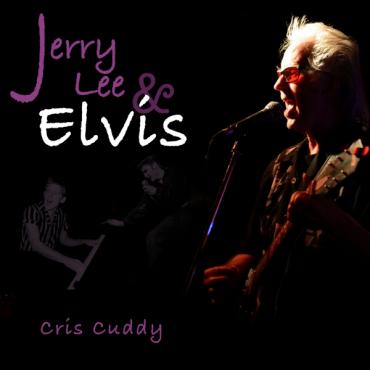 Cris Cuddy has been making music and touring for decades. He has played bars, clubs and music venues across Canada and the United States. Cris has always been an under-appreciated song writer as well as a performer. His songs have been covered by the likes of Claire Lynch and Prairie Oyster. Cuddy has delivered a number of critically-acclaimed albums - notably Boy From Beaumont, Heartbeat and The Best Kept Secret. Heartbeat (2007) was a project Cuddy worked on with George Bradfute and Fats Kaplin in East Nashville. With Jerry Lee and Elvis, he re-u¡nites with Bradfute and Kaplin at Lone Chapparal Studios in Nashville. The result is an intriguing compilation of songs that draws influences from a wide variety of musical styles, but stands up very well on its own.
From the Tex-Mex influenced "All The Pain (That Money Could Buy)" to the raucous "Time Bomb Baby", the listener is led through a range of emotions. There are stops at despair  with "Heartache", regret with "No Stars In Nashville Tonight"  and romance with "In Mexican Town". The title track. "Jerry Lee and Elvis", is a nice homage to the roots of rock and roll although with a touch of remorse at the passing of an era. Cuddy is a gifted song writer who often sets up a juxtaposition between words and music. "All The Pain (That Money Could Buy)" is a good case in point. The lyrics tell of the the poor little rich girl, Christine Onassis; however, the musical track is more reminiscent of a conjunto band at a party.
The musicians on the collection are first rate with George Bradfute playing guitar, bass and saxophone; Luther Bradfute on keyboards and saxophone; Fats Kaplin handling accordion, pedal steel, mandolin and violin; Rick Lonow on drums; Emory Lester playing banjo and fiddle. If you get the opportunity, give Jerry Lee and Elvis a listen.  You won't regret it.
John Sillberg
Small Time Rsdio Show 
CKOL 93.7 FM Campbellford, ON