Album Review
Review: On The Cutting Edge With Bob Dylan. How Does It Feel? So Very Good.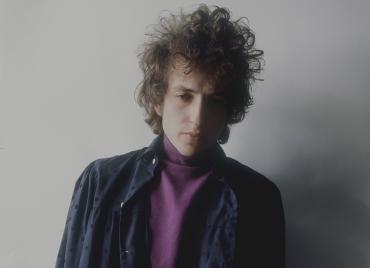 "We had a lot of swinging cats … real hip musicians, not just some cats I picked up off the street, and we all got together and we just had a ball."   -- Bob Dylan on the recording of Bringing It All Back Home, 1965
On November 6, the latest installment of Bob Dylan's largely unreleased recordings in The Bootleg Series will be available, in several versions.  The Cutting Edge 1965-1966:  The Bootleg Series Vol. 12 (Sony Music Entertainment/ Columbia Legacy) lets you hear the making and composition of the songs on three of Dylan's best-known, best-loved, records: Bringing It All Back Home (1965), Highway 61 Revisited (1965), and Blonde On Blonde (1966).  Inside these three records are worlds of wonders.  Now, you will be able to hear the evolution of those wonders – how Dylan, and the musicians with him, made it all come to pass.
This is the Bob Dylan who became his own most iconic sight and sound, from the putatively final folkiness to the new electric, to that thin,  wild mercury sound.  You know the image: no more chubby-faced boy with a battered jacket and little flat cap, strings sprouting like vines from the end of an acoustic guitar. The albums' cover photographs are how very many people think of Dylan, still today. Daniel Kramer took the portraits for Bringing It All Back Home (in Woodstock) and Highway 61 Revisited (in New York), and Jerry Schatzberg photographed Dylan for Blonde On Blonde on a chilly day in New York's meatpacking district (a Schatzberg image from that session graces the cover of The Cutting Edge).  This triptych of Dylans has something in common: he's lean, his hair in a snarly nimbus above a thin white face, with its keen, challenging eyes looking right through you. He is not listening to you; you're listening to him. When Kramer took that first photograph for Bringing It All Back Home, Dylan was 23. On the cover of Blonde On Blonde and The Cutting Edge, he is 24 years old.
"Cutting Edge" Photography
The new bootleg is generous with its images, and the deluxe edition includes a never-before-seen portrait of Dylan by Kramer.  He is sitting in a chair that, because of his casual bearing and happy arrogance, approximates a throne, against a blue background that brings out his blue eyes. A word, please, about Dylan's appearance in -- though not limited to -- 1965 and 1966.  Most of the critics who have written about him, from then until now, are men. Almost all his interviews have been with men. From astute critics and chroniclers to fanboys, music writers have extolled, and rightly so, Dylan's genius, lyrics, and live performances of 1965 and 1966. They've embraced, and have perpetuated, the mid-'60s Dylan – with his fog, his amphetamines, and his girls – as an avatar of cool. Guys, he's also hot. From the wild polka dots (gleefully echoed in the paper of the booklet for The Cutting Edge) to the Cuban bootheels, skinny pants, flowy scarves, motorcycle jackets and Triumph t-shirt, Dylan had a style then that is still compulsively copied. But the clothes are just a part of it, and they hardly made the man. Those are but the trappings and the suits of show. Add to same the youth himself, and, gentlemen and particularly ladies, you have a rock star. Don't tell me women in 1965 just wanted to mother a homeless waif sleeping in Village doorways and playing in Café Wha' when others let him. That Dylan is so in the past. News flash: women have always dug, and will always dig, a genius who has a way with words, a nice grin, great hair, mesmerizing eyes, and a (to put it quite mildly) conflicted relationship to increasing adulation.
Bringing It All Back Home (1965) bears the heavy mantle of being the Dylan-Goes-Electric album. It's always seemed an odd distinction for me, perhaps since I was born too late, to divide Dylan into acoustic and electric, folk and rock. His music is too multitudinous – and was, even way back then – to be pigeonholed into categories. By March 1965, and this record is pure proof, Dylan had clearly already gone electric, although his flashpoint performance of Maggie's Farm at Newport Folk Festival wouldn't be until that July.  When I first picked it up, Bringing It All Back Home was the record on whose cover I wanted to be: I wanted to be Sally Grossman, in that red dress, or was it a pantsuit, you couldn't quite tell.  They were listening to Lord Buckley and Lotte Lenya. On Another Side of Bob Dylan; they were all looking at you head-on, even the cat Dylan was clutching to his chest. I had no way of knowing at the time that this album was recorded in three days.
What went into the making of the songs on this first album of The Cutting Edge trio?  Buckle up, hang on, and let's go. 
Tom Wilson's beatific baritone leads us into the bounty, stating, "We got a good sound, here," and then giving way to what he slates as "Dime Store, Take One."  Just Dylan's voice and the guitar begin: 
My love, she speaks like silence
Without ideals or violence
And, then, you hear a companionable, thumpy bass line.  "Valentines can't buy her," croons Dylan, and he emphasizes it with a delicate, light harmonica.  It's gorgeous, clean and clear.  But it's not good enough for the 23-year-old singer-songwriter-musician.  He stops after the books and quotations, and declares his intention to do it again. They do, and he and the 20-year-old John Sebastian (a Village folk and bluesman, with "Do You Believe In Magic?" and all his joyful Lovin' Spoonful hits yet to come, playing bass) nail it to the wall this time, the whole song, every long verse. If you think Dylan's done, though, and the song you know as "Love Minus Zero / No Limit" is in the can now, you're wrong. He goes on to sing it again, and again, and again – different every time, phrased differently, the tune shifting up and down, the lyrics changing, the musicians, the instruments, and their roles coming and going. Drop in Bruce Langhorne on the guitar, Bobby Gregg on drums, the remarkable Paul Griffin on piano. Keep on keeping on. The cumulative effect engages, delights, overwhelms, and finally sends you head over heels. The range of treatment of each song is surprising; the force of Dylan's creative drive, and spontaneity, have never been more clearly heard. Draft after draft, version upon version, of songs roll down on you like waters. Welcome to The Cutting Edge. 
Hijinks abound -- to give you a little catharsis as you listen -- and they capture the energy and personality of these sessions. Wilson slates "Alcatraz to the Ninth Power." 
"No, that's not the name of it!"  Dylan shouts. "That's what you told me when you left," Wilson insists. Bob insists right back: it's "Bank Account Blues." And the slowly flowing, slightly tinny tune rolls – we know it as "I'll Keep It With Mine." Go ahead, Dylan, rhyme odd and not. Sing through your nose in a key too high to achieve, on the first go. It's working anyway, right from the start. "That's nutty, man," says Wilson in the end – but he says it admiringly. "I was ridin' on the Mayflower when I thought I spied some land," Dylan carols, and then he and Wilson dissolve into giggles (Bob) and chuckles (Tom). 
Take two goes all the way, with a vision of the settling of America that feels crafted by Herman Melville and Nathanael West on a weekend bat.  That's Bob Dylan's 115th dream, people.
So many of the songs are slower at first attempt, and then rise in tempo. "She Belongs to Me" is not a swift-paced song, as we know it from the final version on Bringing It All Back Home – but, here, it's almost a dirge.  Dylan's voice doesn't rise and fall as it does later on the song, and the soft trio of guitar chords, and occasional harmonica touch, do little to brighten the sorrow.  "Salute her on Sunday, bow down when her birthday comes," Dylan tries first, in a solo acoustic version of immense beauty.  Then he speeds up the song, like a heartbeat increasing. On the next take, Wilson identifies the song as "My Girl." 
Hey, Temptations – Dylan will see you, and raise you. Faster still. He's got it the way he wants it, now.
"Subterranean Homesick Blues" and "Outlaw Blues"
The opening track of Bringing It All Back Home, "Subterranean Homesick Blues," is amidst the sessions as a strum-chant, the tune most definitely an afterthought once the words have come. Dylan sings the same note on almost every single syllable, paying attention not to the tune but to the words. The words are what matter, the rapped-out patter of progression he will call "Subterranean Homesick Blues." He has real fun with the harmonica here, until he smashes to an abrupt end, and brings in a host of instruments to help out. As they join, Dylan starts singing instead of speaking. 
Ain't it hard to stumble on the black side of the lagoon
specially when it's nine below zero and three in the afternoon
Dylan begins "Outlaw Blues."  The below-zero theme is something he's feeling, on this record.  He looks like Robert Ford, but feels like the man Ford famously shot -- Jesse James.  "I saddled up a nightmare and I rode her all night long." Dylan lets the song go, abruptly. The other musicians, including Sebastian, on harmonica this time, join him in a funked-up, twangy start next. Dylan's voice, increasingly nasal, shows the role he's playing here, still Woody-Guthrie-esque for a Western song.
"Lemme slate it, Bob. Bob. What's the name of it? Hey, Bob?" 
"Uh, the name of this one is 'On the Road Again.'" 
More blues – the record has taken a serious blues turn. You're not on the road, but in a very weird, unhappy home. 
Well I wake up in the morning and there's frogs in my socks
Your mama she's hiding inside the icebox
Your Daddy comes in wearing a Napoleon Bonaparte mask
An' you ask why I don't live here
Honey do you have to ask?
The percussion sounds like someone stomping on the floor.  
An' you ask me why I don't live here
Honey, I gotta ask you why you don't move.
The song picks up, on later takes, into a gallop, as if Dylan and the musicians are trying to run away from it. In an already classic Dylan move, he uses the harmonica, on the next version, to stand in for the words in the space between them, to keep the connection with his breath going. The other instruments are a jumble, except for the riffing, punching drums under the hands and feet of Bobby Gregg.
"Farewell, Angelina" is too sweet and peaceable to be a tragedy, even though you know it is. The words are nearly too sad to be borne, but the gentleness of the guitar and soft plea of Dylan's voice offset them until you are not surprised that the parting isn't forever: "I'll see you after awhile" is the promise embedded amidst the fare-thee-wells.
"If You Gotta Go, Go Now" was a song Dylan had sung live before, and it's always funny.  It seems to tickle him in the studio, too. "You know that I have nightmares and a guilty conscience too" (here he breaks up laughing). How does it sound with backup singers? Angeline Butler lets you know – and, in the liner notes to The Cutting Edge, talks about her brief appearance in the studio.
One particular version of abandoned love doesn't make it this time, or any other: 
You say that you're fed up
You say you're gonna head out
Then you run around packin'
Like a chicken with your head off.
He interrupts himself, setting aside his guitar and announcing, "I wanna play on the piano." He's still writing, and writing seems to come faster and easier for him, in these days, at the piano. However, the song, "You Don't Have to Do That," passes by. We hear it go, and never return.
Rejecting what Wilson and the rest of the guys think he's going to try next, "The Gates of Eden," Dylan changes it up. "Naw…I'm gonna do this other one first," he says. He doesn't even pause for breath, but rips into "It's Alright, Ma (I'm Only Bleeding)." The words astound. His delivery is straight into the mic; it's like he's standing next to you with his lips on your ear. Wilson stops him, and you want to cry: "Bob, can you back up just a little?" He obliges, but it feels like a damper on his eagerness. Dylan thinks about it, then, complains of the length of the song, and says he really doesn't feel like doing it – "But I gotta."
"Mr. Tambourine Man" has a ragged start, with Dylan and Wilson going back and forth about when to begin. Dylan sings it alone, with the instruments tagging along, keeping time. A telephone rings. They begin again, but Dylan stops in mid-refrain, saying, "Naw, I can't … hey, the drummin's driving me mad, I'm goin' outta my brain." 
Later, they get "Okay now, let's go, rolling two," announces Tom Wilson, and Dylan replies, eagerly, "Ready." He starts things off himself, with his harmonica, guitar, and then a chorus of voices sing with him. He takes the first verse alone, reaching for the high notes of "weariness." 
Revisiting "Highway 61 Revisited"
Bringing It All Back Home would have been enough for the year, for most musicians. Dylan, instead, embarked upon a tour of England in spring 1965, accompanied, of course, by D.A. Pennebaker, from which he returned to record Highway 61 Revisited. His celebrated appearance at Newport fell between the two recording sessions for his second album of the year, which was made in the way Dylan had begun to record by then. 
Here's the mode. Musicians would assemble in a room. Dylan would take and re-take, compose lyrics, and alter melodies, while the men waited, assisted, waited, improvised, re-took, recorded. (Dylan's bands, in studios and onstage, have been all-male, with the exception of a few guest performers and backup singers who did not play instruments, for nearly 50 years -- with the notable exception of the Rolling Thunder carnival).  Dylan did near-whole albums in one fell swoop. If a record didn't sound right when it was finished, Dylan would assemble another, largely new, group of musicians, and have at it again – as he did during the Blonde On Blonde sessions in Nashville and the Blood on the Tracks sessions in Minnesota – working in the same intense manner until he was happy with the result. 
It's a pretty Sartrean way to record: lock the doors, put paper on the windows, and no one gets out of here alive until Bob says so. It's also an immensely effective way to record, and one that has brought out unsurpassed performances over the years by individual musicians like, here, Robbie Robertson, Kenneth Buttrey, Paul Griffin, Al Kooper, Mike Bloomfield, Rick Danko, Charlie McCoy, and Dylan himself. Some of the musicians, including Kooper, who provides an essay for The Cutting Edge, have spoken years later about what it was like to be there. Now we can hear at least some of it, flies on a long-lost wall.
The most takes survive from the June 15-16 sessions of two songs: "Like a Rolling Stone" and "It Takes a Lot to Laugh, It Takes a Train to Cry." More about "Like A Rolling Stone" in a moment. 
The first take of the latter song is slated by a chuckling Wilson as "Phantom Engineer, Number Cloudy." It's a rollicking, scattered beginning, with Al Kooper blaring away on the organ to join Dylan's harmonica, and Mike Bloomfield's guitar, along with Dylan's voice, the driving forces of the song. Gregg's drums change in presence from track to track, until Dylan finds the mix he likes. You realize, listening to Gregg and to Kenneth Buttrey on the Blonde On Blonde sessions in Nashville, how crucial a good drummer is to all of Bob Dylan's rock and roll songs.
My favorite flub of "It Takes a Lot to Laugh" is only 40 seconds' long, opening with a bleating harmonica and ending with Dylan dissolving in laughter after the drums run away from everyone, the sound turns tinny and the instruments jumble. "What the … are we doin' with this song, man," he says. "It's not such a terrible song to do!"
The song gets faster as the recording goes along, with both bass and drums driving it, and the rocking, rippling organ complements Dylan's voice. As his singing rises and falls, the organ tags along; Kooper would do this again, and to much greater sonic and connecting effect, on "Blonde On Blonde" the following year. It's as if the organ is following, puppylike, his master's voice, and this sort of call-and-response still works beautifully for Dylan: a musical device that supports, and strengthens, his voice, and provides an echo for the lyrics just sung. 
Dylan giggles at one point, and ad libs "Rockefeller Center calling."  He keeps laughing into the end of the track. One version sounds for all the world like the honky-tonk, wah-wah version Levon Helm would come to define decades later; was Levon thinking about these sessions, and the way the song sounded once upon a time, when he added "It Takes a Lot to Laugh" to the Midnight Ramble Band repertoire? 
On another take, the electric guitars sizzle and snap, back and forth, fighting each other for the lead. Mike Bloomfield wins, as he will in many of the sonic contests on the album's fast-rocking songs – and as Robbie Robertson will, in turn, dominate on Blonde On Blonde tracks. Dylan would return to "It Takes a Lot to Laugh" and get the version he wanted in July, with pared-down lyrics and tighter sound. But from these first tries, you get the full effect of the doomed mail train, its engineer tossed into the baggage car as it careers down the tracks into a racket of wheels and whistles, then into fade-out and spooky silence.
"Barbed Wire Fence" is an ode to a bad place to sit, as well as a celebration of bad women. A woman is, not surprisingly for a Dylan-dilemma song, involved in the pain, along with the barbed wire itself. Dylan's voice, Mike Bloomfield's guitar, and Dylan's harmonica take turns in plaints and howling. Dylan mourns on one version:
This gal I got, I swear she's killin' me alive
She's makin' me into an old man and I'm hardly even twenty-five
Fragments and splinters of the song appear elsewhere on the album, like the lines "Well I went to the doctor he gave me a shot, but he wouldn't tell me what it is I got," and "hungry woman and she'll really make mess outta you," which were reworked for "Just Like Tom Thumb's Blues." Lines got saved for much later Dylan songs, like "If You Ever Go to Houston." 
Dylan intersperses Bloomfield's searing, soaring guitar with "awrights" and "ah-hahs," and then he shifts the words of the last verse to pay tribute to Bloomfield's skill. His woman in L.A. "makes the sweat run down my brow," but she "isn't as good as this guitar player I got right now." Bloomfield yowls in reply, and there's laughter embedded in the track. "Fade it out," Dylan orders, and the beat goes on, under Bloomfield's guitar line, into rising silence. 
Later takes are slower, with an even spicier, longer guitar line from Bloomfield. Yet "Barbed-Wire Fence" begins to sound exhausted, already abandoned. The lyric at the last verse has changed to the self-indicting "Of course you're gonna think this song is a riff, I know you're gonna think this song's just a riff," and Dylan sings it like he thinks so, too. And here they leave it.
"Tombstone Blues"
"Tombstone Blues" sounds nothing like the version we know, at first.  Dylan is preaching at us, low and insistent, speaking and not singing. He's letting the guitar do all the singing. It's akin to "Subterranean Homesick Blues": he enunciates every word clearly and slowly. He wants us to hear them. Hy-steri-ca-l he divides into every single syllable. And the song was, once upon a time, even more dangerous than the version we know:  "Mama's in the alley, she's lightin' the fuse."And, later, "Daddy's in the oven, he's lightin' the fuse." 
The next two songs Dylan brought into the studio completely written. "Positively 4th Street" is done; the band needs just two complete takes to find the sound he wants.  However, the several versions of "Desolation Row" are immensely different, each tremendous in its own way. In the full-band take, Charlie McCoy's Mexicali guitar, to which we're so used, has as its forerunner instead some rolling, stringy vibrations that make you feel like you're listening to a symphony of sitars (thanks, Al Kooper, for that electric piano, even if it's a little out of tune). 
In the stripped-down takes with just Dylan accompanying himself, with Russ Savakus on bass, the wash of words astound. One hand is still tied to the tightrope walkers, but here, "the other's nailed in his pants." Casanova is being spoon-fed "the boiled guts of birds" before being poisoned with words. There's a soft, gentle, first version of Dylan coughing, then crooning the song lightly, accompanied only by his swift, flying acoustic guitar.  The line "Bette Davis style" swoops as low as his vocal range goes, and that range is much wider than you've ever thought. In these crystalline studio recordings, you can hear that Dylan is every inch as fine a singer as he is a songwriter. Don't ever come at me with that decades-old "Dylan can't sing," ever, ever again. I'll just play you an acoustic version of "Desolation Row" and watch while you, like Casanova, eat your poison words.
"Like a Rolling Stone"
In March 1966, Dylan told Jules Siegel, writing for the Saturday Evening Post, about "Like A Rolling Stone." He said he "had never thought of it as a song, until one day I was at the piano, and on the paper it was singing, 'How does it feel?' in a slow motion pace, in the utmost of slow motion following something. It was like swimming in lava. ... Seeing someone in the pain they were bound to meet up with. I wrote it. I didn't fail. It was straight." Fifty years later, "Like A Rolling Stone" remains Dylan's most popular song.
You may only think you don't need to hear every single take of "Like A Rolling Stone," but you are quite mistaken. Dylan's work-in-progress on this song is flat-out wondrous to hear. Its many takes show its remarkable evolution from folk to rock, to something far beyond. The first take of this song is almost a folk ballad, quiet and gentle – Tom Wilson slates it as "CO86446, Like a Rolling Stone, One." Slow motion, it surely is; I don't want to imagine swimming in lava, but that too must be doomfully slow. With amazement, you realize you're listening to a waltz. Wilson even counts it out, like a dancing master: one-two-three, two-two three. Bob's presence is here in a plaintive, sweet harmonica, and his voice never comes in with a lyric, just the question, "It didn't get lost?" and the take ends.
They all talk, and play, in the background, trying to figure out why. You try hard to figure out the voices, apart from Dylan's. Paul Griffin starts a rising line on his clattery tack piano, and they're onto something. The second take begins with his Dylan's voice, strong and barely accompanied with strumming strings, piano, and touches of harmonica and organ. Dylan begins his tale as tales all used to begin, with "Once upon a time." The words, though, are still in progress. There's no "complete unknown" – Dylan sings "sooooo unknown," before stopping the take coughing. The song rolls out, slowly.
It's "be aware, doll," not beware.
"You used to make fun about everybody that was hangin' out."
"To be out on your own, so unknown, like a rolling stone."
The take fades, and so does the folky sound, permanently.  As Dylan said repeatedly at the time to people who tried to tag Highway 61 Revisited as "folk-rock," it isn't. He called it "the mathematical sound." This makes perfect sense as you listen to the takes of "Like A Rolling Stone." Dylan is looking for a rhythm, a meter, a pattern – the shape of how the song, with words and music, could look on a page or a canvas, like a poem or a painting.    
Later, Wilson says gently, "Okay, Bob, we got everybody here, let's do one, and then I'll play it back to ya, and you can pick it apart." Wilson knows the drill well by now. The song now slated as "Like A Rolling Stone, Remake, Take One," sounds like the version first released, right from the clicky drum start shared by Kooper's rolling, billowing keyboards. The lyrics are more set – "when you're on your own, without a home, like a complete unknown, like a rolling stone."
"Naw," says Dylan at the end of the first refrain, "we just gotta work that part out."
They try again, but Bob has a false start, singing too softly. "Okay, rolling six," announces Wilson. Dylan is happier this time, at first, with a jingle-jangle sound, but then he hears something he doesn't like. "That's what I mean, that bump bump bump ... okay let's cut it." Time and again, Dylan says, "no, no" and stops everyone to explain what it is he's wanting.
Finally, a complete take kick-starts with the drum alone, and the rest of the band following. This is the version we know best: the Woodyesque, folky pronounciation – "stone" as "stawne" – the line "no direction home;" and, in the last refrain, the magnificent second of silence, after Bob's first "how does it feel?," between the crash of the drum and Kooper's replying organ line. It fades into a jungly drumbeat and the guitars turn plunky, being picked, it sounds like, as if they're banjos. Though this would be the album version, Dylan keeps on, with an edgier, snarkier version, slower; he punches out, and makes more nasal the "Now you don'ts," almost speaking them as if he's Rex Harrison, then stops abruptly. Dylan has to laugh on a subsequent try when he flubs a line, "threw the dumbs a dime, ha ha, let's take it again." 
On, and on. 
"Didn't youuuuu" – Dylan strains for it, clears his throat, lets the harmonica come in for him. 
You used to make fun about
everybody that was hanging out.
He coughs.  "My voice is gone, man, you wanna try it again?"  That's the spirit. On they go, through the song, for a whole disc and a half of The Cutting Edge.
Stem Tracks
One of the glorious things about this record is the stem tracks. There are only four stems (or, properly, tracks) on any of these recordings, because CBS Studios, in 1965, used only a four-track audio tape recorder. The individual instruments stand not quite alone, since the mics pick up some of the surrounding sounds, but on the stem recordings included on The Cutting Edge, you can easily hear just how good the musicians playing really are: Bloomfield's guitar, isolated on "Like A Rolling Stone." Paul Griffin's tack piano, and Dylan's guitar and vocal mic (often combined), shine in the increased detailing. This hasn't been done, of course, for all the songs, or The Cutting Edge would be a thousand tracks and more. 
The children's toy that shrills us into "Highway 61 Revisited" is courtesy of Al Kooper. According to him, he carried a "police whistle" with him at the time so he could "inject some humorous paranoia into the various clandestine drug gatherings" he might come across. Dylan tries it out on one take of "Highway 61 Revisited" and everyone cracks up. The sound survives as a signature on the released recording – and, in his many concert performances of the song (as recently as 2013), audience members could always be counted on to bring whistles and chime in. Kooper also supplies the slinky, ripply celeste on "Queen Jane Approximately," and Paul Griffin shifts over to the organ for a superb partial take of "Ballad of a Thin Man." Dylan takes over the tack piano, here, for a version that is magically fueled by keyboards, rather than guitars. 
"Can You Please Crawl Out Your Window" is one of my favorite Dylan songs, with its tumbling wild rhymes and the intense, excited, almost-shouted challenges. It's a song that never found a home on an album in 1965 or 1966, but works as a bridge – or maybe an escape hatch – between Highway 61 Revisited and Blonde On Blonde.  This rollicking song is one of Dylan's best carpe diem moments, even though if you do leave your weird, controlling lover to run to the gypsy-Davy troubador singing outside your window, beware. He's not that committed to you, dear: 
Can you please crawl out your window?
Use your arms and legs, it won't ruin you
How can you say he will haunt you
You can go back to him any time you want to.
But after all 22 tracks of this song have persuaded you, you'd head for the window in an eyeblink.
Blonde on Blonde, and The Band
Dylan charged into Blonde on Blonde at the end of 1965, as soon as he had finished touring a shifting band of performers who ended up being Robbie Robertson, Levon Helm, Garth Hudson, Rick Danko, and Richard Manuel.  Levon and the Hawks became The Band, and their work on The Cutting Edge – all together, and individually – is one of the things that makes this record such a thing of beauty. That drumbeat on "Medicine Sunday," later called "Temporary Like Achilles" – that's Levon. As Ben Rollins rightly says in his track-by-track notes, "one thing that Levon and the Hawks could do was crank out that roadhouse rock. Give them a shuffle beat and a guitar riff and they could play for hours." 
You wish that "Jet Pilot" went on longer, for sure. Their versions of "I Wanna Be Your Lover," and a gem of an untitled  instrumental, are heartfelt, and very meaningful to me, to have. 
After a return to "Can You Please Crawl Out Your Window?" with all the members of The Band except for Helm present – Bobby Gregg is on the drums – Dylan leaves it, and begins trying out new songs.  A song called "Freeze Out" – or "Visions of Johanna" –  November 1965, one rehearsal, and one complete take. The madly pronoun-shifting spate of images and one-liners, pain and escape, "She's Your Lover Now," stands out for so many reasons. On the last of six takes, Dylan scraps the band, or The Band, and does the song alone, accompanying himself on the piano. For eight minutes and twenty-seven seconds, just Dylan, his voice and the keyboard: a spectacular, transcendent performance, and my favorite recording out of all on The Cutting Edge.
The only track from the versions recorded in New York that made it onto Blonde On Blonde was "One of Us Must Know (Sooner or Later)."  One of the partial takes of this song, all with many compelling changes to the lyrics, ends with Dylan sloughing off the words, laughing, and then sighing, "Aw, I'm ready to go home." And home they went. 
Nashville in the Spring
New York in wintertime got traded for Nashville in the early spring, and, then, the songs started coming. The spontaneity and fun happening in Nashville – as well as immensely hard work – is easy listening. Bob Johnston's drawl has replaced Tom Wilson's soft-spoken voice as producer; I love the moment where Johnston says laconically to Kooper, "Durin' the take, Al, can you keep that radio off?" and general laughter ensues. 
"Oh yeah," says Bob. 
Charlie McCoy's going too fast on the trumpet, and slows down a start. The genius Kenneth Buttrey snare-starts his drums in a military march. "Don't lose this beat," Johnson cautions, and then asks Dylan, "What's the name of this, Bob?" Dylan snaps back, "A Long-Haired Mule and A Porcupine Here," and chuckles. The song ensues, and it is "Rainy Day Women #12 & 35." 
Listening to Dylan writing songs, shaping the words to fit the music, is the best thing about the Blonde On Blonde sessions. He has come into the studio with ideas, not completed songs, and uses the instruments to realize what he wants to say. In late 1966, Dylan said,  "my songs are pictures and the band makes the sound of the pictures." The takes of "Stuck Inside of Mobile with the Memphis Blues Again" show this perfectly. The Nashville blues, as he sings it once, go from a sketch to painted lines, to a sweeping, color-filled fresco – and you're sitting with your headphones on, amazed, listening to it happen. 
The driving force of "Where Are You Tonight, Sweet Marie?" belongs to Buttrey, just as surely as does that of "Leopard-Skin Pillbox Hat" to Robertson.  Talk about the band making the sound of the pictures that Dylan's words draw. 
Buttrey's drums turn a plaint of lost love into a hard-charging runaway-train of a song from the start, his skill in emphasizing Dylan's edgy adverbs (obviously; fortunately) with that rat-a-tat-tat dismissing Marie for good. At the end of a searing, perfect take of "Leopard-Skin Pillbox Hat," you hear the studio sounds of a happy group of musicians. 
"Next," says Dylan, checking this one off, we've got it done. 
"Robbie, the whole world'll marry you on that one," says Charlie McCoy.
"I can't complain," Dylan begins the song he calls "Like A Woman."  He goes on: 
Everybody knows
Honey's got new clothes
Now, Annie, she's my friend
Yes, b'lieve I'll go see her again
The words are changing even as he sings them.  People really shouldn't be shocked or puzzled when Dylan, in concert, changes the words of songs you thought you knew all your life – as, this very week, he's done with "Tangled up in Blue."  It means he's still making – and enjoying himself.
Open up your door…
don't let me down, like ya did before
I must go out into the world…
and you [giggle; pause] you fake
Just like a woman.
Take it again, and very fast this time:  
Well, tonight I feel no pain
Tonight as I'm standing out in the rain…
It's Elvis, rockabilly-style, shaking you down. Annie, his friend, is a pretty cool girl. 
She don't bother me
And ask where I expect to be
Bob Johnston, admiringly, says in the end "That's one helluva beat." Does that mean the beat will go on? Nope. Take it again, very slow this time. 
Nobody can complain
Tonight as I stand inside the rain…
Every single time, the song is different, vastly different, both lyrically and musically. 
This is true of all the songs on Blonde on Blonde, from start to the epically long finish. 
As Rollins says of "Sad-Eyed Lady Of The Lowlands," what "is remarkable is that after waiting ten hours for Dylan to finish writing the lyrics, [the musicians] are able to do three complete takes, each one over 11 minutes long, without faltering."  The 10-minute version that concludes The Cutting Edge is a coda appropriate to the vast wealth that comes before it – as well as a love song for the ages.
What I've written here is thousands of words long, but quite literally only a beginning. The 18-cd collector's edition of The Cutting Edge is overwhelming, and exhilarating. The glory of it is that now we get to listen, over and over, to songs we know by heart, as they're being made. 
The layers being laid down are painterly; we can hear drafts being written. Imagine getting to watch, say, Edward Hopper look at a landscape, a house, the place where a bridge begins. He sketches it. He prepares a canvas, sketches again there, chooses his paints, mixes his colors. He paints, wipes out, repaints, and on, and on, until he's finished. 
Imagine F. Scott Fitzgerald sitting in the spare room over the garage of the property he's rented in Great Neck, New York, in late 1922 or early 1923. He is at the desk, one of three items of furniture in the room, handwriting in pencil his first draft of The Great Gatsby.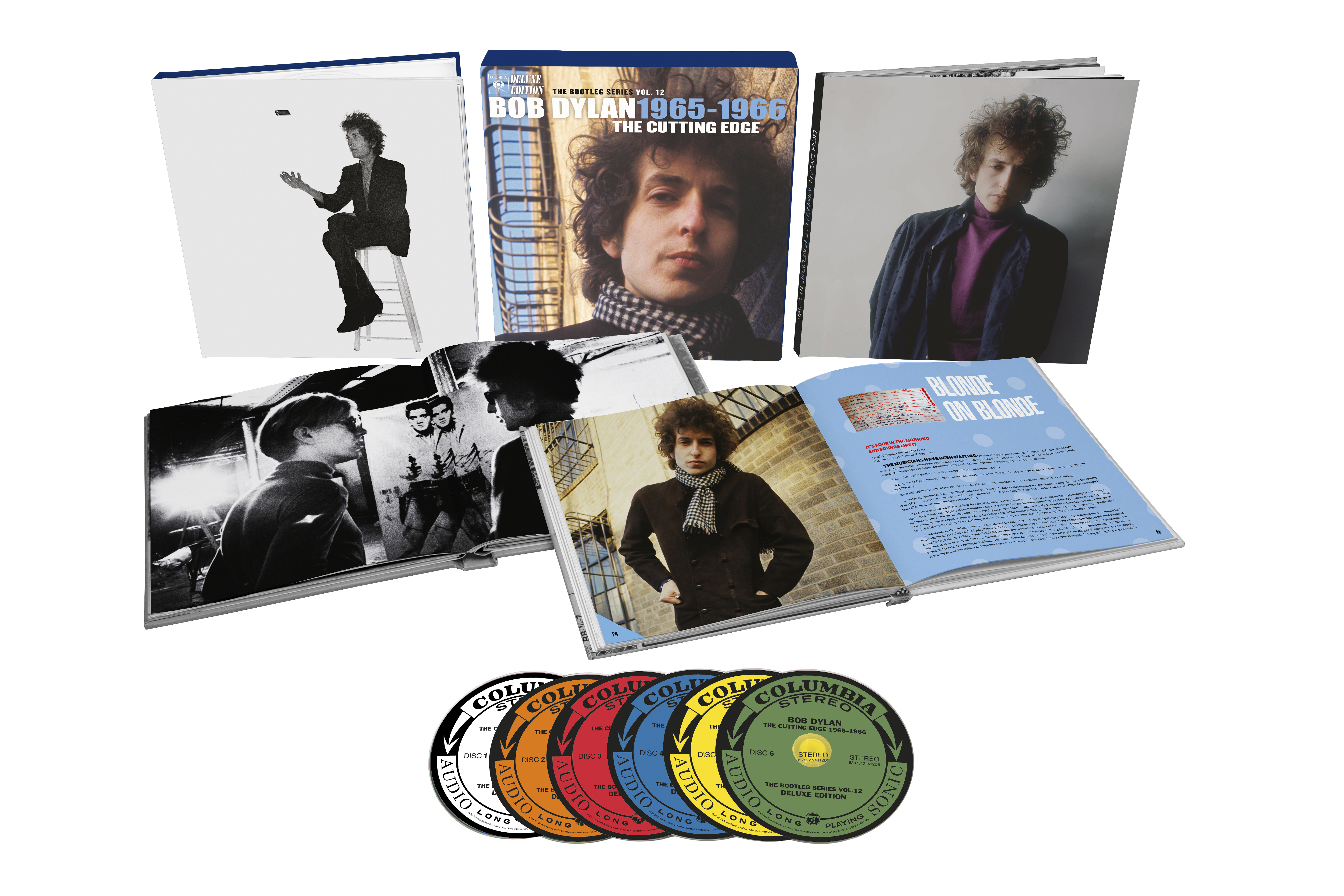 We can't watch these things happen.  But on The Cutting Edge, so very aptly named, we can bear witness to artistic process at work in an intimate, intricate, immensely entertaining and entirely remarkable way. For decades, Dylan's creative process has been a big part of his mystery and mythos. Now, he welcomes you in to one of the high times of his career – days and nights that are rich and strange, full of the glory of making. 
"Live and in person," Dylan's tour posters used to say. "Don't you dare miss it." Here are three of the defining records of his 50-year, and ongoing, career – a slim slice of time from long ago and far away, feeling as fresh and wild as here and now, and as live and in person as you'll ever get to experience it. 
Only 5000 copies of the 18-disc Cutting Edge have been made; fans on various Dylan-related websites have pronounced themselves outraged at the $599.00 price, and announced their intention to share the songs for free. Well, 379 tracks from one of my favorite artists, at one of the most passionate and productive points in his long, and continuing, career, is worth it. You're paying about $1.50 per track, which, for tracks like these, is a bargain. 
However you end up listening, listen. Whatever you'll be listening on, from your laptop or little cd player or huge sound system, will be a very tiny vessel to try to contain such a sea of songs. Pack up, get on board, toss the lines to shore, set the sails, and away, we're bound away. Revel in the voyage.
Bob Dylan, The Cutting Edge 1965-1966:  The Bootleg Series Vol. 12.  Liner notes for the Bringing It All Back Home and Highway 61 Revisited recording sessions by Bill Flanagan; for the Blonde On Blonde sessions by Sean Wilentz, who wrote about them in 2007 for the Oxford American.  Track-by-track notes for every song are exhaustively and eloquently prepared by Ben Rollins.  Additional notes by Al Kooper and Angeline Butler.
All photographs © and courtesy of Sony Music Entertainment.  Videos via Bob Dylan Vevo on YouTube.