Album Review
Robert Gordon's Fat Possum Rent Party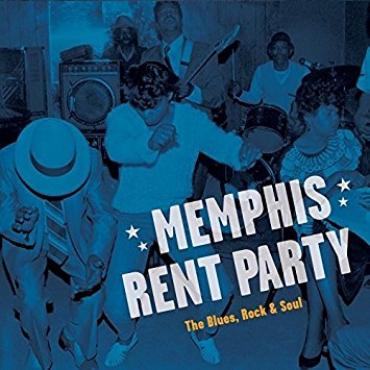 He's not the pompadoured wild man with rockabilly hiccups who fronted the Tuff Darts in the late '70s. This Robert Gordon prefers to chronicle music, not perform it. Gordon's first book was 1995's It Came From Memphis. He won a Grammy for his liner notes to the Big Star box set Keep An Eye On The Sky, and took home an Emmy for his 2015 documentary about William Buckley and Gore Vidal, Best Of Enemies.
His latest, Memphis Rent Party, comes with a soundtrack. But as with everything Gordon touches, this is not your usual soundtrack fare. Gordon's focus was the rough and raw sounds of the entertainment for rent parties, neighborhood throwdowns originally held ostensibly for the purpose of collecting enough in entrance fees to help pay the apartment rent in 1920s Harlem.
The tradition spread cross-country in African-American neighborhoods, with Memphis producing some of the rowdiest, as evidenced here. Gordon asembled his soundtrack from personal rent party tapes and unreleased Fat Possum tracks. It's fascinating stuff, as disheveled and raucous as the parties themselves.
Junior Kimbrough's "All Night Long" begins as a rattly, disjointed ramble that gradually coalesces in a grand raggedy manner that reeks of cheap whiskey and bone-deep sorrow that leaches out in Kimbrough's anguished vocals and mournful guitar dirge.
Furry Lewis sounds like he's had a few shots of the whiskey that was going around at Junior's party, but he gets in some tasty slide nonetheless, sounding like he's working the fretboard with a crusty straight razor or maybe a sawed-off kitchen table leg, proclaiming that"Life is certain/but Lawd knows death is sure/ I believe my Lawd/ ain't gonn see Sara Lee no mo."
Not surprisingly, Jerry Lee Lewis is the wild card here with his rattly take on "Harbor Lights." But this isn't the dreamy, lush Platters version. The Killer pumps out a pounding, persussive rhythm with some added verses the Platters never dreamed of uttering in 1960: "Goodbye harbor lights, I'm a swimmin' motha hummer, swimmin' on back to you, I'm not dog paddlin' either, I'm swimin' like a … shark – think about about it, baby," Lewis says lustfuly as the cut fades.
Gordon's rent party cassette-taped capture of the Fieldstones "Little Bluebird" is scary, part anguished gospel, part tortured soul and knocked out low-down blues, dangerous stuff you might be lucky to hear a smidgen of before you got knocked in the head, stripped of all your valuables, and dumped in the alley.
Jim Dickinson stops by at the end to lighten things up with "I'd Love To Be A Hippie," advertised as the result of a mescaline-fueled blue moon ceremony Dickinson had obviously partaken freely of. "I'd love to be a hippie," Dickinson roars over a tinkly barrelhouse piano, "high up the hills, down in Mississippi, taking all them hippie pills.... I'm crazy about the way all the hippies carry on."
Sons Luther and Cody covered it later on '08s Hernando as the North Mississippi Allstars, but Daddy Jim's version's got 'em beat in tone, spirit, and outrageousness.
Even if you never get around to reading the book, you've gotten a great insight on a slice of neighborhood life that most of us would never get invited to but would have had the time of our lives at had we been granted the dubious, dangerous, glorious privilege.