Album Review
Robert Plant Keeps the Fire Burning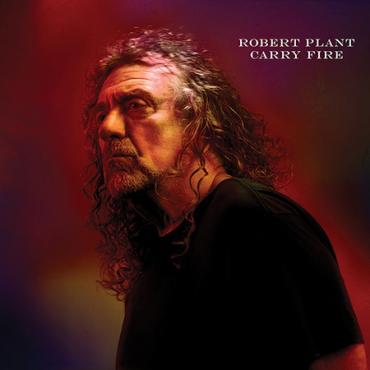 Robert Plant's new release, Carry Fire, is the latest iteration in the singer's exploration of '80s-era balladry, world music, and the Big Sound. The majority of the work here is compelling, an iconic frontman and versatile band forging a project that integrates a range of themes, approaches, and tempos — at the center of which, of course, are Plant's immediately recognizable and evocative vocals.
The album opens with "The May Queen," a foot-stomper that wouldn't have been out of place on Raising Sand, Plant's 2007 collaboration with Alison Krauss. While Plant's interest in Appalachian/Celtic/folk heritage dates to his Zeppelin days, an interest he shared with Jimmy Page, his work with Krauss and producer T Bone Burnett prompted Plant to more fully examine and internalize the American songbook. His experience with Krauss and Burnett has, in turn, informed his subsequent solo work.
"Season's Song" highlights Plant's ability to embody a melody, working within a limited range (compared to his Zeppelin days) while employing subtle inflections and layering to accentuate emotional nuances. In this way, he's part of an elite club of distinct singers, including Bob Dylan, who, in their own ways, have perfected a "less-is-more" approach. While this shift may be in part attributable to changes associated with aging, it may be more a matter of aesthetic evolution: mega-success and the unique urgency that accompanies maturation prompting less of a need to dazzle and a greater proclivity to express directly, authentically, and transcendently.
"Carving Up the World" is the album's most overtly political piece, a rhyme-y and straightforward commentary on the global state of affairs. Plant opens, "The Russians, the Americans, the British, and the French / they're carving up the world again / it's getting kind of tense." A listener is instinctively intrigued by the lyrics' loose invocation of WWII alliances and subsequent Cold War scenarios, Plant addressing longstanding divisions in the world and, by implication, the human psyche. The song's buoyant melody and shuffling rhythms temper — or, depending on perspective, obscure — the gravity of the message. Justin Adams adds a moving and sultry guitar solo. Plant has always benefited from the support of talented musicians, and this is the case with Carry Fire as well: The Sensational Space Shifters contribute a broad palette of melodies, rhythms, and atmospheres, furthering the partnership introduced on 2014's lullaby and…The Ceaseless Roar.
The high point of the album is the title song, epitomizing Plant's career-long affinity with international sounds, his confident vocal reminiscent of earlier solo albums and hinting at stylistics developed under the auspices of Zeppelin. The instrumental breaks are mesmerizing and sublime, a compelling example of exotic tones incorporated into a rock context.
"Bones of Saints" again highlights the influence of Krauss and Burnett; i.e., the pop structures and accessible melodies explored throughout Raising Sand. Ditto "Keep It Hid," one of the more melodic songs in Plant's oeuvre. The band offers a mix of rhythms and textural synth sounds, and a wending guitar part that fills the breaks between Plant's vocal lines. Midway through the song Dave Smith transitions to a danceable drumbeat, plaintive tones draped over the bouncy percussion. The album closes with the ambient "Heaven Sent," Plant exploring The Mystical Perspective a la the Arthurian tradition, a surreal/psychedelic accessibility replete with images now popularized by Excalibur and Game of Thrones, mainstreamed tarot, New Age lit, and prog rock. Meanwhile guitars, synths, and percussion swirl around him, forming a textural welter that would get a thumbs-up from Jimmy Page and conjures soundscapes from the 1976 film The Song Remains the Same (which focused on Zeppelin's 1973 concerts at Madison Square Garden and included "dream features" of each member).
Carry Fire is a worthy addition to Plant's body of work, a master vocalist and adept songwriter backed by a stellar group of musicians. While Plant and The Sensational Space Shifters occasionally veer into moments of rock-and-roll roll shtick, the singer and band are, for the most part, consistently transportive, ushering a listener into realms of, well, maybe not manic nirvana, but close enough.