Album Review
Robert Plant Live at David Lynch's Disruption Festival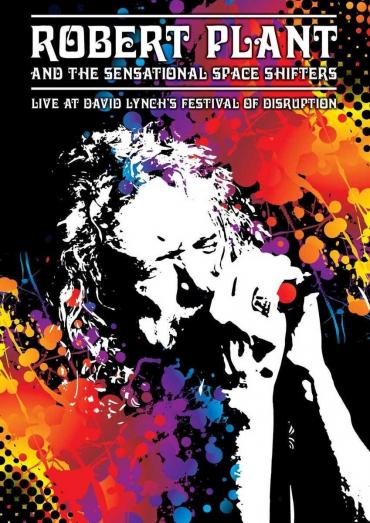 The name is different, but some of the sound still remains  the same. For gigs with his latest outfit, The Sensational Space Shifters, Robert Plant keeps his shirt on, but his echoey, Zep-era field hollers  are still a performance staple. This gig was recorded in 2016 at Theatre at Ace Hotel, Los Angeles for David Lynch's Festival Of Disruption, raising money for the David Lynch Foundation.
The Space Shifters feature West African multi instrumentalist Juldeh Camara on ritti, kologo, and bendir; guitarist/banjoist Skin Tyson and Justin Adams on guitar and mandolin; drummer Dave Smith, Massive Attack keyboardist John Baggott, and bassist Billy Fuller.
The show kicks off with "Poor Howard," from Plant and the Space Shifters' 2014 Lullaby and ….the Ceaseless Roar. Leadbelly is credited with the composition and Plant shares songwriting credit with Leadbelly and the Space Shifters on the record. The recorded version starts with an electric guitar jangle, but live, Camara leads it off with his riti, a two-stringed fiddle he's plucking to provide a banjo-like chop for the rhythm. He's aided in that direction by some heavy percussion from Smith with a driving, Bo Diddley backbeat.
The follow-up, "Turn It Up," is also from Lullaby, Plant lost in inside the radio on the Charley Patton Highway in Tunica, Mississippi. He's in search of salvation by someone of the blues persuasion, finding deliverance through the air waves. "The radio inside this car/Brings guidance from above," Plant bellows as the band slams out a hill country drone, rock star style, with enough percussion to rattle the windows, fulfilling at last what he was chasing all those shirtless years: "Turning into someone else/I heard so much about."
"Black Dog" lives in the present and the past, Plant's Doggerel broken up in the middle by Camara fiddling on his riti, conjuring up an African hoe-down with a vocal track in his native tongue that has Plant looking on in wonder.
The Space Shifters combine "The Encounter" from '05's Mighty ReArranger, and "Rainbow" from Ceaseless Roar into a medley.
Plant stays close to the Zep template for "Babe, I'm Gonna Leave You," not backing off any of the tonsil acrobatics of his younger days, nailing it down solidly even in the upper levels, with Skin Tyson on acoustic guitar.
The band serves up  "Little Maggie," another entry from Ceaseless Roar. "Spent a bit of time in America in the last 48 years," Plant says in his introduction, "and found out one or two tricks you guys been keeping up your sleeves ….called Appalachia." But Plant and the band's version has less in common with the bluegrass/old time roots connection through the Stanley Brothers or Bill Monroe, serving up a blend of Celtic, trance and big bottomed rock,swinging back to Africa with some lively fiddling from Camara.
"Hoochie Coochie Man," "Whole Lotta Love," and Bo Diddley's "Mona" are unlikely bedfellows, but Plant and company tangle 'em up in the sheets for a medley. Propped up with some nasty, low down licks from Justin Adams' guitar, Plant creeps along evilly with Willie Dixon's "Hoochie Coochie Man,"then slams into a Zep-tribute bomblast on "Whole Lotta" with Tyson sitting in for Page and Plant screaming like a wrinkled hologram of his younger self.
"Mona" goes in an entirely different direction when Camara steps over the shave-and-a-haircut beat with his fiddle, but this time the origin sounds more Appalachia than Africa.
"Going to California" once again starts out in the Zep mold,but veers off toward the end with Adams on mandolin and Tyson on acoustic guitar adding a Celtic feel as they reel off into a sweaty finale.
Plant says he wont re-unite Zep, but with this band, he doesn't have to. True to their name, the Space Shifters can go there and back to the future without becoming lost in time, or space.