Album Review
Rock Fans Could Appreciate This Alt-Country Vocalist's Dynamic Potency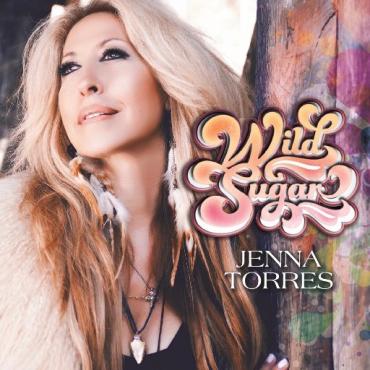 I must confess I had this collection of songs for several months already. However, this is not a CD that should be ignored. Jenna Torres opens up with both barrels on "Who's Kissin' Me," on her fiery, supercharged album "Wild Sugar." The guitars are gnarly and Keith Richards' inspired as far as my ears can detect. They snake around and wind and slither. Jenna has a dynamic Lucinda Williams aggressive voice that is just a tad sweeter than Lucinda's street-wise, savvy time-worn voice. But after the transition from the first track to the second Jenna drops down into a more country skillet sizzler -- "Heart on Wheels."
In my estimation, despite Jenna's great voice and showcase, the competency of her musicians, and the sheer arrangements of her material are what help it unravel as an attractive showcase. The songs sparkle, drive and they are for the most part – infectious. She sings with a country-lilt but her guitarist duo Brad Sample and Chris Rodriguez is steeped in rock tradition. The song's construction is tight and gorgeous. Two tracks in and both are worthy of being released as singles.
The title track takes a different road – with a mandolin sounding acoustic guitar on the title track "Wild Sugar," which is another melodic confectionary. Jenna's voice is confident. And while it's a familiar sounding tone she pronounces her words in a manner that separates Jenna from the herd. She is not Taylor Swift, not Roseanne Cash or Emmylou Harris. She has a uniqueness that is applied to the material she's written and it's country-rock perfection. I'm not a big fan of country music -- unless it's Merle Haggard, Johnny Cash, Lucinda Williams, Waylon Jennings, Willie Nelson or quirky like Jimmie Dale Gilmore. But, Jenna is likable because of her affirmation. She knows her subject; her music and she is polished.
Jenna is not all commercial country-rock with great melodies and rocking guitars. "Firewall," is slower and the lyric is penetrating. This is a serious artist. Not just a singer. With the gentle plucks of mandolin, dobro, steel guitar and acoustic guitar – the tune is an affecting one. I hear a fiddle but no one was credited. This is a favorite – the intertwining instrumentation between Jenna's vocals is a pleasure. This is up there with the quality of a Nanci Griffith. The background vocals are Jenna's voice tracked. The combination of her voice as a duality is beautiful. 
Track 5 opens with the bellow of a B3 organ – it's more special effect wound but only briefly. Then the gnarl of a guitar with a great riff bounds into the structure. Jenna now affirms her place as a rough-hewn singer. If Joan Jett or Patti Smith were country singers they might sound a bit like Jenna Torres. Usually, a banjo is a little hokey and acceptable in a folk song – not if it's a Jenna Torres country song. "Way on High," is gritty, the snap of the deep beat (Steve Brewster) projects the song and the bass (Anthony Sallee) has nice depth. A rock fan could listen to this country music easily and not flinch.
There's a perfect balance in the song selection – from a country-rocker with exuberance Jenna falls back into a piano-led ballad that is sung with such poignancy and sincerity it shows successfully the diversity of Ms. Torres as an artist. "The Man You Want to Be," deals with a tough subject and Jenna's voice is deliciously presented and her interpretation is on target. It shows the possibility of exploring a more jazz-oriented genre as well – Jenna has a refinement akin to Cassandra Wilson here. My opinion. "You're picking up that bottle like you're picking up a gun…" Powerful stuff. No beer for my horses here. No big hats, chewing tobacco and line dancing. This is country gospel. Patsy Cline would have embraced a song like this. This is a beauty. Nice piano by Billy Smiley (who co-wrote some of the songs on this album).
Back with the spit and polish of guitars and a sexy, smoky tone Jenna goes a little Bobbie Gentry on "Creek's on Fire." This is an effective Gentry type dark folk-tale via country soil ("Mississippi Delta," "Louisana Man," "Fancy," & "Apartment 21").    
The slow tune "Don't Make Me Remember," continues with Jenna's more smoky tone. While I hear the song as something Sandy Posey ("Single Girl," "I Take It Back") would have done back in the late 60's the song also has that quality that Jody Miller had when she covered songs like ("Silver Threads and Golden Needles"). This is another poignant melody with strong lyrics and this is where I believe Jenna Torres is most effective. The song reeks "cover me" for other country artists. Quite good.
"How to Love a Woman," is sung with wonderful clarity by Jenna. A bit of a retro guitar riff and a little B3 under the surface. This could have been a hit in the 60's as well. It has all that melodic quality that made country interesting back then when country crossed over generously into the rock charts. As impressed as I am with Jenna's vocals – she is not the type of singer who's vocal remains relatively the same. She manages to use all her gears effectively. Lots of color in her tone. Basically, something Roseanne Cash would sing. This is a driving little track and again her proficient musicians back her tight and decoratively. Sometimes when you listen to an artist's album you can actually "hear" the fun they were having working on the material. It's evident here.
Jenna Torres obviously has a wealth of good ideas, melodies and lyrics because it's rare that I run through an album of eleven songs and virtually every track was flagged to be touched upon.
"Soft Spot," is not earth-shaking but it continues with a quality arrangement and nice acoustic guitars and electric guitars. It ambles in a textured manner. Very Nanci Griffith in tradition but Jenna manages to keep her signature throughout. She is definitely well-trained in inflection, phrasing and just putting a simple song across with poignancy.
Final track eleven is "Born to Love," and again Jenna altars her vocal approach. A little more vulnerable, she mixes with equal doses some authority, a confident understated emotional voice that adds just a pinch of rockabilly energy. It's basically a slow song with some flourish but so well balanced and purposeful. A well-written country song enriched with the manner in which Jenna Torres applies her talent.
I am not a country music fan – as I said: but I thoroughly enjoyed each track. It was engaging, had the necessary melodies and it created enough curiosity to make it a winning listen. I will return to this album when I listen to Emmylou Harris, Nanci Griffith, Donna Dean (from New Zealand), and Kris McKay ("If You Ever Need Me" & "Save It for Later").
The album was Produced and Arranged by Billy Smiley (who as mentioned earlier co-wrote some songs on this LP and played acoustic guitar, piano, and backup vocals). The album was recorded in Tennessee. The CD art is an attractive six-panel full color fold out and aqueous coated. The front is a little busy for my taste because I have seen better pictures of Jenna that would have made for a more interesting display. But, overall – it doesn't distract from the music contained in the collection.
Website: https://www.jennatorres.com/
FaceBook: https://www.facebook.com/jennatorresmusic
Disclaimer: The opinions expressed in this review/commentary are those of the author and do not necessarily reflect the official position of No Depression. All photography is owned by the respective photographers and is their copyrighted image; credited where photographer's name was known & being used here solely as a reference and will be removed on request. YouTube images are standard YouTube license.
John Apice / No Depression / January 2018