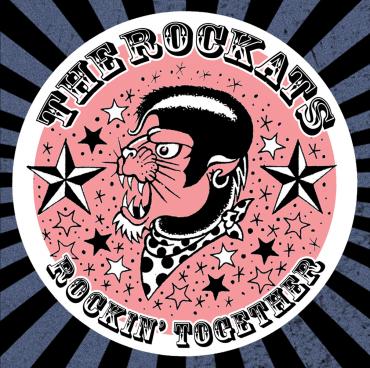 Some cats got it...In my first-hand estimation, the Rockats and Robert Gordon prowled the crest of the 70s/80s revival wave. So it's only fitting that in 2014 they all located at Lanark Records - their presence at the surging upstart imprint elevating it in importance. The original 'Cats are here - world-class singer Dibbs Preston, indefatigable six-string rampager Barry Ryan, ever-boppin' upright-slapper Smutty Smiff, and knock-down-with-precision drummer Lewis King/Curt Weiss. Missing is original second guitarist Tim Scott McConnell, though Texas twang maestro Danny B. Harvey - who'd joined for 1983's "Make That Move" (RCA)  - handily ushers memories whilst helping make new ones. Fresh originals race in that welcome old way. This is how rockabilly should be done: fun, freewheeling, and, at turns, gloriously robust. Small wonder that, like Gordon, the Rockats were the toast of Viva Las Vegas. 
Recommended "Rockin' Together", "Pink and Black Cadillac", "Red-Headed Rockin' Doll", "Tear the Roof Off"
https://www.facebook.com/pages/The-Rockats/223175401087003
http"//www.lanarkrecords.com
VIDEO "Pink and Black Cadillac"
Rockats - Rockin' Together (Lanark)
Reviewed by DC Larson