Album Review
Rocking The Jukebox With Jesus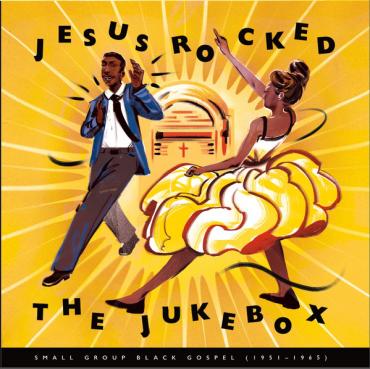 God only knows where you'd find this jukebox with His Son's stuff on it. He's rockin' it, as advertised, but even the whereabouts of the patrons dropping their quarters in this bad boy might be as hard to locate as the box itself. No earthly tavern, juke joint, or honky-tonk would dare to fill up a juke with this stuff, heavenly though it might be. Major ass whuppins would have ensued if these offerings were unleashed on a barroom floor, the sinners wanting to get it on with the holy rollers who were gettin' down. The non-surviving denizens of this phantom roadhouse and its celestial juke might exist on another, higher plane, but you'd have to pay the ultimate price to access it in person.
Luckily for us backslid rockin' gospel lovers, Fred Jasper, producer of compilations from The Country Gentlemen to Earl Scruggs to John Hammond; and Mason Williams, whose compilation credits include the Stooges, Tim Buckley, and Black Sabbath, compiled a two-CD set of heavenly odes you can do the dance of your choice to in the sanctity of your own home or auto without being stoned to death by heathens or zealots disturbed by your interpretative choreography of self ministry.
The Original Blind Boys kick it off with Clarence Fountain's gloriously gruff lead on '63's "People Don't Sing Like They Used To Sing," screaming like a burning bush full of sinners with a rowdy Little Richard style piano accompaniment threatening to shatter the stained glass in this celestial roadhouse.
Sam Coke's lead on the Soul Stirrer's glorious '51 offering "Jesus Gave Me Water" is a tantalizing preview of the crossover from gospel to soul Cooke is about to make, his mellifluous voice already swoon-worthy for a secular audience in a different setting.
The Staples actually made it to the real-life jukes with a collection plate full of crossover material with the help of Mavis' sultry vocals and Pop's shimmery, blues-drenched guitar. Mavis was only 13 on this churchy '56 rendition of "Uncloudy Day," but older folks including Willie Nelson (in '77) got on the box later on as did Don Henley in '82 and Johnny Cash, in '70.
Relatively obscure artists like the Patterson Singers get a chance to testify on '63's "I'm So Glad," testifying soulfully with bongo, electric bass and handclap accompaniment sounding like a gospel version of the Shirelles.
The Stones were accused of ripping off "Maybe The Last Time" from the Staples, but the traditional gospel tune has been interpreted by a host of gospel singers. The Staples' version was slow and bluesy, but on the Blind Boys' '53 cut here, the group is galloping along with throat-ripping call and response any soul man would be proud to steal, as James Brown probably did.
With a little word switching, the Harmonizing Four's '62 track "It's In My Heart" could have been a hit for the Platters, with lead singer Tony Williams' high tenor putting this one alongside "Only You," and "The Great Pretender."
On disc 2, The Swan Silver Silvertones lead singer Claude Jeter delivers a soulful rendition of "Mary Don't You Weep" that obviously influenced Sam Cooke in tone and delivery.
The Gable-Airs' '63 jubilee style delivery on "Move Upstairs" also set a pattern for soul singers to try to emulate their tonsil-scalding enthusiasm.
Brave sinners could probably get in a few seconds of vigorous two steppin' to Pops Staples' '58 soul shaker with Mavis urging her sisters to back her with soulful amens on "Help Me Jesus" before some avenging angel busted a beer bottle over the dancing heathens' heads for daring such blasphemy.
But if you're gonna get crucified for bouncing around gospelly, you might as well go out with The Blind Boys, now called the Blind Boys Of Alabama, on this '65 release, "He's All Right." You can't sit still for this one, Sam Butler's guitar providing rippling undercurrents beneath Jimmy Carter's frenetic lead, the Boys backing him with pipe organ vocal thrumming.
If you can find this jukebox, empty your pockets into the slot. It might not pay off in this life, but the potential gain in the hereafter is worth the investment.