Album Review
The Rose of Roscrae - Tom Russell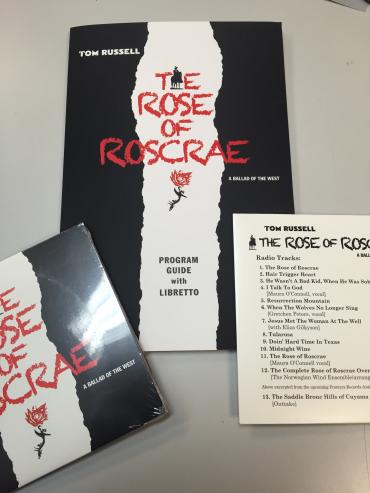 You can buy The Rose of Roscrae via Frontera Records or the usual other places.  I bought the bundle which came with a promo CD for radio and a detailed booklet/program/libretto but a music-only two disk version is also available.  

I can't remember where I first heard of The Man from God Knows Where but I imagine it was the Iris DeMent listserv I was on at the time of its release in 1999. Or it might have been another mailing list – do you remember when people said OKOM ("Our Kind of Music") instead of "Americana"?  I was on a bunch of 'e-groups' for various artists. But it was probably the Iris one.   And I don't remember buying it, what specifically made me do so – especially given how expensive and hard to find obscure imports could be in Sydney in 1999. But I did, somehow, for some reason and had one of those all too rare moments of hair-raising discovery.  Then I think I got the Tom Russell compilation The Long Way Around – "Blue Wing", "Angel of Lyon", "The Eyes of Roberto Duran", "The Road to Bayamon", I went crazy for those songs.

TMFGKW is a "folk opera" based, more or less accurately as far as I know, on the journeys to and lives in America of his Irish and Norwegian forebears with a free digressions into broader American history and society including Dave Van Ronk as you've probably never heard him, a carnival barker type character who chimes in with a couple of songs to remind us not to get too misty-eyed about the past …
 
The Man from God Knows Where is genuinely one of my top five favourite albums, by anyone and you could never accuse his body of work as a whole of being derivative or chasing trends – while working within familiar folk/country/American forms, there's no mistaking the particular Tom Russell vision when you hear it.

I don't know at what stage this was conceived of as a trilogy, but it is now and the second in the sequence was 2005's Hotwalker, a rather abrupt left turn into a more impressionistic, less narrative take on the American psyche via soundscape with a lot of spoken word elements and paeans to his beat outsider heroes.  On my blog at the old site, I called "Woodrow" song of that year. (The 'splits people down the middle' thing was based on the one solitary other human I know who has heard the album so alert small sample size alert, I guess.)

Woodrow by Tom Russell from Hotwalker.  The album splits people about right down the middle – I fall on the "crazy love it" side of the fence but even if you don't, you can't go past this angry and beautiful ode to Woody Guthrie. Tom gets a few of his pet political and social gripes in there too. Idiosyncratic and a bit strange. How can it possibly be topped next year?

(Aside: The post or two above this one, from 2005, is about me being weirded out by the very strange news Bob Dylan was apparently going to host a radio show.  Wait 'til you hear about the Sinatra, kid.)

The Rose of Roscrae combines elements of both of these into a much larger project – an immigration epic made for the stage weaved among a collage of sounds which come so thick it is more a hoard than a collection.  It is continent-sized in scope and brimming with ideas and scraps of history. Idiosyncratic but Russell's style of ornery is of the most romantic kind and his songs are always so very singable so while the length and depth might seem daunting on paper, any fan of traditional American music will be happily carried along. 

 The big names appearing – either specially (re)recorded for this project or as archival objects is jaw-dropping: "Jimmie Dale Gilmore, David Olney, Johnny Cash, Joe Ely, Augie Meyers, Fats Kaplin, Barry Walsh, Jimmy LaFave, Gretchen Peters, Ramblin' Jack Elliott, Walt Whitman, Moses "Clear Rock" Platt, Jack Hardy, David Massengill, A.L. "Bert" Lloyd, Finbar Furey, Sourdough Slim, Blackie Farrell, Tex Ritter, Glen Orhlin, Pat Russell, John Trudell, Henry Real Bird, Thad Beckman, Maura O'Connell, Eliza Gilkyson, The McCrary Sisters, Ian Tyson, Bonnie Dobson, Lead Belly, Guy Clark, Dan Penn, Gurf Morlix, and Pat Manske."

While TMFGKW was fully formed as an album, it was the sketch of a musical – the songs without the binding theatrical elements of a cast recording. The Rose of Roscrae is obviously an accompaniment to a larger show – it even has an overture, like seeing Lawrence of Arabia at the pictures.  Indeed, it was performed on stage in Santa Fe earlier this year.

It is the story of Johnny Dutton of Roscrea (the 'misspelling' in the album title is deliberate), Ireland who, after a  run in with his paramour's father,  legs it to the USA in the late 19th Century with romantic notions of being a cowboy and an outlaw.  He succeeds at the latter as the whole thing opens (after the overture and refrain, putting us in a suitably cinematic mood) with outlaw Johnny on the gallows, condemned by a judged played by David Olney and and then pursued by bounty hunter/preacher played by Augie Myers, a character who would have slotted in nicely in one of those 60s comedy westerns that seemed to be on TV every Sunday afternoon of my childhood like Cat Ballou.   Johnny's girl from the old country, Rose, joined him in California but he has since left her for his dissolute ways.  Somewhere in there Johnny's cousin hooks up with the real historical figure of Father Damien who tended to lepers in Hawaii and, inspired and humbled, Johnny tries to reform.

While TMFGKW 'digressed' to a broader American canvas like Sitting Bull's thoughts on tour with the Buffalo Bill Wild West Show  and Van Ronk's greek chorus, the album was compact enough it could quickly return to the emotional anchor of the key players' journeys.  In contrast, on the first few listenings of Roscrae I wanted more of an emotional thread to follow (or, more hand-holding if you like). It wasn't until I dug into the libretto that I really tied the story together.   On the other hand – I just love hearing Tom Russell sing anything so I was never too perturbed.   Bonnie Dobson's "Un Canadien Errant" is undoubtedly beautiful but you have to dig into the libretto to find out why it's there, other than as recognition of French contribution to American folk culture (actually … that's basically the reason).

Very possibly "why" misses the point.
The kitchen sink approach makes the two discs something like a combination musical, greatest hits and loosely themed mix cassette. The career long sense of ambition in Russell's work is not a bad thing, but this work more than most rewards close listening/looking and a sense of how it comes together from the inside, from the mind and heart of the impresario's.  Or, you could just let it wash over you without explanation, letting the narrative form from the firing of your own mind. That's probably how I should have approached it from the outset. 

In terms of stand-alone songs, there are many fine ones.   A driving gospel blues version of "Jesus Met the Woman at the Well" a recent Guy Clark version of "Desperados Waiting for a Train" (as part of the "West Texas Montage") will never not be moving. There are also versions of Tom Russell classics "Gallo del Cielo", "Guadalupe" and "The Sky Above, The Mud Below."  "Midnight Wine" is a classic Russell lost love tearjerker that has become a particular favourite and other new songs "Hair-Trigger Heart", "Doin' Hard Time in Texas", "Whiskey in His Blood" and "He Wasn't a Bad Kid, When he Was Sober" could slot into a regular setlist without friction (not that I would actually know since he never tours Australia, she says somewhat sullenly).