Album Review
Rosie & the Riveters' 'Ms. Behave' Is a Punk Record in Vintage Girl Group Clothes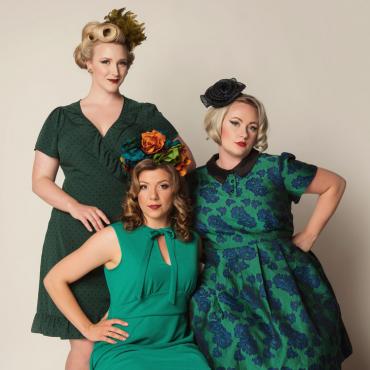 Rosie & the Riveters — the Canadian trio comprised of Alexis Normand, Farideh Olsen, and Allyson Reigh — look sweet as pie, gosh golly. It's an intentional visual choice: They paint their faces with bold red lipstick. They tease their hair with big plastic curlers to build unflappable retro 'dos that complement their post-flapper vintage dresses. They rely on these post-war aesthetics to present as passive, conformist women of the Silent Generation.
But sweetness and pie be damned. Rosie & the Riveters' sophomore album Ms. Behave is a punk record masked with girl group harmonies, walking bass lines, and slinky snare brush percussion.
Over the course of the 12 songs of Ms. Behave, Rosie & the Riveters seem to try on as many seemingly retro genres as rotating vintage outfits. Sultry vocals from the title track and scatting in "La Boheme (Dweet Doo)" honor elements of jazz standards, while "Let 'Em Talk" (with its sly references to Michelle Obama's proclamation, "When they go low, we go high") evokes R&B empowerment anthems by Aretha Franklin and Nina Simone. Elsewhere, the string-accented "I Wanna Do Nothing With You" waltzes to a 3/4 beat, while "Life is Good Today" flirts with country-folk and "Gimme Gimme" even edges toward bossa nova. Still, they're able to maintain a coherent sound and identity throughout the record.
The band's unflinching lyrics, however, expose that punk ethos and political consciousness. Lyrics from the sarcastic, mansplaining takedown "Ask a Man" like, "Ask a man / 'cause I don't understand / Explain it so I can!" are ones that — in another life — you scream to a ferocious backbeat in a sweaty club or in a car speeding down an open highway. In the pay gap call-out "Gotta Get Paid," lines like "Equal work for equal pay!" evoke those written in Sharpie on poster board taped to wooden stakes at pickets and chanted at protests.
Ms. Behave closes with a somber note, though. The ballad "I Believe You" serves as the band's tribute to victims of sexual assault, an especially moving work within the context of the ongoing #MeToo movement. The song's title is its chorus, as Rosie & the Riveters sing directly to each other, their friends, their colleagues and fans, and to anyone who has endured such violence. They're listening to our stories, accusations, fears, and triumphs. In turn, if audiences listen to Rosie & the Riveters closely, they'll hear one of the bravest depictions of women in the world today.