Album Review
Roy Orbison's Black and White Night Revisited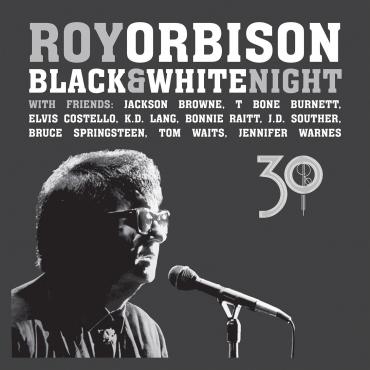 The voice grabs you and wont let go. It's impossible to duplicate, a soaring, ethereal instrument that swoops and dips with a range few humans ever get within earshot of. Roy Orbison was a musical God, his songwriting skills just as awe-inspiring as his vocal abilities. His legacy endures with a wealth of recorded material, but nothing eclipses 1987's Black and White Night, a concert videotaped in LA's Coconut Grove nightclub thirty years ago. As if Orbison's talent alone wasn't enough to sell out a show, this one had a cast of supporting characters that'd be impossible, financially and logistically, to put together today. There's 38-year-old Bruce Springsteen, beaming like a kid who's just gotten his first puppy for Christmas. An impossibly young looking Elvis Costello scrambles around from guitar to piano throughout the proceedings. Tom Waits drifts in and out of the onstage lineup on piano and guitar as well. There's Jackson Browne and J.D Souther in the male chorus, boosted by Bonnie Raitt, Jennifer Warnes, and k.d. Lang as backup singers. T Bone Burnette directs Elvis's touring band, with James Burton on guitar. Shot in black and white with 7 cameras, the original video is a tightly-knit performance showcasing Orbison at the height of his powers backed by a dream team who obviously adore him.
But now Roy's sons, Roy Jr. and Wesley executive producing and Alex directing and co-editing, have taken the original concert footage and re-edited it to reflect the original running order. The result is a looser show that reflects how much fun the performers and the audience were having that night. There are some never before seen interviews as well, basically sound bites from the performers, but they get right to it with no excess blather. "You stand there and you think, Jeez- is he gonna hit that note?" a disheveled looking Springsteen says, big sloppy grin on his face. "No matter how many times you've heard him hit it on the records and you've seen him play, and you're not sure, and he always hits it."
Orbison not only hits it, he keeps on hitting it. The opener, "Only The Lonely," makes the hair on the neck stand up as he takes you for a ride in the stratosphere, depriving you of oxygen as you hold your breath in anticipation of him flaming out before hitting the apogee of his flight.
But he soars up and over with ease, and just keeps stacking up the air miles as he climbs upward through "Leah," "In Dreams," and "It's Over," before it's finally over 19 songs later with "Oh, Pretty Woman."
The newly edited footage puts us onstage with the performers, giving us a closer look at what the backing band is doing while Roy is hang gliding. The songs all run fuller here, with the wire choir of Orbison, Burton, Springsteen, Burnette, and Souther bouncing big fat boogie riffs off one another. The ladie's choir is as spiritual as anything you'll find in a house of worship; Warnes, Lang and Raitt singing angelically, looking at Orbison like he was their risen savior.
Springsteen is the most fun to watch, obviously having the time of his life. He too is looking at Orbison like he was standing next to God, and when Roy beckons him over to his mic for a duet on "Sweet Dreams Baby,"  Bruce looks like he's gonna explode with joy. Roy even drops down a bit and lets Bruce take the high harmony, causing the Boss's eyebrows to raise so high they're about to fly off his head.
All the stars weren't on stage. You can catch quick glimpses of celebrities in the audience including Kris Kristofferson. Patrick Swayze, Billie Idol and Sandra Bernhard.
Released in DVD, Blue-ray, and audio CD, this thirty-year celebration of Orbison's magnificence is a perfect companion to the original. Get both and never have to go a day without losing sight of Roy Orbison's glorious voice and magnificent spirit.