Album Review
The Rubber Man, The Rock, Dean Moriarty, Sal Paradise... and a Circus Clown! A Great Ride.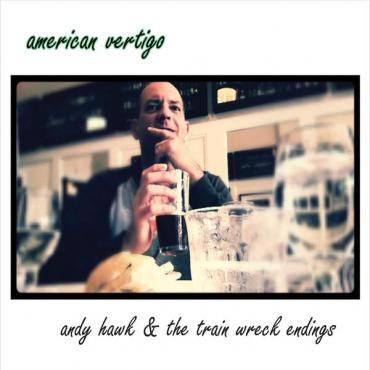 This album – the 6th by Andy Hawk & The Train Wreck Endings – paints a truly American landscape of road trips, strange characters, dreams, nostalgia, and hope. It captures what it is like to be alive in the here and now, all the while paying tribute to what got you this far.
Songwriter Andy Hawk pens ear-candy melodies, but he adds stunningly sharp, witty, funny, and poignant lyrics to the mix as well, which means the more you listen, the more "wow" moments you have. His voice is somewhere between Robert Earl Keen and Randy Newman, and his songs are just as well-crafted as the ones by those two. You won't get Bono-esque range, but you'll get a depth that is lacking in much of today's music.
Hawk, obviously influenced by the Beatles, Bob Dylan, Tom Petty, Creedence Clearwater Revival, and even Tom Waits, knows how to write a great 3-minute song, with a catchy chorus, hooks galore, and words that reveal themselves in a series of "ahas".
The band went to Austin last year and recorded with Merel Bregante, one-time drummer with Loggins & Messina, and the production quality shows. Bregante and his wife, country singer Sarah Pierce, also added some lovely harmonies - along with Nancy Griffith-Cochran - to complement the sound, and Bregante's production touch serves the songs well.
Opener "Sunshine Waterdance" is as exuberant as the title suggests, and it sets the album's tone. It's a toe-tapper from the first chord, with a killer riff to boot - a celebration of summer and life: "Listen to the time passing by / try to swallow rainclouds with your eyes / can't you feel the sand beneath your sleep / sail into the sun, a singing dream…" The lyrics are playful and insightful.
Next is "Maybe Someday", a lovely piano-driven ballad with another memorable hook, played on a mando-cello by guest Cody Braun of the band Reckless Kelly. This might be the best song in the collection, although it has competition.
"She Stopped the Rain" is a jangly Byrds/Beatles-influenced love song with a 12-string Rickenbacker in there for good measure. The versatile Braun provides a fiddle as well.
A beer-hall piano opens "Real Gone Girl", which is written from the point of view of Dean Moriarty, a character in "On the Road" by Jack Kerouac. Allusions to the novel abound: "Hey, Old Sal, let's get to New Orleans / to Old Bull Lee's, just pass the Benzedrine / I won't sleep tonight / the nighttime feels so right". It all leads into a singalong chorus that'll get into your head quite quickly.
As a diversion, "Awkwardly at Ease", co-written by Hawk and drummer Pat Holbrook, has a dreamy weirdness to it, both musically and lyrically. Bregante provides all kinds of odd percussion, and the hypnotic chord pattern takes you to dreamland. Bassist Chuck Bordelon shines especially on this song, adding to the song's quirky nature with a circus-like bassline, although he's a solid, melodic player throughout.
"Walking Around" embraces summer and youth in its driving rhythmic motion. We've all had that magical moment with a group or with a new, albeit doomed, love where the present is all you have, and you drink it down with gusto: "Afraid to sleep because we'd miss what we'd become / hoping for a sign or chance to just be anyone…" Ah, youth.
Perhaps the most-melancholy song on the album, "My Old Hometown" captures the decay and hopelessness of the Rust Belt where "the twisted days are long / the whiskey's straight and strong." Hawk grew up in a small town near Pittsburgh, and he paints a vivid picture of how it's eroded. "Spinning gold to straw / snow that never thaws / I feel my life's a hand-me-down / in my old hometown." It's the kind of country song that would be a smash for Toby Keith or Kenny Chesney, although it's nowhere near the cheese of new country. Paul Bordelon's acoustic lead guitar is beautiful, and Hawk sings like he's lived it.
"Chasing the Sun", released last year as a single, is a companion piece to "Sunshine Waterdance", a celebration of getting away, with another nice guitar solo by Paul Bordelon, and a terrific piano by Adam Marsland, one-time member of the band Cockeyed Ghost. Rocker "I Never Thought to Ask" – another Hawk/Holbrook composition - has the narrator kicking himself for holding his tongue when he should've spoken up. "You asked me up for coffee, I said no / 'You know I don't  like coffee, gotta go' / it took me years to figure out that scene / now I drink my tea with coulda been." This is another universal theme. Doesn't everyone have a memory of holding back when they should've jumped?
The title track takes us back home after a long New Year's Eve in Times Square, the 19-year-old protagonist gets an eyeful. hanging with guys named The Rock and The Rubber Man, and crawling back from a party "stinking smoke and gasoline." One gets the feeling that this is at least partially based on real-life events. Braun again helps out with a raunchy harmonica solo, and Chuck Bordelon adds an electric guitar solo as well. A good ol' raunchy blues song to put a nightcap on the record.
Ten songs, one enjoyable ride. Who knows what's next for this band, but they're definitely worth a listen right now.
For more information, go to www.andyhawk.com