Album Review
Salt As Wolves, Bold Blues and Ballads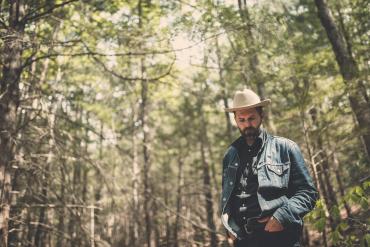 Jeffrey Foucault's fifth album of original songs is the epitomy of a man who's lyrical offerings are a core sample of his very being. Well aware of his heroes and musical saviours, Foucalt represents them all in a dozen minmally crafted, masterful songs. The result is some of the rawest Delta-soaked blues and ballads, in varying tempos that range from uplifting, rolling landscapes to simply a few notes over a feathered snare drum.
The beauty of Foucault's music is his less-is-more approach -- you get the "man's man" ethos he radiates. He's the type of guy who might put a roof on his house, write a few sad songs, slay a bear for sausage, and angle a few brook trout for dinner, all before the sun goes down on a typical Tuesday. His songs are regularly covered by Don Henley and he caught the attention of author and Rolling Stone writer Greil Marcus, who featured Foucalt's song "Slow Talker" in his column. 
What's more, this record was captured live to tape in a mere 72 hours in rural Minnesota, featuring Morphine drummer and Foucault's constant road compatriot, Billy Conway, the legend Bo Ramsey on some guitar noodling, Jeremy Moses Curtis handling the low end, and the illustrious voice of Caitlin Canty. (Canty has an impressive 2015 effort herself, titled Reckless Skyline, which was produced and played on by Foucalt.)
Salt As Wolves has a touch of a contemporary feel to it, although not in the squeaky-clean, spotless-yet-terrible commercial blues sense that artists like Joe Bonamassa represent. Foucault's blues are contemporary as in mature, well-crafted songs, sans sailing guitar solos for eleven awful minutes in the same pentatonic scale. His songs are festering itchy scars, aimed for the heart of the song's beholder. If you sit and listen, you can picture a faceless body slumped and teared with a stiff drink in one hand and a tissue in the other, drunk on poignance and barely weathering verbal death blows. He's a working man's poet, drenched in Americana in the truest sense of the word, with Midwestern values and a pen as sharp as a bayonett at the end of his Silvertone guitar. 
Album opener "Des Moines" is a melodic blues ballad recalling a pertinent time on the road. Foucault all but removes his hat for a tip on "Blues for Jessie Mae" -- a tune directed toward Jessie Mae Hemphill, one of the greatest women to ever get behind a guitar and spew out blues. There's amped-up bluesy rockers on this offering too, like "I Left This Town" and the apologetic "Oh Mama." These aren't loud and proud, they'rebeautifully toned and built upon. Foucault saves one of the best for last with the wonderfully blue noted, hypnotic, and prophetic number "Take Your Time." If you're perusing the No Depression vortex (and clearly you are), this is a record destined for your collection.