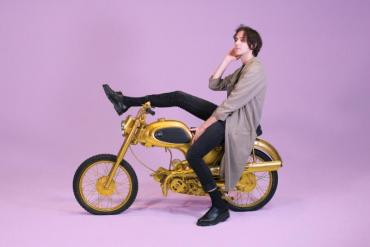 When you hear a stellar record from an artist you've never even heard of, it can feel like it fell out of the ether. Just dropped from space into your lap to complete you in a way you never knew you needed. That's the feeling you're left with when you listen to Sam Evian's Premium, a dreamy pop rock record that is sublime from start to finish. Premium is a spaced out gem of trippy, layered instrumental arrangements and Evian's smooth, creamy harmonies. And it is the perfect soundtrack for your last days of summer, with its beachy, bright coolness.
"In a big car/Doesn't matter where we go," sings Evian on the chilled out road trip tune "Big Car", a zen song that offers a slow-melting guitar solo. This is an ideal track to accompany you on your journey to sand and swimming, with that perfect, easy-does-it pace fit for a hot, sunny day. "Golden Skull" finds Evian singing softly of nostalgia for a past romance. He quietly recounts a memorable day, a stolen glance, all with a hazy, sun-drenched filter, and a lazy surf guitar melody.
Evian veers into psychedelic territory, his androgynous vocals echoing with synth, like something out of a colorful daydream. "I Need a Man" is an epic kaleidoscope of instrumentals, and "Carolina" literally sounds like an acid trip, a little distorted and fantastical. The prettiest tune, though it's hard to choose, is the sparse "Cactus", in which Evian finds himself picking up the pieces after losing it all. A succulent in constant need of hydration becomes a metaphor for a broken, co-dependent relationship.
Recorded in Brooklyn, there is an effortlessly cool vibe to every inch of Premium. Whether it's the added detail of an unexpected twinkling guitar riff on "Summer" or the lush, breezy chorus of "Sleep Easy". Premium may be one of the most melodic albums you'll hear all year.