Album Review
Sam Outlaw's Angeleno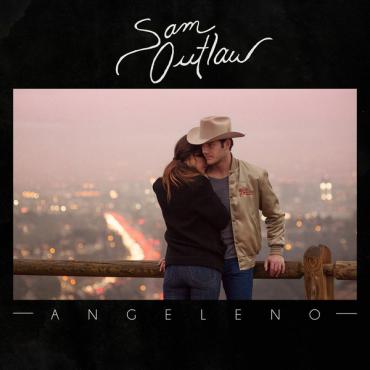 With that voice, the hat and those looks, Sam Outlaw could be a straight-up mainline Big Country Star.  He could be wowing the Nashville scene, starring at the Grand Ol' Opry, working up to headlining that city's Bridgestone Arena.
He could sing about beer, trucks and gals, finding love and, better still for songwriting inspiration, when love walked out the door.  He could buy a ranch and ride horses.  Game over.  Success.
But that ain't the story so far.
Sam Outlaw (he was born Sam Morgan, Outlaw is his mother's maiden name) is from southern California (San Diego) and grew up on a diet of his parents' wide music tastes, West Coast country, soaking up the Bakersfield sound and 1970's pop.
As he prepared to self-produce his first-full length album, his drummer, Joachim Cooder, played some rough demos for his father, legendary guitarist, musicologist and producer Ry Cooder.  I remember Cooder being interviewed at the Americana Conference in 2014 and hearing first hand his enthusiasm about the purity of Outlaw's music.  To get familiar with the material, Cooder sat in with Outlaw's band to helped him determine how best to work the recording.
Angeleno (Six Shooter Records) was recorded in Megawatt Studios in Los Angeles, with a band that included Cooders Ry and Joachim, Bo Koster (My Morning Jacket), Taylor Goldsmith (Dawes), Gabe Witcher (Punch Brothers) and Chuy Guzmán (Linda Ronstadt).  There's also Jeremy Long, Danny Garcia and harmony vocals from Molly Jenson, Arnold McCuller and Goldsmith.
Angeleno is old fashioned (there's even a track called that) and it revels in its style and simplicity, not giving a hootenanny for what's on trend.  
The opener "Who Do You Think You Are?" sets the scene for what ensues, with Outlaw's voice prominent and all other ingredients set perfectly around it.  The track has easy mariachi horns and plenty of charm.
"Keep It Interesting" lopes along gracefully, canny pedal steel, violin and guitar interloping.  The twanging honky tonker is as country as you'll get on this collection, wrongs have been done, but there's a sharp plot twist.
"Love Her For A While" is an ethereal homespun pleasure, while on the title track, the alluring story unfolds of a child whose soul and future is reflected in his eyes.
"Country Love Song" tells of the struggles of work and the doubt-riddled decision of leaving a woman behind.  The dangling electric guitar riff is simple but immaculate.  It's a particular favourite of mine, as is the beautifully distressing "Ghost Town" about the loss of his mother.
There's more honky tonk, as well as alcohol-soaked wit in "Jesus Take The Wheel (And Drive Me To A Bar)" - Jesus is his designated driver, giving him the freedom for more than a few drinks at his favourite watering holes.
"It Might Kill Me" sounds breezy but at its core are some dark heartbreaking lyrics.  "Old Fashioned" ups the ante even further, a slow chanter with exquisite harmonies and arrangements, soulful and caressing.  So sublime.  So emotional.
Sam Outlaw has a lot going for him.  Talented singer and songwriter.  A fan in Ry Cooder who guides this project with a subtlety and delicacy that is a pleasure to behold.  Angeleno is an outstanding debut.  It will feature in my top twenty releases of the year.
By the way, I'm happy that Outlaw isn't a highly successful Country Star.