Album Review
Samantha Crain Digs Deep with Literate Story-Songs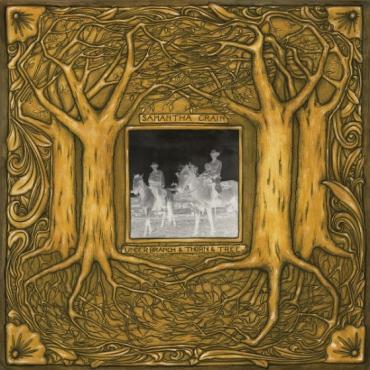 Samantha Crain found her way to music through storytelling. It was during a fiction writing workshop that she really started exploring what her stories could do when set to melody. Though it would likely be untruthful to cast her first few recordings as entirely fabricated – one can't sing with that raw mixture of melancholy, hope, and longing if they're being anything other than honest – Crain has discussed those songs as telling tales of fictionalized people and circumstances.
Of course, fiction is there to hold a mirror to reality. Consider Harper Lee's long-awaited Go Set a Watchman. Many fans of her coming of age tale To Kill a Mockingbird have been scandalized to realize that the character they'd always associated with unshakeable integrity, Atticus Finch, has turned out to be a racist. This comes as one of the most pressing national conversations we're having in the U.S. requires many well-meaning white folks to wrestle with their own as-yet-unexamined racism. Granted, Lee didn't write this story recently, but she certainly saw something in the lifelong struggle with race relations that was, unfortunately, timeless. That her character could have integrity at the same time as harboring unchecked privilege and racism, is what makes him believably human. Any reaction that stirs in readers is on them to reckon with, and only underscores Lee's proficiency as a storyteller: the characters are so realistic, we feel betrayed by them.
Though her guitar work is sufficient and her singing voice carries both strength and subtlety, it's Crain's highest instinct toward storytelling – to, like Lee, show not tell – which sets her apart as a songwriter.
Last time around, on 2013's Kid Face, Crain told me in an interview that she was making a concerted effort to move away from fiction elements and closer to autobiography in her songs. While that disc was astute and stirring, it was nothing compared to its follow-up, this year's Under Branch and Thorn and Tree. (out now on Ramseur Records). This time, Crain has not only landed on truth-telling that goes for the jugular, but she's done so as a furthering of the plight of her people. Reportedly, the album was inspired by a prominent Oklahoman who made a rather public display of anti-indigenous sentiment. Christina Fallin, daughter of Oklahoma Governor Mary Fallin, donned a Native American headdress and made a mockery of the idea of cultural appropriation during a local music festival. Crain and her friends showed up in protest but felt their demonstration fell on deaf ears. So, Crain turned to the music.
Under Branch starts with "Killer" – a song aimed at the history of white America, taking it to task for damaging, diluting, and destroying (and then, later, appropriating) so many elements of Native American culture, and presumably Shawnee culture in particular. Crain herself is Shawnee – an indigenous culture that falls under the Algonquin umbrella. Shawnee people once occupied a sizable swath of the Midwest, including Ohio, West Virginia, and Pennsylvania. Over the course of less than a century, as the American government sought to swallow up land for its own purposes and shove indigenous people onto reservations, the Shawnee nation was distilled down to a few small groups and was pushed to Oklahoma, where Crain was born and raised.
Unless it's your reality, it can be difficult to imagine the depth of complex emotions that one might carry when they come to understand that this is the legacy they've inherited, by virtue of the family into which they were born. For those of us born into the other side of that legacy, we have songwriters as astute as Crain to hold up the mirror. It's hard to miss the honesty as she sings in "Killer," throwing down a gauntlet:
If I say what I mean
use words that are strong and stinging
"Woman step down unless you're singing a song to me."

Well I'm here, I'm singing a song
Killer of souls, killer of rights, you are wrong
You made us strangers in our very own homes
There's no fiction in that phrasing, yet the songs which pour out in the wake of that tune are full of Crain's richly nuanced tale-telling prowess. Because just getting angry for a whole album could result in listeners missing the point, Crain wields her strongest weapon: storytelling. She casts characters then tells their stories, all of which center around the world into which the Shawnee people were forceably thrust.
"Kathleen" gives us the woman who needs a night off from life ("The screaming candles, the sky moans / the gin poured into styrofoam"). In "Elk City," we have the woman who's watched everyone find a better way out, including her daughter ("Got into college and everything / So she beat her mama out of that town / Out of Elk City"). There's the epiphany that a whole generation is caught between the legacy it's inherited and its dreams for the future on "Outside the Pale." 
There's also plenty of love and broken hearts, isolation and redemption, always tied intimately to the pull of nature – the dark, flat rock in the center of a river, the thunderstorm, the sand, the drought. The nature in Crain's songs is handily contrasted with the man-made structures that break through it and defy its laws – fluorescent light to cut the dark, bridges to cross rivers, elevators to transport us farther from solid ground.
The music is rock and roll, trotting country-western, and an occasional atmospheric melancholy singer-songwriter vibe. She's speaking to her audience in their language, but it's also hers. This makes it as much a taking-to-task as it is a personal reckoning. Though the band rounds out the rough edges, these songs could play just as swimmingly solo, on Crain's acoustic, with her robust voice – which is bigger than she is – leading the way.
Taken individually, these songs are autonomous tales that endear the listener to universal human experiences. But together, hugged in under the umbrella of this album, they speak to a wider narrative about how the pillaging of indigenous culture has rippled out across generations. Hope is deceiving, love is fleeting, life's promise is a double-edged sword. In a response to the opening track where she sings about being made a stranger in her own home, Crain brings us to a sort of full circle, translating that same accusation onto a more personal level: "Do you want this?" she sings on the closing tune. Then, with disbelief, "Or is this mine?"