Album Review
Sammy Walker's Near Forgotten Folk Masterpiece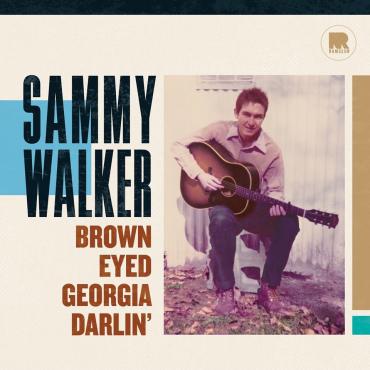 Something happens when listening to singer-songwriter Sammy Walker that is hard to explain. On first listen to his new release of archived stripped down demos titled, Brown Eyed Georgia Darlin', recorded in the mid-70s, it is easy to dismiss as yet another Dylan imitator from an era that regularly produced 'new Dylans.' Then, with a closer listen, you can't help but wonder, are these actually lost recordings from the Freewheelin' Bob Dylan sessions of the early 60s?  The songs and recordings are that good. The ragged texture of his voice makes the listener wonder if Dylan is pulling our leg here.
Then, on a closer listen, Sammy Walker's s originality and unique song craft starts to shine through. This is only the first level of listening to this highly original and entirely brilliant singer-songwriter. These beautifully preserved demo sessions from 1975 capture the warmth and immediacy of the artist as though they were recorded yesterday. The finished recordings of the same songs are a beautifully subtle and polished as produced by Nick Venet, who produced The Kingston Trio and The Beach Boys. But, these demo sessions are something special. In the world of Americana that values the intimacy of voice and guitar, these recordings will pay like audio gold.
These original one-take recordings of Walker, his guitar,and harmonica, are similar in texture to today's finest live-in-the-studio recordings. Above the guitars gentle strums and Piedmont picking style, his voice invites and engages the listener with words that simply flow in what seems to be a stream of effortless poetry.
The hoof beats of a stallion stirs the dusty ground into a powdered rain
That lifts and curls until its done and settles down into his flowing mane
The mountain range is bending and the prairie dogs are calling for tomorrow
My lungs are scorched from breathing and our eyes are tired of staring through the sand
In the rampage of a cyclone fights a lost and frightened star land
In a weather-beaten saddle with my brown-eyed Georgia darlin'
Words like these hold no sense of imitation or derivation, rather they engage and help us to see beneath the surface to the great creative soul who resides beneath the folk-singer exterior. The songs are derived from a lyrical view of a Southern and Midwest urban landscape on songs like "The East Colorado Dam" "A Cold Pittsburgh Morning," and "The Streets Above Lake Erie."  The images spark imagination with visually dynamic poetry that hold painted imagery of the hardship of life in a life close to the streets, plains and ranges of America.
The demo recordings were completed at New York's Record Plant at the encouragement of Phil Ochs and Harold Leventhal-Woody Guthrie and The Weaver's manager. Leventhal was so excited by Walker that he managed him and tried to have him cast as Woody Guthrie in Hal Ashby's semi-biographical film Bound for Glory. Ashby went instead with the lethargic David Carradine in one of Hollywood's greatest examples of miscasting.
After a career that has included so many ups and downs it is unfortunate that Sammy Walker remains one of folk music's best-kept secrets. However, for those who haven't heard this vital artist, these 1975 demo sessions will be a revelation. It's as though an artist as creative and inspired as John Prine has languished in obscurity for the past 40 years. It is our loss. But it's not too late. The story has been repeated throughout music history. Walker's story is similar to Mississippi John Hurt who worked as a sharecropper until some enthusiastic students of the blues sought him out after hearing his early recordings. Sammy Walker's recordings have this same sense of history and new discovery.  
Hopefully the word will spread as though Sammy Walker is in the midst of a debut as a new singer-songwriter. He richly deserves major recognition from the Americana music world. Today, he doesn't record or tour anymore. But, the life and brilliance that emerges from these pristine demo recordings say it all and preserve a legacy that could have easily been lost in time.