Album Review
Sarah Borges' Rock and Roll Love Songs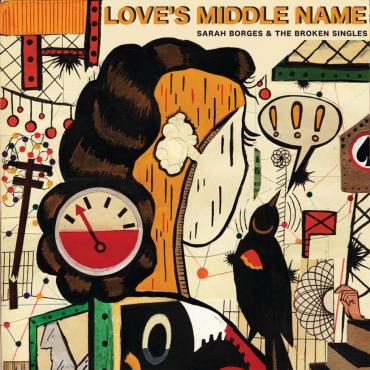 "Rhymes with gorgeous," Sarah Borges was overheard telling an emcee unsure of how to introduce her at a show a few years back. But her name isn't the only thing that has stumped listeners over the years. Labels from alt-country to country punk to something-a-billy have been chunked at her over the years, but none have really stuck. Borges' choice of covers over the years haven't cleared up the confusion much either. In live shows, Mahalia Jackson's "I'm Going to Live the Life I Sing about In My Song" got a country torch song makeover, Canned Heat's "Open Up Your Back Door" got Lou Ann Barton-ized into Texas brisket flavored honkytonk, and Sam Cook's soul classic "Bring It On Home To Me" was transmogrified into country punk.
Although originally from Boston, Borges' vocals sound entwined in deep Southern roots, like Lou Anne Barton channeling Rickie Lee Jones. She has said recently that rock and roll will do just fine as a description, but you can narrow that down a bit to honkytonk-bar band rock. The Broken Singles have been Borges' off-and-on band since 2005, with some breaks as Borges took some solo runs, but they don't sound as if there's been any separation, backing up Borges as tightly as a second skin.
On her latest, Love's Middle Name, the opener, "House On A Hill"sets the tone, rockin' country with a punky undercurrent straining to bust on through, urged on by producer Eric "Roscoe Ambel's (founding member, Joan Jett & the Blackhearts) snarky guitar.
Borges drapes rockabilly vocals over the Stones-y "Let Me Try It,"Ambel dripping Keef riffs alongside her punked-out Brenda Lee persona.
Borges puts a little more bottom-end oomph to Brennen Leigh and Noel McKay's "Are You Still Takin' Them Pills," keeping the raw country feel of the original, with its swipe at a Johnny Cash-like character: "Does your coat still sound like a maraca when you're walking up and down, around the Tennessee hills?"
"Get As Gone As You Can Get" is a supercharged balls-out rocker that'd work equally well as a rockabilly revival or stadium retro-rocker.
Frankie Miller ("Brickyard Blues," "The Jealous Kind") wrote "I Can't Change It" in 1973 when he was a teenager, delivering it as a crusty, soulful anthem. Borges lays her best Brenda Lee whooping on it, Ambel's guitar clanging alongside dolefully.
Borges puts on an unlikely vocal persona of Stevie Nicks and Rickie Lee Jones for "Grow Wings," a country ballad with the unlikely premise that "The world is too big for small voices like me."
As Borges proves once again to anybody who takes the time to listen to her not-so-small voice, that just ain't so.