Album Review
Sarah Morris returns with her third full length collection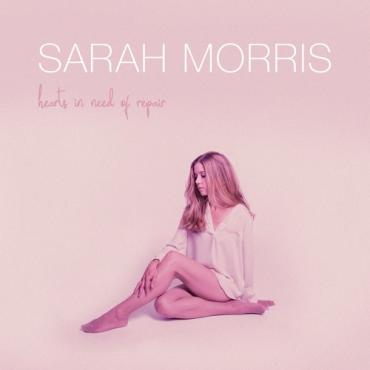 OFFICIAL: www.sarahmorrismusic.com
FACEBOOK: www.facebook.com/sarahmorris10
Sarah Morris' third studio album, Hearts in Need of Repair, follows up 2015's critically lauded Ordinary Things and the eleven song collection shows her revisiting many of the same core strengths distinguishing her earlier releases while expanding the scope of her already mightily impressive songwriting vision.  She's continued working with the same first class playing talents who have contributed much to her prior work and Hearts in Need of Repair definitely rates as her best produced work to date. The songwriting for this effort, however, is where she creates a substantial amount of daylight between her present and past. The songs on Hearts in Need of Repair plumb deeper into personal experience while the increasingly resonant and musical qualities of her singing envelops their messages with undeniable universality. Anyone who has experienced introspection, lived long enough to look back, and endured love's arrows and vagaries will connect with the material on Hearts in Need of Repair.
The title song begins things with a slightly dream like air, but it soon settles into a mid-tempo jaunt that never pushes the track's singer/songwriter aspects into the background. Morris' voice definitely has strongly angelic qualities, but it doesn't do her justice to limit descriptions of her talent to such narrow parameters. There's some surprising gravitas in her tone and even a hint of blues peeking through her and other tracks. The gossamer like musical backing she receives glitters with melodic strength here and elsewhere. "Good at Goodbye" is a clever lovelorn lyric that owes much to traditional country music songwriting and, despite the weighty emotions in the song's heart, Morris' storytelling inclinations draw out a playful and inspired vocal. "Cheap Perfume" is one of the best songwriting pieces on Hearts in Need of Repair thanks to the specificity in its lyric and how well the music complements Morris' writing on that level. It's certainly much moodier than the aforementioned tunes and a rumble of electric guitar in the mix underlines that darkness in the heart of the song. She shifts gears with the song's tempo a little ways into the composition and the shuffle pace she adopts doesn't dilute the mood, but she pivots just as nimbly back to a more considered approach without losing listeners.
The blues definitely comes out in a song like "Falling Over", but she gets her willingness to upend listener's expectations across as well. This is a song with a moody spirit, as well, and Morris sings with uninhibited passion over the top. "Shelter or the Storm" has a slowly unwinding grandeur and a surprising amount of theatricality that Morris plays just right, never pushing too hard on her audience and, instead, wrapping the vocal and instrumentation together tightly so everything feeds into each other for a pleasing overall effect. The album's final song "Confetti" has an appropriately elegiac mood and a patiently evolving grace, touched with a bit of pedal steel, which strikes a memorable emotional note for the final moment on Hearts in Need of Repair. Sarah Morris' third album sets her further apart from the pack as a truly transformational talent who has no obvious limits ahead of her.