Album Review
Sarah Shook Is Back with More Kiss-My-Ass Country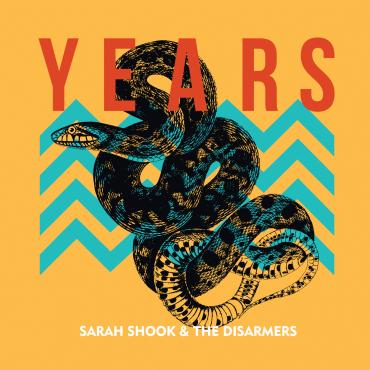 Sarah Shook lives in scary country. What's even more frightening is that it's of her own devising. This is badass territory, and Shook has staked it out as her own personal stomping grounds. It's alcohol-fueled, don't give a damn, kiss-my-ass country; lean, mean, and ornery, looking for a reason to spit in your eye and daring you to do something about it.
Shook is perfectly framed by guitarist Eric Peterson's honky-tonk twang and Phil Sullivan's weeping pedal steel, a muscular framework that Shook swings from like a Bakersfield gymnast, a vocal blend of B-field's own Stacie Collins and the wild and wooly rockabilly tonsils of Wanda Jackson.
"I didn't mean to stay out all night drinkin'/ didn't mean to stay out till the break of day/didn't mean to stay out till the goddam cows came home /believe me it just happened this a-way," Shook offers up as a sort of half-assed apology to her beloved of the moment on "Damned If I Do, Damned If I Don't," from her sophomore effort Years.
That same "shit happens, deal with it" philosophy is a recurring theme in her music, even if she is the cause of some of the effect. Take me as I am, Shook tells anybody who gets close, or take off. That sentiment is abundantly plain in "New Ways To Fail," with Shook's rule book being the only reading material up to her stringent standards.
"It seems my way of livin' don't live up to your standards," she tells her latest cohabitor, as Sullivan's pedal steel just Bakersfields you right upside your head. "If you had your way I'd be some proper kind of lady/Well the door is over there, if I may speak with perfect candor/You're welcome to walk through it at any old time that you fancy." That sets things about as straight as a body in close proximity with Ms. Shook needs to know in order to survive the experience, but she goes on to explain her reasoning about as well as its been done in a country song in too long a while: "I need this shit like I need another hole in my head," Shook reveals. "It was more the way the words came out than the things you said," she says, perfectly capturing the feel of a couple living too close for too long, too wore out to do much besides bitch about it. "I'm too damn tired to feed the dog or get out of bed/Too damn tired to walk away/Too tired to make it another day/Just gonna lie here and complain instead."
Now that's real country. Shook shakes out the lyrics in a hardscrabble, world-weary moan that might be construed as a whine in a lesser entity, but would get you a skillet upside your noggin were someone in close spouse-ical proximity with the aforementioned person in charge were fool enough to express that view.
Sullivan bleeds steel tears as Shook delivers a strong Patsy Cline resurrection while medicating her lovesickness with whiskey on "Heartache in Hell."
This is her second record on Bloodshot, but North Carolina denizens know Shook from her former outfit Sarah Shook and the Devil, and had a preview of her blistering country when she self-released Sidelong back in 2015.
This ain't no country for hipsters or posers. It's real, raw, mean-and-evil-bad-and-nasty bidness that makes an ass-kickin' sound mighty fine.