Album Review
Savoy Brown Gets Witchy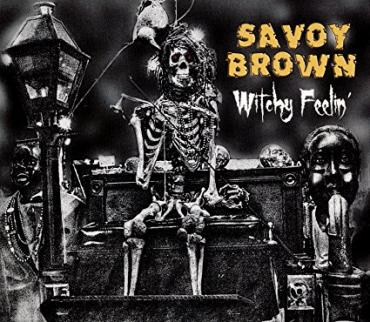 A half century is a long time to have the blues. But neither time nor the blues seem to have worn down Savoy Brown. Guitarist/vocalist Kim Simmonds is the only constant since the band's '65 debut. A disciple of Chicago blues, Simmonds has always maintained that he wanted the group to be a British version of a Chicago blues band. Over the years, the band has slimmed down from its original six to a power trio with bassist Pat Desalvo and drummer Garnet Grimm onboard since late 2009, when it was a four-piece with Joe Whiting on lead vocals and sax. But when Whiting departed in 2012, Simmonds returned to lead vocals.
The band's sound has fluctuated over the years, with 1969's Raw Sienna generally thought of as the band's high water mark. But the sound fluctuated wildly in the record, from the Latin-tinged War soundscape of "Hard Way to Go," interrupted in the middle by a Santana-worthy guitar solo from Simmonds, to "That Same Feelin'" mixing the brassiness of the band Chicago with scrappy psychedelic guitar. Chris Youlden's vocals, which dominated the recording, adopted a Mose Allison persona for "Needle and Spoon," sounding like a softer, jazzier version of Cream's Jack Bruce on "Stay While The Night Is Young."
Youlden left after the album was released and after the release of the next one, 1970's Looking In," everybody but Simmonds left to form Foghat.
71's Street Corner Talking was a rousing comeback, earning the band a slot on Billboard's Hot 100 with some rousing arena rock on "Tell Mama," underlining the Temptations "Can't Get Next To You" with a soulful Chicago blues chassis, and taking on Willie Dixon's "Wang Dang Doodle" and replicating it faithfully in hardcore, Chi-back alley blues fashion.
For their latest, Witchy Feelin', there's yet more change-ups. Simmonds sounds like Mark Knopfler 'til the guitar kicks in, conjuring Cream-era Clapton on "Why Did You Hoodoo Me."
He throws a change-up on "Livin' on the Bayou." Still sounds like Knopfler on the mic, but his guitar has a swampy, John Fogarty feel.
Simmonds get down to hard-core blues bidness on "I Cant Stop the Blues," tossing around some stinging, Otis Rush-worthy licks.
The title cut whispers about the aftermath of hovering around the intersections where desperate bluesmen sell their soul to the devil in order to play like him. Now it's payback time, and no rabbit's foot, no good luck charm is enough to keep away the feeling of encroaching doom as the bounty comes due.
Simmonds expresses his desire to get back to the blues roots on "Vintage Man," a '57 Chevy drivin', blue suede shoe shod, Levi's wearin', Jimmy Reed-lovin' dude who wants to get back to where it all began with the aid of some greasy slide guitar.
He makes that slide moan low down and lonesome for "Standing In A Doorway," his guitar rising to a mournful scream as he waits out a rainstorm, feeling as dreary as the weather.
"Guitar Slinger" is a tribute to Roy Buchanan, who Simmonds encountered live for the first time in '69. "Every note on every song/ seemed like it fit just right," Simmonds sings, giving his guitar string-bending fits trying to live up to Buchanan's fiery style.
"There's nothing better in this world can be found, than a guitar slinger getting down," Simmonds moans as the song sizzles to a close. And as for Savoy Brown, no matter who else is involved, as long as Simmonds is onboard, that's still the case.