Album Review
Schrödinger's Deep Cuts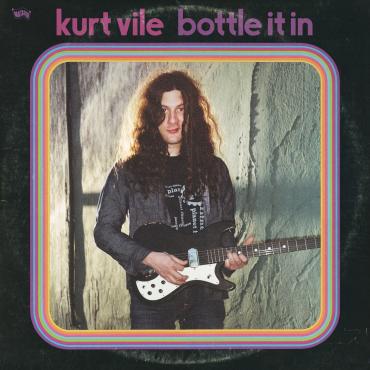 I have no idea what I think about this record.
I've been listening to it and listening to it. I listen to it in the car during long drives. I put it on in the background while I'm cooking. I run it through our surround sound system during my evening workout. I listen to it in altered states, and still nothing.
I know it's my job to fall one way or the other, or at least to give readers enough of an educated assessment of an album so they can decide for themselves if it belongs in their ears, but Kurt Vile's new Bottle It In evades observation and classification.
Here's what I can tell you about this Schrödinger's cat of an album: it's long, rambling, and strange, like a waking dream. Vile, an early member of The War on Drugs and now a bastion of DIY (or at least DIY in mindset, now that he's releasing albums on Matador Records) guitar rock, explores parenthood, existential crisis, ennui, lust, and whatever happens across his mind over Bottle It In's 78 sprawling minutes. It's overlong and sloppy and loses its own plot constantly, but that's not necessarily a bad thing.
At its most cohesive and accessible are songs like the three-minute "Rollin With the Flow." "Once was a thought inside my head / before I reach 30 I'll be dead," Vile sings over warm and gentle beach rock. "Guys my age are raising kids / I'm raising hell just like they did / I got a lot of crazy friends / they'll forgive me of my sins." It's catchy, well-written, and possibly tongue-in-cheek pop-rock, rich with '70s touchstones. It's immediately followed by "Check Baby," an eight-minute exercise in dadaism. The riffwork and insistent drumming echo Crazy Horse, while the lyrics are up there with Neil Young's more questionable deep cuts. For instance: "Check old man / check old man / check all the cables in the chain;" "Balls to the balls to the balls to the walls to the wall."
Considering that rock and rollers adore the '60s and '70s, forever mining that golden era for inspiration, this kind of makes sense. What Vile does here is upend that practice, in that he has constructed an entire album of the kind of half-cocked, stream-of-consciousness B-sides that are never collected on greatest hits albums. Along Neil Young lines, these are "T-Bone" and "Will to Love," not "Cowgirl in the Sand" and "Cortez the Killer;" We're talking Tonight's the Night or Everybody's Rockin', not Decade.
Tunes like the banjo-driven "Come Again" infer early Modest Mouse, a band that at least early on knew how to derive emotionally complex music from harsh and demented elements. Opening track "Loading Zones," too, is in this same territory. Vile falls somewhere in between depressed acceptance and snide rebellion as he drives from shopping center to shopping center during his errands.
Perhaps that duality is the point of this record. Perhaps Vile is intentionally including rambling nonsense songs, scratch vocals and all, alongside concise '70s-esque pop-rock tunes; Perhaps the honest existential terror of the deceptively calm "Cold Was the Wind" has more weight in context of tracks in which, to be honest, Vile is just stomping on pedals (*cough* "Skinny Mini" *cough*). Perhaps observation is supposed to breed confusion. And perhaps, just perhaps, too much art represents people as tidier, more coherent creatures than we truly are. Perhaps, then, Vile is representing the full imperfect, impulsive, ineloquent, frightened, aroused, bored, distracted person.
Or perhaps I'm just overthinking it. Goddamn.