Album Review
Searching For Elvis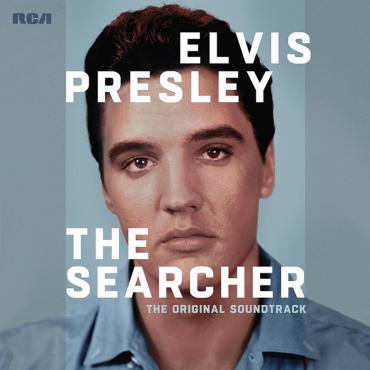 He came from humble roots, but his voice gave him a royal makeover. He was the King, the vocal ruler of a mass of screaming subjects who worshiped him like a god but were willing to claw him to shreds just to get a piece of him for a souvenir. That approach also extended to various releases of Presley's over the years, giving off a reek of desperation as material was recycled over and over to milk his legacy.
This latest Presley project is a cut above most of the past Presley revivals, more an extensive overview of what drove Presley than a greatest hits collection. This offering is the soundtrack to a three-hour HBO documentary The Searcher. It's more or less arranged chronologically, from 1954 to 1976, with a few hops backward and forward to pick up some gems that director Thom Zimmy along with Springsteen manager Jon Landau deemed worthy of the collection.
On the first disc, the 1956 version of "My Baby Left Me" is raw rockabilly, Scotty Moore's guitar clanging like a tin can as Presley yowls like a scalded cat. Jimmy Reed's "Baby What You Want Me To Do" showcases Moore at his twangy best on his '53 Gibson Es-29, capturing Presley at his blackest, recorded in 1968 as part of his comeback shows at NBC studios.
You can find all this stuff on previous Presley compilations, but this collection highlights stuff even the most dedicated Elvis fan might have missed or glossed over from some of the mostly forgettable movie soundtracks. Bob Dylan's "Tomorrow Is A Long Time," buried in the otherwise lackluster '66 movie soundtrack from Spinout, is a gorgeous rendition of one of Dylan's more melodic offerings, Presley transforming it from a love song to hymn of praise.
The gospel material sprinkled throughout is spectacular, as evidenced on "Hide Thou Me," from a '66 session at Presley's home in Bel Air, released on 2000's A Private Moment. Presley's holding back, harmonizing smoothly with his backup singers, but his power still makes this vocal thrum like a pipe organ.
Presley's '59 recording of "Mona Lisa," here from his home in Germany, released in '83 on A Legendary Performer Vol 4, with just him and an acoustic guitar is mesmerizing, laid back, with him scatting languidly between ethereal bouts of warbling.
The stripped-down rehearsal take of Dennis Linde's "Burning Love" is closer to Linde's rawer version, Presley calling up his rockabilly days to whip this one into a righteous lather.
Disc 3 is the most interesting, a collection of material from artists who inspired Presley. Howling Wolf huffs and puffs on "Smokestack Lightning," giving lesser mortals a good reason to stay home behind a stout door. Elvis didn't tackle that one, but his version of "Mystery Train" relied heavily on the version included here by Little Junior's Blue Flames. Arthur Big Boy Crudup's jangly "That's All Right" got rockabillied up a bit, but once again, Presley didn't venture far from Crudup's flame on this one.
Presley never recorded Joe Hill Louis' "She May Be Yours, But She Comes To See Me," but he should have. Down and dirty jump blues in the style of Big Joe Turner, it would have made great workout material for Presley's vocal acrobatics.
The Searcher thankfully doesn't try to make too grand a point of Elvis' legacy, letting the music speak for itself. As Paul Thorn recently pointed out, Elvis may have just been misunderstood all along. "That early rock and roll, its just gospel with secular lyrics, man. I live in Tupelo, which is where Elvis was born and grew up, going to a lot of the same churches I attended," Thorn says. "A lot what he got, he got it from the same place I got it, goin' to them ole churches, When he got banned on the Ed Sullivan show and they only showed him from the waist up, what people don't realize is that jiggin' and dancin' he was doing, he learned how to do that in church. Cause when people were dancin' in the spirit and had the holy ghost on 'em, they would dance like that. So what was thought of as vulgar,was actually holy dancing that got edited out."
Long live the king.