Album Review
Seattle's Skyboys--- The Lost Album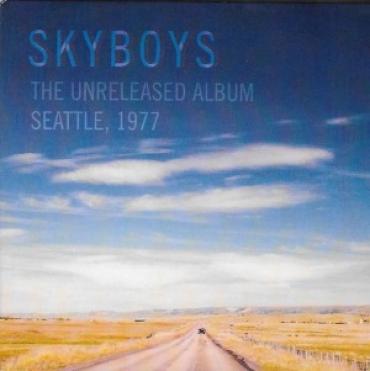 The Skyboys were about the best thing Seattle had going for it back in the late-seventies and early-eighties. I remember coming out of the record store I worked at on a rainy night and seeing lines around the block of people willing to brave the weather for a chance to see and dance to their music. I remember watching through the big plate glass window as the people two-stepped and waltzed and plain rocked out, depending upon song. I remember hearing Chris Middaugh making the steel guitar sing on the one night I saw them live, at their album release party. I remember Gayle Winsor and Tom Kell sing to the heavens and Scott Smith sing like he belonged in L.A. alongside J.D. Souther and Andrew Gold and Timothy Schmidt. I remember Leon Waldbauer's guitar solos surrounded by Dudley Hill's, cutting like a knife, and Ken Parypa's bass making the glasses on the tables shudder. Of course, Donnie Teesdale was not there that night (Pat Bohle was and laid down solid beats) nor Linda Waterfall, but they were on the Unreleased sessions. Each song brought to mind so much of the country and country rock music I had grown up with--- one song sounding like Asleep At the Wheel, another simulating The Eagles, yet another echoing Pure Prairie League or Cowboy. I remember...
How these guys avoided fame and fortune completely evades me and always has. Listening to The Unreleased Album brings my frustrations back in spades. All The Eagles had to do was sneeze and people bought it but as hard as Skyboys worked, and they worked their asses off, they could not get a break. Do you know that when their self-titled Skyboys album on First American Records was released that it was the #1 seller at Peaches Records? A solid #1, maybe dropping to #2 or #3 in succeeding weeks, but you have to realize that this was up against hitmakers like Bruce Springsteen and Michael Jackson.  
This album did not have that chance. It was never released. God knows why, and people involved have tried to understand it for years, but it stayed "in the can" until recently when producer Jim Bredouw decided he had had enough and pressed up a couple hundred CDs, not for release but to satisfy his inner music junkie. I would like to think he did it just for me but, guess what, there are a lot of other people out here hungering to hear what could have been a legendary album. Of course, most of them don't know it even exists, at this point. Not yet.
Listen to me here. The album isn't one buried for any reasons other than those known only by members of the band. It is superbly produced and smooth and as good as anything coming out of anywhere in those days. The songs ride the split between country and rock and could easily satisfy either side. And the band was on a roll. They were on the upswing and sounding absolutely fantastic.
Bredouw knew it. I think Kell knew it, too, but whatever reason any of us give for decisions is never the same decades later. I know that when Bredouw and Kell hear the album today, it knocks them out. I know because when I asked each of them about it we were like giddy schoolgirls, jumping up and down in our enthusiasm.   
And what is there in this album to be enthused about? You can start with nine knockout songs, all but one written by members of the band (the other is the classic country/boogie "Blue Light," written by John Hadley). They slide from smooth country rock to honky tonk to to rock to one song, "Delilah," which borders on trad folk. Three ("Captain Lonely," "Steal My Heart Away," and "Lee John Sloaner") would end up being re-recorded for their next album, self titled, which would be produced by Scott Boyer (Cowboy) in 1978 at Tioga Studios in Allegany, Oregon but which would not see light of day until mid-1979, if my clock works anymore. All songs are first class, the production is top-rate and the band, like I said, was obviously in a good place. All they needed was a little airplay and a couple of breaks and they could have blasted out of the Northwest and onto the national scene easily. Unfortunately...
I am not a fan of the digital revolution but even that disaster has a silver lining. I see all of the buried works of bands and artists surfacing or resurfacing and I can't help but like it for that reason alone. Treasures that otherwise might be lost are now within our grasp, or at least within listening distance. Skyboys Unreleased is easily among those. At the top of the list, in fact.  
I thank the likes of Jim Bredouw for taking such good care of the tapes, the members of Skyboys for putting their past behind them--- at least, as far as the decision to not release goes--- and all of the Skyboys fans for following the band from tavern to bar, dancing all the way. Without them, this whole album may have been lost.
Just so you have a taste, here are a couple of the tracks from the band's First American album, recorded a year or two after Unreleased, for your listening pleasure. These two tracks were two of the three songs from Unreleased which were re-recorded.
Anyone who would like to know more about Skyboys' The Unreleased Album can contact Jim Bredouw at this address:  jbredouw@gmail.com.