Album Review
Shakey Graves Continues His Musical Adventure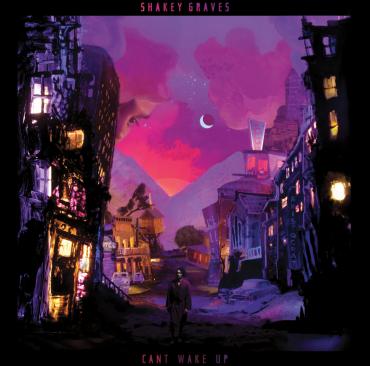 Shakey Graves' And the War Came, released in 2014, was a milestone for Alejandro Rose-Garcia, highlighting his knack for hybridizing country, rock, and folk sources; flair for crafting memorable melodies and lyrics; and dexterity as a multi-instrumentalist. His new album, Can't Wake Up, is aptly titled, many of the songs navigating the theme of entrapment – familial, social, psychological, and karmic. The album illustrates that Rose-Garcia is, much like Sufjan Stevens, Conor Oberst, and Justin Vernon, a musical adventurist, naturally inclined toward eclecticism. On these 13 tracks, he reaffirms his Americana roots while integrating elements of dream pop, danceable rhythms, and soft/loud dynamics.
On the opening track, Rose-Garcia plays each of the included instruments, feting his one-man band/busker days, "Counting Sheep" built around a melancholy melody that would be at home on Galaxie 500's On Fire or The Clientele's Suburban Light. The shimmering guitar line conjures a dream effect, Rose-Garcia flirting with psychedelic folk while deftly avoiding a collapse into neo-'60s stylistics. "Kids These Days" is an anthemic commentary on youth, a folk-rock/postpunk manifesto with psychedelic pop leanings that reminds me of MGMT's "Time to Pretend" from their 2007 debut, Oracular Spectacular.
On "Climb on the Cross," Rose-Garcia displays his penchant for oblique lyricism: "If nothing dies tomorrow / Why remember yesterday / When an hour more of sleep might do you good / It's the wish I can't remember / It's the things you'll never say." "Dining Alone" features a lilting melody, a slightly whimsical but overridingly wistful take on loneliness and boredom.
Each subsequent track makes use of notable beats, vocal effects, and melodies. "Cops and Robbers" depicts a descent into crime fueled by drug addiction: "Crime / It's a young man's game / I wanna take you where I'm going / Half the fun is never knowing / If and why / We lost our way." "Mansion Door" highlights Rose-Garcia's affinity for vocal doubling, a technique often associated, at least in indie circles, with Elliott Smith, and harmonizing with himself, distinct vocal tones and accents occurring as alternately well-synced and loosely spontaneous.
On "Aibohphobia," Rose-Garcia again handles all the instrumentation (except bass). The song opens with a passage played on the optigan and/or mellotron (think The Little Rascals or Looney Tunes), seguing into a melody and vocal that remind me of The Beatles' "Sexy Sadie." "Backstreet Driver" again borrows from dream pop, vocals bathed in spacey textures; ambient sounds unfurling, jangling, and echoing. "If time is money / Then I've gone broke," Rose-Garcia sings. The album closes with "Tin Man," a well-crafted riff on pop culture: "Once upon a terrible dream / You couldn't move a muscle / Can't even pick an apple off of a tree / Without getting into trouble / Isn't it sad to be back in black and white / No yellow road / No witch in sight / Thank God there's no place like home."

Rose-Garcia is an ambitious artist, one of the more gifted songwriters of his generation, and it's fitting that he won the Best Emerging Artist award at the 2015 Americana Music Awards (following the release of the abovementioned And the War Came). His latest release confirms his ability to assert a signature style and aesthetic cogency regardless of what direction he pursues – an enviable talent indeed.